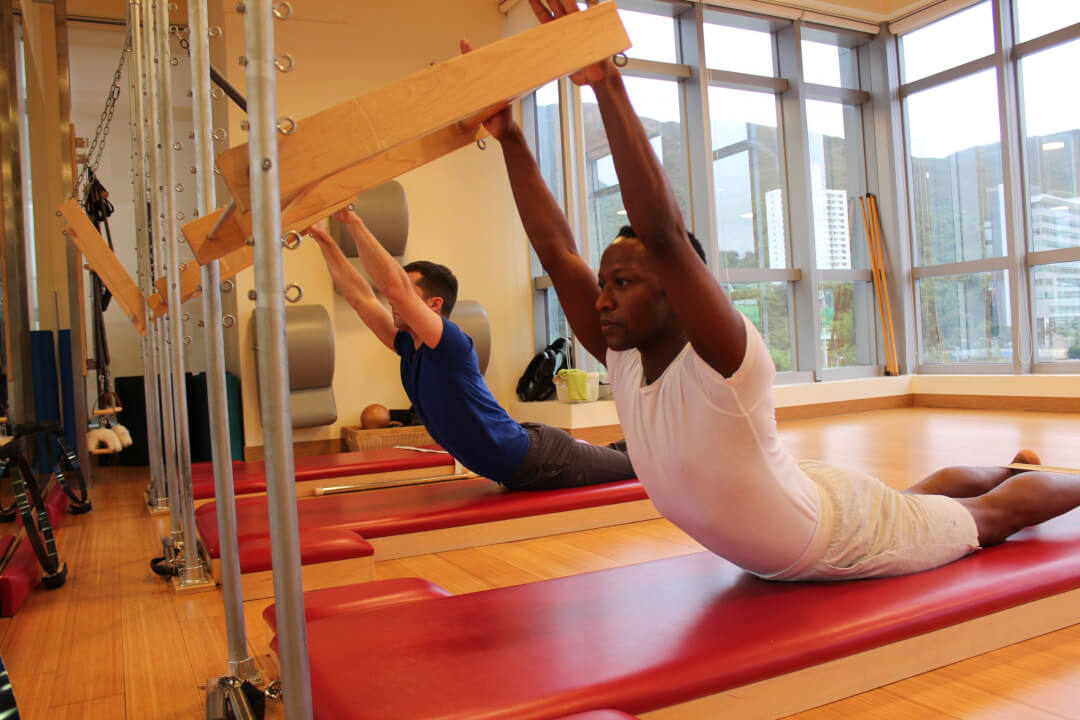 04 Dec

Get To Know Your Classical Pilates Apparatus

We look back on a great year of learning the Classical system at Flex Studio

This was no doubt a challenging year for all of us, but if there's one thing we're thankful for, it's the opportunity to keep our Flex family healthy and moving through the method we've all come to know and love—Pilates. This year, we got to deepen our practice in the Classical system with the help of newly acquired top-of-the-line Gratz apparatus. Whether in the studio or online, we'd like to say a massive thank you to you for allowing us to remain a part of your fitness journey this year. We made it!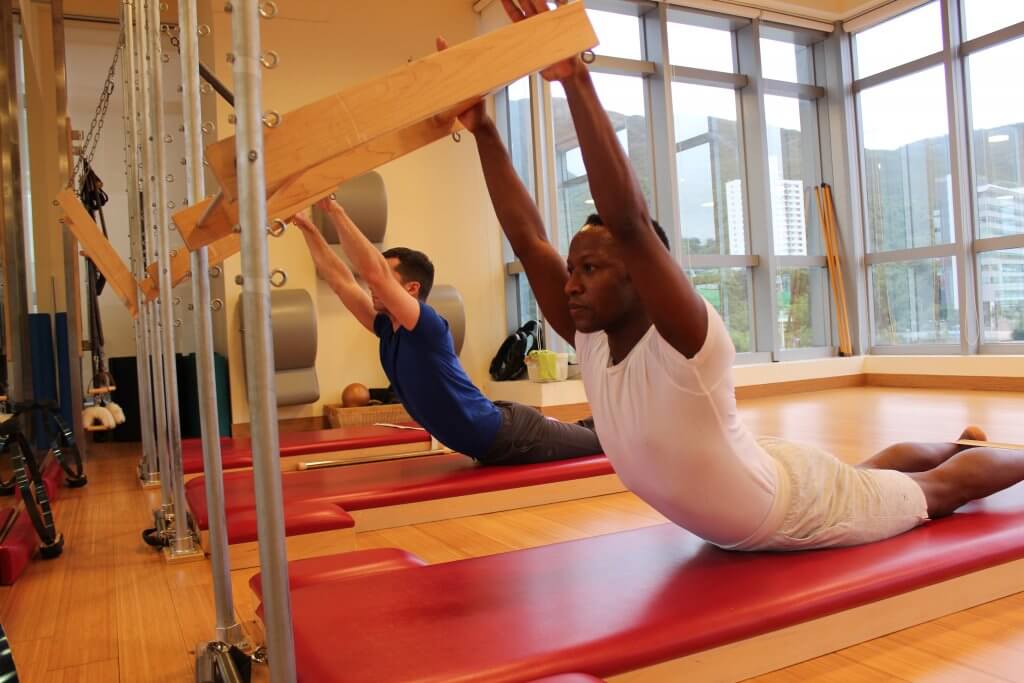 Here's a round up of all we've learned on Classical Pilates apparatus this year.
The Wunda Chair
You may have seen this chair-like piece of equipment at Flex Studio and wondered what it's meant to do. Is this where you get to sit down and relax? Ummm… nope! Meet the Wunda Chair, one of Pilates' most challenging pieces of equipment.
So what's so good about it and what can it do for you?
✓ Consists of a spring-loaded pedal, which provides added resistance against the body
✓ An excellent tool for strengthening the core, arms and legs
✓ Can easily be used and stored at home (it could double as household furniture!)
✓ Has less support, which means you can't cheat and therefore get results more quickly
✓ Can accommodate a myriad of exercises from pull ups, the swan and the double leg pump
View this post on Instagram

The Ladder Barrel
The Ladder Barrel is a great tool if you're looking to increase flexibility, lengthen your spine and enhance your posture. The ladder's four supportive rungs provide increased versatility, allowing practitioners of all proportions and experience levels to customize their Pilates practice.
View this post on Instagram
Looking to try it on your next workout? Here are the 5 the best exercises to do on a Ladder Barrel:
The Swan

Side Sit Ups

Short Box Series

Scissors

Bridging (Semi-Circle)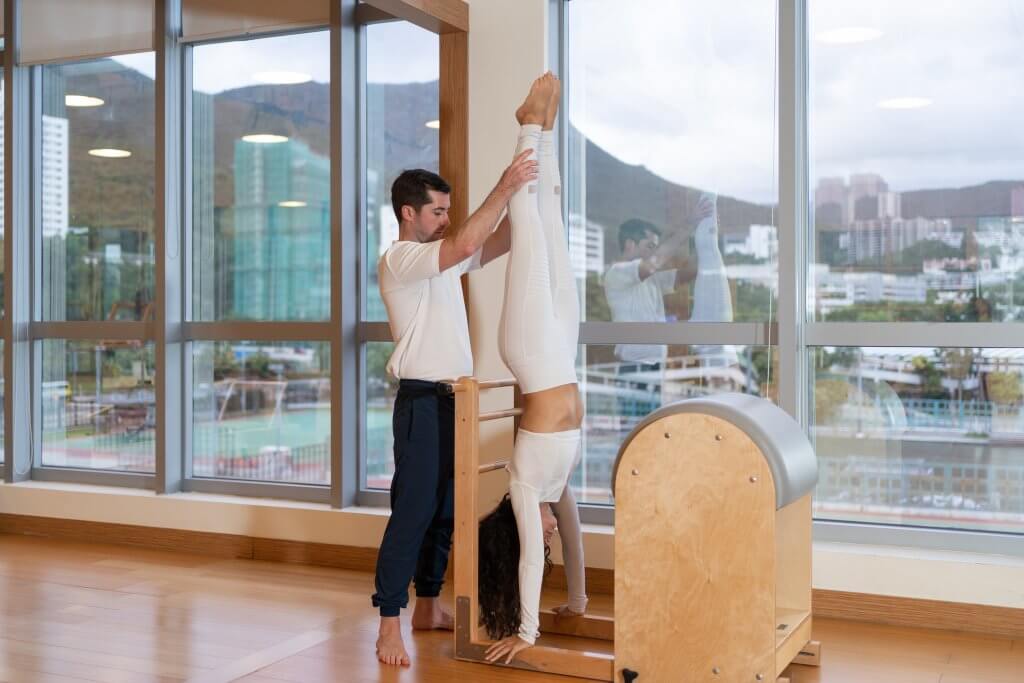 The Magic Circle
Want to add an extra challenge to your Pilates workouts? Look no further than the Magic Circle or Pilates Ring!
Joseph Pilates designed the Magic Circle to be versatile, lightweight and portable – perfect for use in the studio, at home and when traveling. Magic Circles come in several different strengths, depending on the number of layers of metal bands the Circle contains (two, three or four layers). These bands are held in place by two padded or upholstered grips.
View this post on Instagram
You can use the Magic Circle to correct, reshape and strengthen various parts of your body including the Powerhouse, inner thighs, arms, chest and neck. Regular work with the Magic Circle also helps to improve your posture and balance.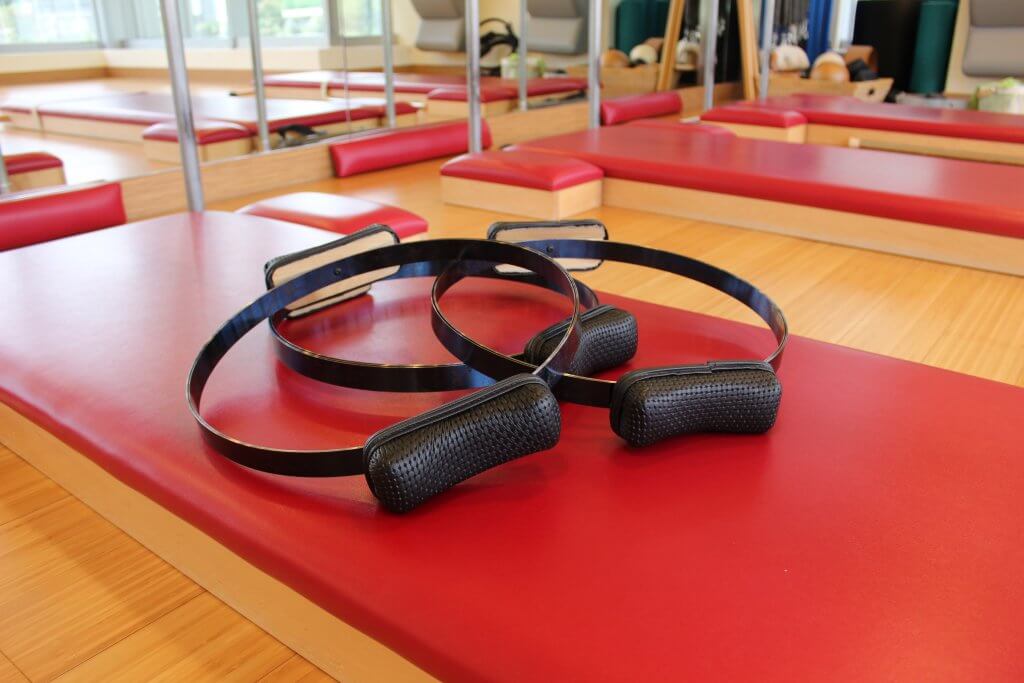 Why learn the Magic Circle?
✓ The resistance from the ring is great for strengthening inner thighs and activating the pelvic floor as well as an effective way of building arm, chest and shoulder strength.
✓ Sculpt your core muscles including the abdominal, pelvic, and buttocks muscles. The key to sculpting these is through endurance stretching, and the magic circle is a safe way to accomplish that.
✓ Tone other difficult-to-tone muscles in the legs.
Source: The Everything Pilates Book by Amy Taylor Alpers and Rachel Taylor Segel
The Small Barrel
Because Joseph Pilates understood there are so many different bodies with unique and special needs, he designed several versions of The Barrel. The Small Barrel is the simplest and most portable of his designs, yet with it you can achieve many of the valuable, essential Pilates movement goals:
✓ A flexible, decompressed spine
✓ Core power
✓ Full-body uniform development
View this post on Instagram
It's a great tool for your home studio, if you know how to maximize its use! Imagine how good it would feel to lie back over it and stretch your arms, shoulders, chest and back after a long day at your computer.
The Pedi-Pole
We have the unique Gratz Pilates Pedi Pole at both Central and Wong Chuk Hang studios. Authentically crafted in accordance to Joseph Pilates' design, it is a simple yet intuitive device that increases strength and improves balance.
The handles securely attach to a pair of high-grade springs to allow for a variety of resistance-based exercises. The vertical pole – attached to the small wooden platform – is also meant to mimic the user's spine, challenging them to maintain proper alignment through the entirety of each exercise.
View this post on Instagram

The Pedi Pole is one of our unique apparatuses at Flex – Hong Kong's only Classical Pilates Studio. It is designed to accommodate users of all heights and experience levels, and can typically be explored through private sessions if your trainer believes working with it is what your body needs.
When used correctly, this carefully crafted piece of equipment lengthens the spine while simultaneously strengthening important muscle groups. This carefully constructed Pedi Pole Apparatus encourages control of the upper and lower body while maintaining a long, straight spine and a stable center.
The Spine Corrector
Also known as the Hump Barrel, the Spine Corrector addresses imbalances or weaknesses in the spine. You do most of the exercises Pilates developed for this piece while lying with your back arched over the barrel.
View this post on Instagram
Spine Corrector exercises stretch the tight muscles in the chest, shoulders, sides of the body, and front of the hips – muscles that pull the spine out of correct alignment. This Classical Pilates apparatus helps you develop a more uniformly strong and supple spine by massaging, supporting, and challenging your spine and Powerhouse muscles.
The Electric or High Chair
In the Pilates system there are two types of "chairs": the Low or Wunda Chair, and the High or Electric Chair. The main difference between the two types is that the High Chair has a back and two handles that rise on either side of the seat.
The Chair essentially is a two-sided box with a padded seat. Underneath the seat, a foot pedal attached to the chair with two or four springs provides adjustable tension. Over the years, Pilates constantly revised the Chair; consequently, a number of variations exist, including one with a split foot pedal.
Joseph Pilates performed approximately 50 exercises on this multipurpose apparatus. You can sit, kneel, lie or stand on, in front of, or behind the Chair. You can face toward or away from it – even sideways – as you move the spring-loaded bar!
View this post on Instagram
When you add the back piece and the handles, creating a High Chair, the equipment provides even more support and guidance for the body; a handful of exercises are designed specifically for the High Chair.
The back piece supports your spine during seated exercises and helps guide your knee through standing exercises.
The handles, in conjunction with the spring-loaded foot paddle, enable you to adjust the level of support and resistance as you progressively strengthen your upper body in such Pilates exercises as the Triceps Dips.
The Guillotine or Guillotine Tower
Joseph Pilates created a "Gym in a Doorway" that mounts to the ceiling. It features springs from the top, sides and bottom allowing for much of the Cadillac/Tower work to be performed here. Meanwhile, vertical spring angles allow for different muscle action than its apparatus counterparts.
View this post on Instagram

Also called "Between Door Gym" by Joe, clients christened it the 'guillotine' for its appearance. It provides practitioners with a thorough and dynamic full-body workout. The unique, upright design of this apparatus encourages precise alignment, allowing users of all experience levels to fine-tune their technique. Specially manufactured to strengthen the hips, lower back, and spine, this unit encourages flexibility in areas of the body where it is most beneficial.
Try the guillotine for yourself at our One Island South studio on your next privates session!
The Cadillac
Also known as the Trapeze Table, the Cadillac comes loaded with everything you could want in an exercise apparatus. It's a direct descendant of early Pilates experiments in fitness equipment invention back in Joseph's World War I internment camp.
The Cadillac consists of a rectangular upholstered platform with metal poles at each corner; the corner poles are connected together at the top by a frame canopy. At one end is a swinging wooden rectangle called the Push Through Bar, which attaches with springs to either the platform or the poles.
View this post on Instagram

On the other end, a wooden bar called the Roll Down Bar hangs from the Arm Springs, which are attached to the canopy frame. A set of heavier springs, called the Leg Springs, attach to a series of eye hooks located at varying heights along the support poles. A padded Breathing or Trapeze Bar is connected by springs to a sliding pole on the canopy. A variety of cloth and fleece straps are attached to various places on the Cadillac's canopy and platform.
Have you trained on Flex Studio's Classical Apparatus this year? If you're looking to step up and are ready for more technical, challenging and targeted Pilates workouts, kick off your Classical training by signing up for a Trio, Duet or Private! View the Trios schedule here.