07 Aug

Slowing down for restorative yoga

With Heloise Chong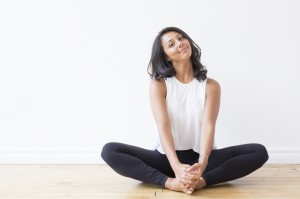 Half French, half Chinese and fully Canadian, Flex's yoga instructor Heloise has been leading a number of restorative yoga classes since she joined back in June. Her combination flow-restorative Recharge & Restore classes have a dual offering of yoga workout and yoga rest, while Yoga Bliss is gentle yoga stretches, restoring the mind and body and including light massage and aromatherapy. For more peace and balance in your daily life, mentally and spiritually as well as physically, explore restorative yoga in one of Heloise's classes.
"I used to be a gymnast and practiced many kinds of martial arts. But it was the daily stresses of school, my job and not taking time for myself that pushed me into yoga. I burnt myself out by the age of 19, 20 and when I became ill with adrenal fatigue my naturopath told me I needed to do yoga. When I told her I had no time she insisted I make the time and practice restorative or Yin, nothing else. And that's how I got into the healing aspect of yoga."
Now fighting fit and loving her new role as a yoga instructor and healing facilitator, Heloise explains the benefits of slowing down for restorative yoga in her Yoga Bliss class.
When sleeping, our body may still be in fight or flight response while we are dreaming and therefore we wake up tired. Restorative yoga gives an incredibly deep relaxation that goes beyond consciousness to our sub conscious. It is extremely rejuvenating and a lot of people end up falling asleep.
During the restorative part of the class we will hold postures for five to ten minutes so that the body can get into a really comfortable pose and be fully relaxed. We use bolsters, blocks and blankets, anything that helps take away any discomfort.
While Yin yoga also holds postures, you may feel some stress while doing so as the goal is to affect the fascia and tissues of the body. In restorative we aren't looking for any stress. It's about allowing the body to relax.
As a teacher, although I often tell people to relax, I can see their bodies are still so tense. In restorative I use poses like pigeon and bolsters and blankets at any stress points so that the body isn't holding itself up. The result is that there isn't even the slightest discomfort.
Everyone needs restorative yoga. It helps relax the body, mind and, especially, the nervous system, so it's particularly beneficial for people living in Hong Kong. While most clients want power classes, the city needs to relax and de-stress, take sometime for self-care and self-love, and that's what restorative does. People may initially find restorative yoga boring, but that's where the challenge is – to let go of the mind and be truly present. As we slow the practice down it becomes more of a mental challenge versus a physical challenge.
Quite often people cry in class, as it gives the opportunity for such a deep release. We don't cry enough in our daily lives and in fact I only started crying after I did my yoga training.
And at the end we practice a nice long sivasana. I believe sivasana is just as important as an active asana. It is the pause in a rhythm that creates a beat. It's in that stillness the body gets to undo the daily stress, and to soak up the benefits of the postures you've just worked on in class.
During my Yoga Bliss class I waft lavender (for relaxing) or vanilla (for comforting) essential oils during sivasana and do a gentle head or face massage to each person. So no matter how hard the Vinyasa part of the class is, when you end with restorative or even just a ten-minute sivasana, everyone comes out feeling relaxed. It's good for everyone, no matter what age or level and what's great is you get to work out and relax, all in one class.
Read more here.
Join Heloise in her signature classes in Island South and Central:
Yoga Bliss
Tuesdays 6:15pm | Island South
Recharge and Restore Yoga
Tuesdays 12:45pm | Island South
Fridays 12:30pm | Central