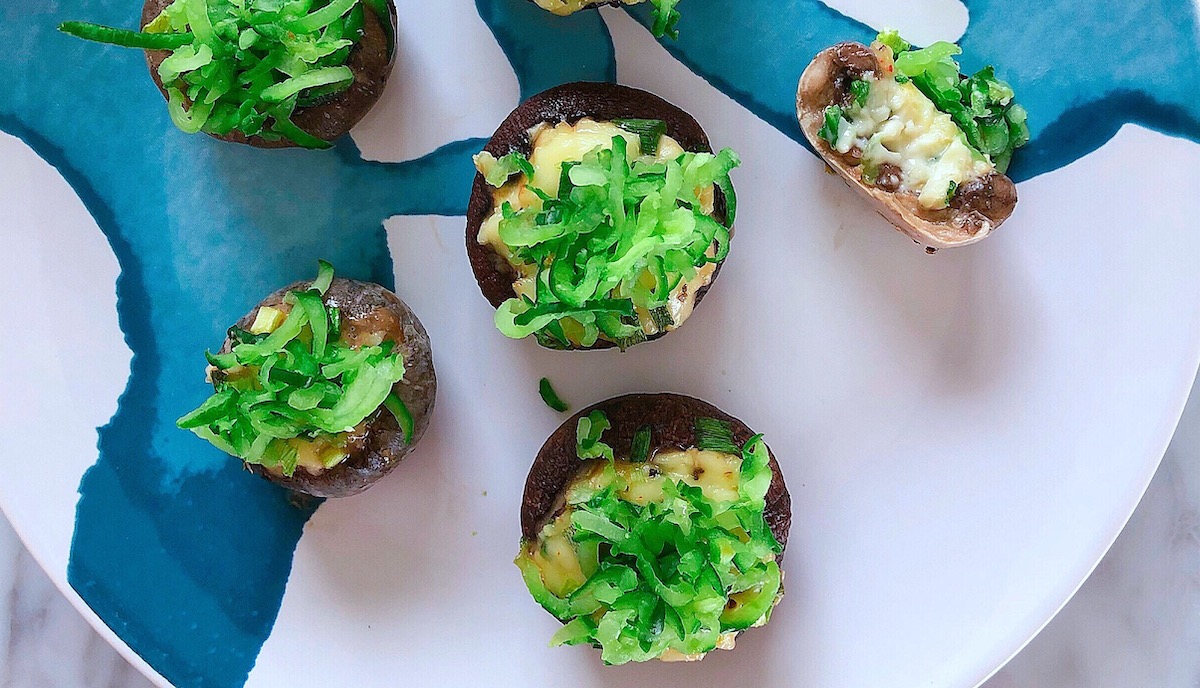 03 Jan

RECIPE: Spring Onion & Cheese Stuffed Shiitake with Toasted Cucumber by The Veggie Wifey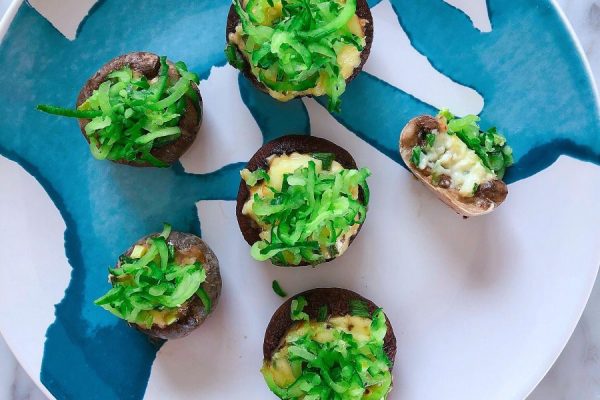 The Veggie Wifey shares a great menu option for Veganuary.
Get creative with your starters this year, or treat yourself to a delicious and light snack when you're feeling peckish. Divya Butani of The Veggie Wifey shares with us a perfect starter for when guests come over or a quick recipe to detox after the holiday feasts! 
We're delighted to feature this "business teacher by day and chef by night" who's become insta-famous in Hong Kong for her delicious, easy-to-follow recipes. 
Bon appetit!
Spring Onion & Cheese Stuffed Shiitake with Toasted Cucumber
Ingredients:
A handful of shiitake mushrooms (Diva: I use 10, but adjust this recipe to as many as you think you would eat/be serving) 

3 long spring onion stems, chopped 

5 cloves of garlic, minced

1 cup of shredded mozzarella cheese (you can use a vegan alternative)

Salt

Pepper

Chilli powder, optional

1/2 a medium sized cucumber, spiralled or julienned
Preparation:
Preheat the oven to 180°C

Chop the mushroom stem or peel it off, and scoop out the first layer. You've gone too far if you go past the brown scaly ring in the centre of the mushroom.

Mix the cheese, spring onion, garlic, salt, pepper and chilli in a separate bowl. 

Stuff the mushrooms with the filling; fill it up to the very top. 

Align the mushrooms on a greased parchment paper, over a baking tray, and place in the oven for 15-20mins 

In a small heated skillet, add the spiralled cucumber and let it sweat until it becomes dry and crispy. Make sure you don't overheat it and lose it's colour

Remove the mushrooms from the oven and place it on your serving plate; garnish with the cucumber. Sprinkle with extra pepper if desired.
About the Author
Divya Butani (@TheVeggieWifey) is a 28-year old full-time Business and Economics teacher in Hong Kong. Divya started her blog when she got married three years ago, when she was overwhelmed by managing a new household and balancing work. Divya now strives to provide quick and easy-to-follow recipes for anyone who has limited time, but a strong passion for cooking.