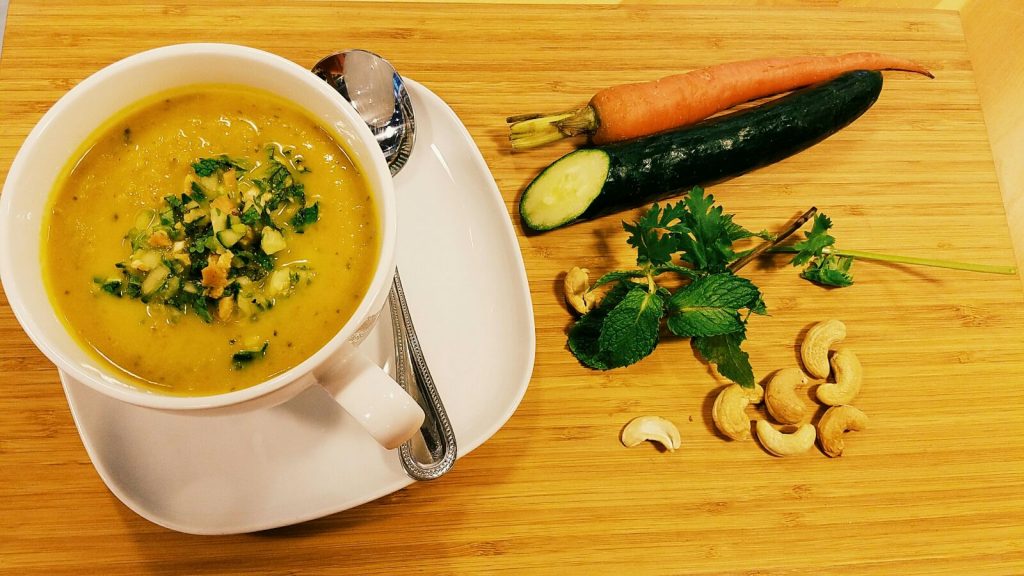 25 Jul

Summer Cooling Soup from SpiceBox Organics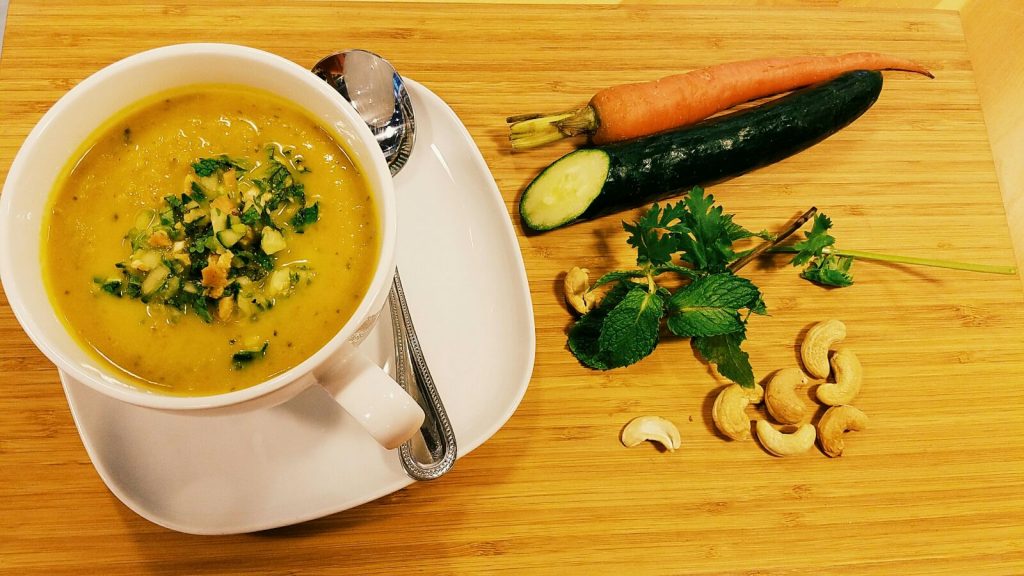 By Punam Chopra of SpiceBox Organics Store and Café
This carrot soup is incredibly nutritious, gathering together healthy vegetables, adding some cheeky spices and then cooling it down with cucumber. It is served with a cashew cucumber relish too, a delicious mix that you can serve with numerous dishes. While the soup is perfect served cold in hot summer weather, of course it can be heated up for a hearty dish on chillier days.
Ingredients
1 large onion or leek, sliced
6 carrots
3 deseeded cucumbers, chopped
5 cloves garlic
70g chopped kale
1 tbsp. cold pressed oil (sunflower, coconut)
1 tbsp. Himalayan pink salt
1 tsp. yellow curry powder
1 tbsp. lemon juice
For Relish
1 large seedless cucumber, chopped
4 tbsp. raw cashews, chopped
4 tbsp. cilantro, chopped
4 tbsp. mint leaves, chopped
Preparation
Heat the oil over medium heat in a large pot. Add the onions or leeks, with garlic, carrots and kale, and cook until soft. Add some salt, curry powder and cayenne pepper. Mix well.
Add 1 litre of hot water and bring the mixture to a boil. Reduce the heat and simmer until the carrots are tender, about 10 to 15 minutes. Then add the cucumber and turn off the heat.
Blend the mixture in a food processor until it turns into a smooth creamy consistency. Add the lemon juice.
Let cool and place in the fridge or freezer to chill before serving.
For the relish
Simply mix the chopped cucumber, raw cashews, coriander and mint with a pinch of salt.
To serve, scoop the soup in a bowl and add a spoonful of relish on top.
Also Read: Best Ways to Get Summer-Ready from Flex Studio's Expert Instructors
About SpiceBox Organics
This recipe was brought to you by Punam Chopra of SpiceBox Organics. SpiceBox Organics is a socially conscious company with retail, corporate and wholesale channels – you can find the store at Caine Road and Kennedy Town. Punam Chopra launched Spice Organics to curate a collection of healthy, environmentally friendly and tasty products (currently counting 650), of which 95% are certified organic. She also creates her own collection of spices, spice blends, grains, flours, raw nuts, cold pressed coconut and other oils. She offers all-natural bath and body care and household cleaning products too, all available for online purchase and delivery at www.spiceboxorganics.com. Punam is also a health coach and yoga teacher.