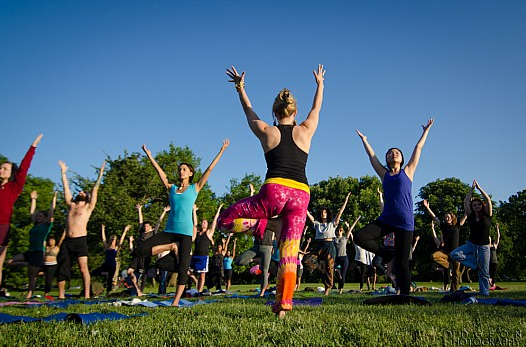 29 Oct

Yoga, slacklining, art, food and shopping at the Flex Festival!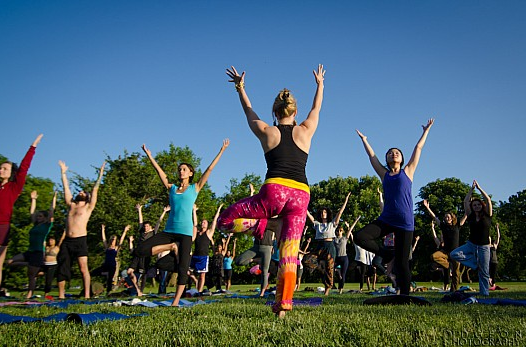 Flex Studio is proud to be celebrating their 10-year anniversary with a Family Yoga Festival of classes and performances, Yoga, Zumba, dance and art. Filling the Cyberport Podium with over 30 Flex partners, you'll find exciting stalls and plenty of health related shopping and delicious dining. Welcome to a great day out for the whole family!
"We wanted to celebrate in a way that included our entire Flex community," says co-founder Heather Thomas Shalabi. "The Flex Family Festival is the ideal way to connect with our community, and make sure everyone, from kids to adults, have fun and exciting activities throughout the day. It's going to be a real family celebration."
YogaSlackers in Hong Kong for the first time!
Headlining the festival, Flex presents the YogaSlackers, Sam Salwei and Raquel Hernandez-Cruz from the USA, here for the first time in Hong Kong! Sam and Raquel will be teaching Hong Kongers about slacklining and Slackro (slacklining combined with AcroYoga) throughout the day. It will be a fun series of flexing and folding, balancing and supporting, trusting and learning.
Festival activities
Flex's high-energy instructor Trixie Velez will be leading a 30-minute Zumbathon for all ages, and Flex's other wonderful instructors Michelle Ricaille, Heloise Chong, May Nogoy and Charlotte Douglas, will be taking various adult yoga classes, including May's fun-filled hoop yoga class!
For kids there is a full schedule of yoga, Born to Move™ Fitness and Teen Hoop Flow. In addition, Colour My World will be running art classes with Mindful Mandalas, cute Balancing Art sculptures to make and eclectic Rock Paper Body outlines, all perfect for kids of four years and up. Face painting, balloon twisting, and other interactive activities are all part of the fun.
If you don't want to join the classes, just turn up and enjoy a grand day out. Take in the atmosphere, energy and excitement, watch the gravity-defying demos, dine on a wide range of soul food and drink, shop from leading local brands of therapy, active wear, accessories and homewares, and be inspired!
Food, shopping and therapy galore
You'll be able to browse through yoga apparel and accessories from brands like ColorPilla, A Day with Fé, Omberry, My Secret Life and T8 Fitness, plus jewelery by Janne Poulsen Jewelery to revolutionise your wardrobe.
Come hungry and choose your favourite delicious and healthy food, snacks and drinks from Pomegranate, Lantau Mama, Bread and Bistro, Tai Tai Pie Pies, Homegrown Foods, Rawthentic, Green Vitamin, Buonissimo, Spicebox Organics and Food for Life.
There will be plenty of other health goodies from Coconut Matter, Munchbox, Soapnut Republic, Sol Wellness and Blue Bauhinia.
Enjoy the offerings from fitness curators Guava Pass, therapy from The Healing Seed, Martha Collard's gong baths, The Round Clinic and Vital Health, and fun for kids at Colour My World and Brainchild.
Finally, homewares and toys will be on sale from Knots & Strokes, The Fabulous Towel Co, Zest of Asia, Renaud Air and Manipura Wellness Practice.
In aid of the Adventist Hospital Foundation
Flex is delighted to be giving profits from the festival to the Adventist Hospital Foundation. "We are very proud to be shining the spotlight on a local service that offers medical help to those who are in need of urgent care but don't have financial resources," says Heather.
Celebrating 10 years young!
'This celebration is for everyone who has connected with Flex during the last decade, as well as the Hong Kong community at large," says Heather. "It is for friends and clients, old and new, and their kids and teens. It is for our wonderful instructors and our loyal partners. Thank you all for being part of this amazing journey, and may we continue to work, learn and grow together for another ten years to come!"
Details:
Flex Studio Family Yoga Festival, 14th November, 9am – 6pm.
Entrance to the festival is free.
To check out the classes available read here.
Classes include Slacklining, Slackro and AcroYoga (HK$290 for 90 minutes) to adult yoga classes (HK$100) and children's classes and workshops (HK$50). Capacity is limited! To pre-register and reserve your place call 2813 2212 or email [email protected].
Image thanks to Moksha Yoga Centre.