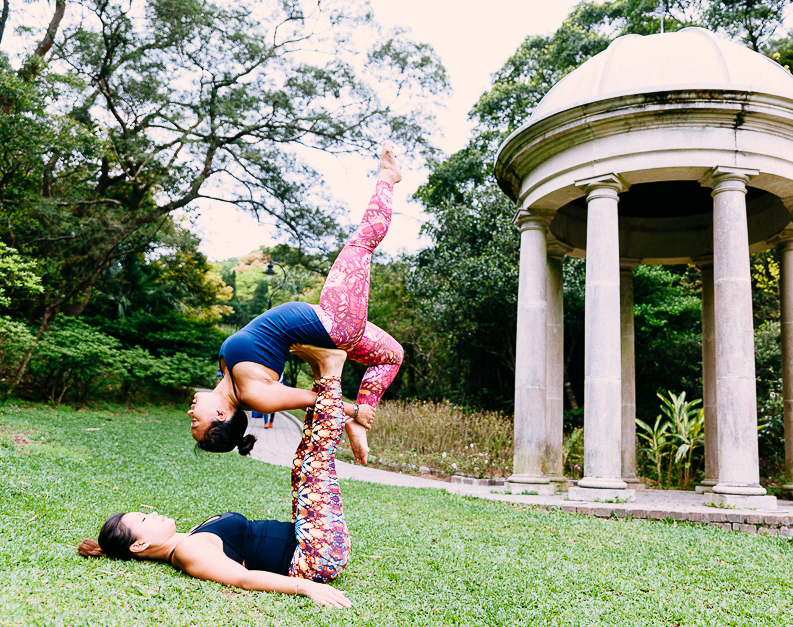 04 May

Fly at Flex!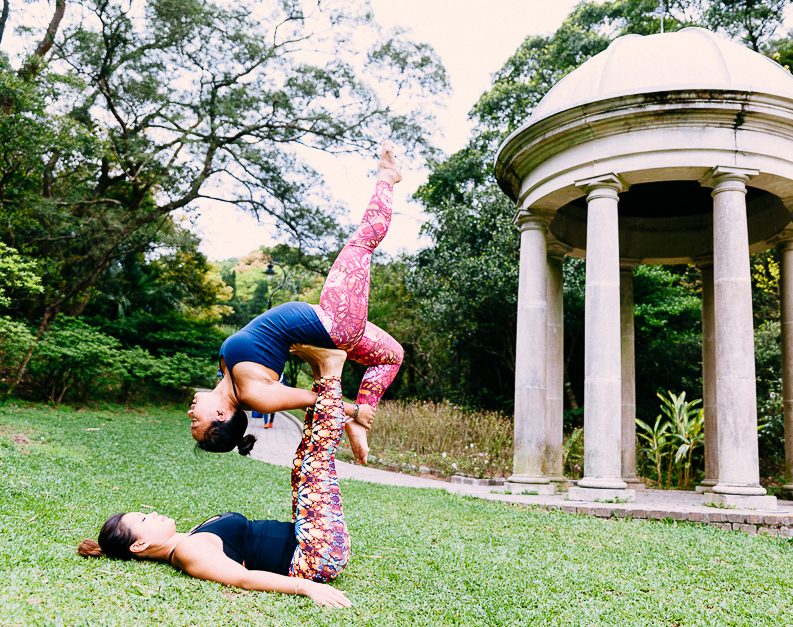 Flex's new AcroVinyasa classes are taught by Jessica, whose background in gymnastics and aerial arts is the perfect foundation for AcroYoga. "I love sharing and teaching the practice, especially seeing people who think there's no way they'll be able to do a pose and by the end of class doing it with ease!" If you don't have a partner, don't worry! Groups are mixed up during the class, so come and make some new friends. Jessica tells us what an AcroVinyasa class can bring to your workout routine.
Created by YogaBeyond, AcroVinyasa is an accessible introduction to AcroYoga, its more acrobatic counterpart. The class includes a full yoga warm up on the mat, including poses that will be part of the base or flyer repertoire, before taking them flying.
Class format
Class starts with a solo warm up on your own mat, a regular Vinyasa practice that lasts 25 to 30 minutes to open and loosen the muscles. Then you move on to partner inversion work, for example one person doing head or handstands and the other spotting, then vice versa. Finally you work in groups of three or four learning how to base, spot and fly. The base is the person supporting from the floor, the flyer is on top of the feet and hands of the base, and the spotter makes sure everyone is safe.
Some of the positions are full yoga, and it's important you are aware of your body. For example in front bird the flyer is lying in locust pose, belly down while back bending. You must be aware of how your body reacts to that pose and communicate this with your partner too.
Initially it is easier if the flyer is smaller than the base, but once you get the alignment right and feel how the bones stack, then the trust, technique and confidence all build. It's about learning to trust, to support, to give and receive, and to communicate.
Hone that focus, trust and communication!
During AcroVinyasa you have to be very focused. Similar to yoga, to get the best out of it you must be present, not thinking about your grocery list of what you're doing after class. But especially when you are doing Acro, the act of practicing base, flyer and spotter makes a very honest practice, as you can't not focus.
Trust is a huge part of Acro. In fact you could call it the Yoga of Trust. Before lifting people we do a partner calibration and can see where people are holding back or have trust issues.
At the same time it is essential to focus on the breath. We encourage the base and flyer to inhale and exhale together to connect. When people are nervous or anxious they panic and force their way into a pose, so it is important to check in all the time and make sure your weight and your position is ok. There should be a lot of communication.
Why I love AcroVinyasa
It feels great to do AcroVinyasa. It is so rewarding to see people fly for the first time. It taps into your inner child, like when you were a kid and your parents whizzed you around in an 'airplane'. You'll see people's eyes light up, "I'm flying!"
AcroVinyasa inspires community, and we encourage our community to get together and jam, for example in the parks, as long as they are safe and know what they are doing. Wherever you go in the world you'll find an Acro community.
The most common issue is the people think it will be scary and hard, but they leave their first class realising it isn't. People love the community side of it and complete strangers become comfortable with each other, become friends and can get really close. The practice teaches adults to connect to the child within. It feels more like a dance with gravity than a physical exercise. You can play for hours and you don't realise until you get home that you are tired.
Check out Flex's upcoming AcroVinyasa Workshop, being held on 22 May at the Central studio. Led by Jessica and Doris Au-Yeung, it will be a fun 2.5 hours of learning to fly!