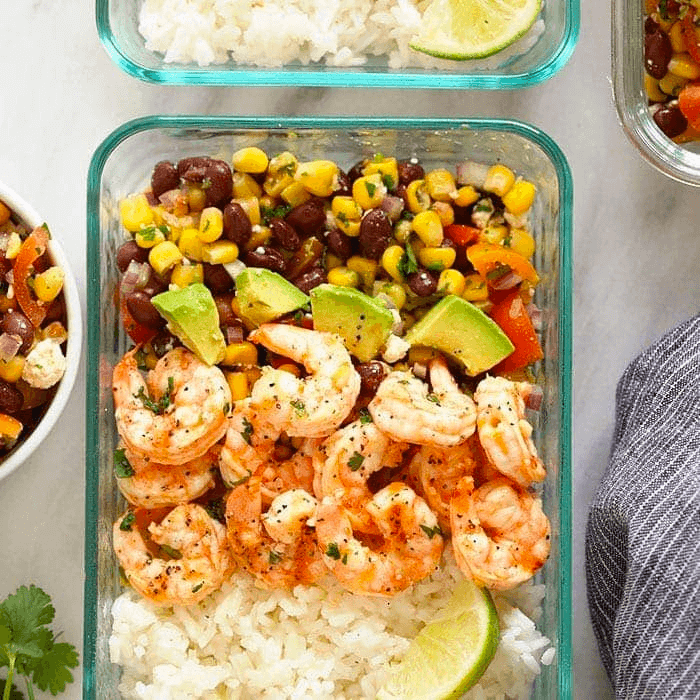 20 Sep

Back To School Healthy Lunchbox Recipe: Prawn Rice with Veggies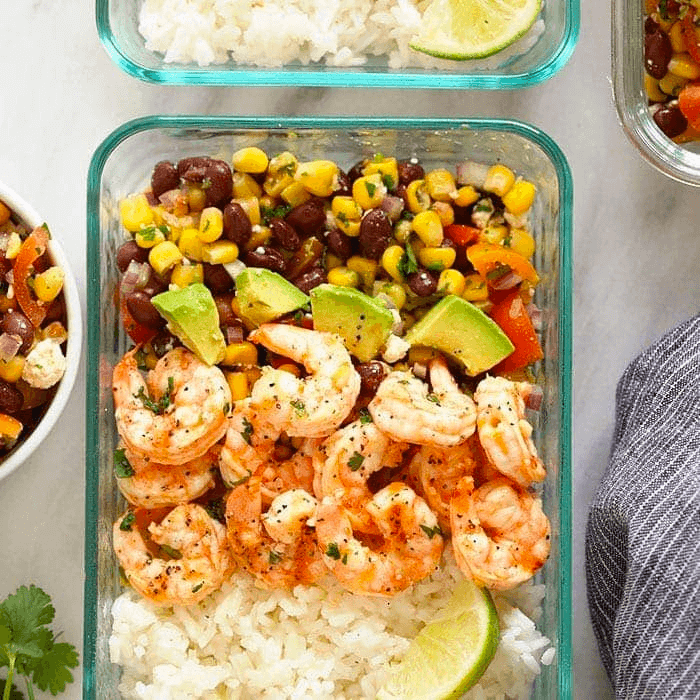 As the school year starts, we share a quick and easy recipe from nutritionist and chef Priscilla Soligo, who packs lunch boxes both for the kids and herself!
Are you a "buy it out" or "bring it in" kinda person? Or both!?
One of the recurring questions I get asked from my clients is how to keep consistent?
Here's the thing, a little planning ahead can go a long way… and remember, real life happens.
What I mean by this is that if you're out all day at meetings, or at the office for work, or maybe you're running the kids around – try whenever you can to "bring it in." By this I mean if you're prepping lunchboxes in the AM for the kids, why not prep one for you too if you know you're going to be out running around? I'm not talking about social situations – I'm talking about you running errands & getting sh%t done like a boss! 😃
If I don't prep a box, then of course I can find a restaurant that gives me a healthy meal BUT here's the thing, that adds up everyday $$$. And if I'm always relying on eating out every day, I don't feel the best. My gut might be off, and I just don't feel the same. This could be due to the oils they're using to cook foods, food prep, storage, and ingredients. I am no purist, so I'm happy to eat out, but not all the time! I want to FEEL great.
So, I am a "bring it in" to my day type girl. Does this take more time? YES, but no longer than me awaiting a meal in a restaurant.
Recipe
Rice
I pull from my fridge 1/3 cup of my pre-cooked (in my rice cooker) resistant starch III rice (cooked/cooled & I warm it back up again). 
Vegetables
Sautée some non-starchy veggies & spring onion in olive oil (keep the extra virgin for salads or low heat), salt & pepper.
Prawns
Sautéed some (defrosted) prawns (same pan, no need to clean!) in ghee, ginger, garlic, fresh hot red chili 🌶 
Toss all into one of your kids' stainless steel lunch boxes & happy days! Option to top it off with a fried egg. It's QUICK! 
Depending on your budget, and where you live will dictate the types of accessibility you have to "buy it out," or you can save $$$ with a little planning. This helps me & my clients to stay on track headed towards our goals and feel accomplished by the end of the day. You won't need to succumb to those pastries because your hunger hormones are balanced & you're satiated by eating the #5tothrive & priorities protein, fats & fibre rich non-starchy carbs.
About Priscilla Soligo
Priscilla Soligo is an Australian qualified Clinical Nutritionist. She holds a bachelor's degree from The University of Southern Queensland and a postgraduate degree in the Science of Human Nutrition from Deakin University, Melbourne. Priscilla's further clinical education includes being a graduate of The Institute for Functional Medicine in Applied Functional Medicine in Clinical Practice (AFMCP), and Functional Blood Chemistry Analysis (FBCA Mastery Training) certification with Dr. Dicken Weatherby, at ODX Academy. 
Priscilla's passion for female physiology, cycle synched training, and the pre-menopause, peri-menopause, and post-menopausal phases of a woman's life saw her seek out and study Dr Stacy Sims certifications, WANSM, and Menopause For Athletes. Priscilla is a certified Master Personal Trainer by The Australian Institute of Fitness, Perth (SIS40215 Cert. III, IV, and Master PT). She was granted the prestigious 'Institute Champion Award.' Finally, she is an Active Member of the Canadian Nutrition Society (CNS) and is a Nutritionist Member with the Hong Kong Nutrition Association (HKNA). 
Visit Priscilla's website at www.priscillasoligo.com or follow her on Instagram @empoweredwithpriscilla