11 Dec

A SPIN ON TRADITIONAL TURKEY

CRANBERRY TURKEY MEATBALLS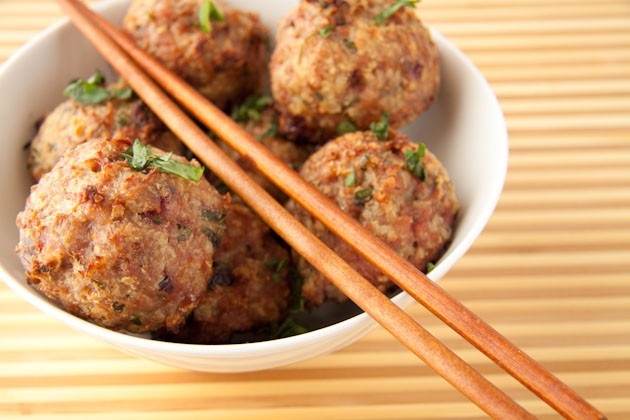 Why not try a different take on the traditional turkey dinner. These healthy cranberry turkey meatballs are full of flavor and reminiscent of Christmas dinner, all rolled up in a little ball!
Dairy-free, Egg-free, Gluten-free, Grain-free, Low Carb, Nut-free, Refined Sugar-free, Soy-free, Sugar-free
Prep Time: 10 minutes
Serves: 8
INGREDIENTS
1 lb. lean ground turkey
1/4 cup dried cranberries
1/4 cup egg whites
1/2 cup almond flour
1/4 cup mayonnaise
1/2 tablespoon apple cider vinegar
1/4 cup fresh herbs: I used basil and thyme
1 teaspoon salt
Dash pepper
INSTRUCTIONS
Preheat oven to 400F and line a baking sheet with parchment paper or a silicon baking sheet.
Place all ingredients in a large bowl and mix with your hands until combined.
Shape into 8 meatballs and place on prepared pan about 1-inch apart.
Bake for 30-35 minutes, until internal temp is 165F.
Remove from the oven and serve!
Nutrition Information
Calories: 139
Calories from Fat: 62
Total Fat: 6.9
Saturated Fat: 1.6 g
Cholesterol: 42> mg
Sodium: 399 mg
Carbs: 6.5 g
Dietary Fiber: 0.6 g
Sugars: 1 g
Protein: 12.8 g
Leanne Vogel – http://www.healthfulpursuit.com/recipe/cranberry-turkey-meatballs/