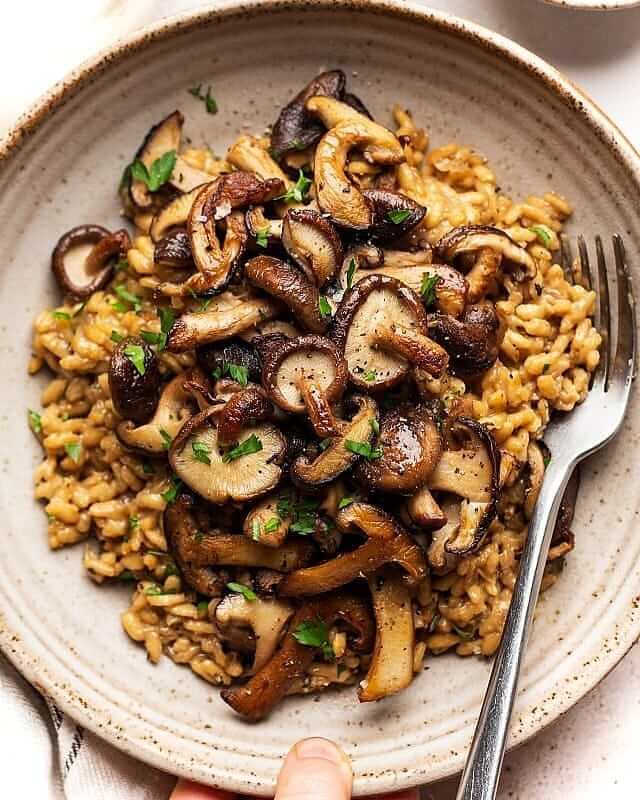 06 Nov

RECIPE: Creamy Vegan Mushroom Risotto

Flex Studio Director Heather Thomas Shalabi shares a vegan recipe she made last Thanksgiving 

"This is what I made last Thanksgiving and it was delicious!" says Heather. "Of course I used Lite Coconut milk." Rich, creamy and bursting with umami flavor, you'd never guess this filling dinner was diary-free. Enjoy this special seasonal recipe from Connoisseurus.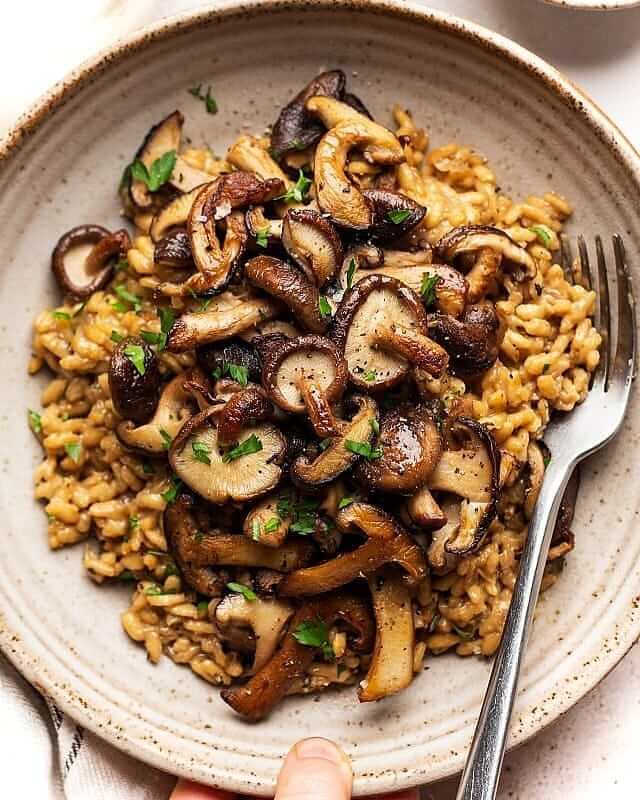 Prep Time 10 minutes 
Cook Time 35 minutes 
Total Time 45 minutes
Serves: 4 Calories 583 kcal
Ingredients
1/4 cup olive oil

3/4 pound assorted fresh mushrooms, cleaned and roughly chopped

1/2 cup chopped shallots (about 2 shallots)

3 garlic cloves, minced

1 tablespoon white truffle oil (recommended, but you can substitute another tablespoon of olive oil if preferred)

1 1/2 cups arborio rice

1/2 cup dry white wine

1 teaspoon dried thyme

1 teaspoon dried rosemary

1/2 teaspoon rubbed sage

3-4 cups low sodium vegetable broth, warmed

1/2 cup full-fat coconut milk

2 tablespoons

white miso paste

1 tablespoon lemon juice

1/2 cup frozen peas, thawed

Salt and pepper to taste
Instructions
Coat the bottom of a large pot with olive oil and place it over medium heat.

When the oil is hot, add the mushrooms in as even a layer as possible (cook them in 2 batches if you don't have much room).

Allow the mushrooms to cook for about 5 minutes on each side, until tender and browned.

Remove the mushrooms from the pot and transfer them to a plate.

Add the truffle oil to the pot and give it a minute to heat up.

When the oil is hot, add the shallots. Cook the shallots for about 5 minutes, stirring occasionally, until they just begin to brown.

Stir in the garlic and cook for about 1 minute more, until very fragrant.

Stir in the rice and cook it for 1 to 2 minutes, stirring constantly, until it begins to turn translucent.

Stir in the wine, thyme, rosemary and sage. Bring the wine to a simmer and allow it to cook until fully absorbed by the rice, stirring frequently.

Begin adding the broth to the pot, about 1/2 cup at a time, bringing each addition to a simmer and allowing it to cook until fully absorbed by the rice before adding the next batch. Stir the rice frequently as it cooks.

After about 3 to 3 1/2 cups of broth have been added (this should take a bit less than 20 minutes) the rice should be very creamy and almost fully cooked, with just a bit if firmness at the center of the grains. At this point, stir in the coconut milk and miso. Stir well to fully dissolve the miso.

Allow the rice to continue cooking until the coconut milk has been absorbed. Test the rice for doneness and add a bit more broth and cook a few minutes more if needed.

Remove the pot from heat and stir in the lemon juice, peas and mushrooms.

Taste-test and season with salt and pepper to taste. 

Serve.
Happy Thanksgiving, all!