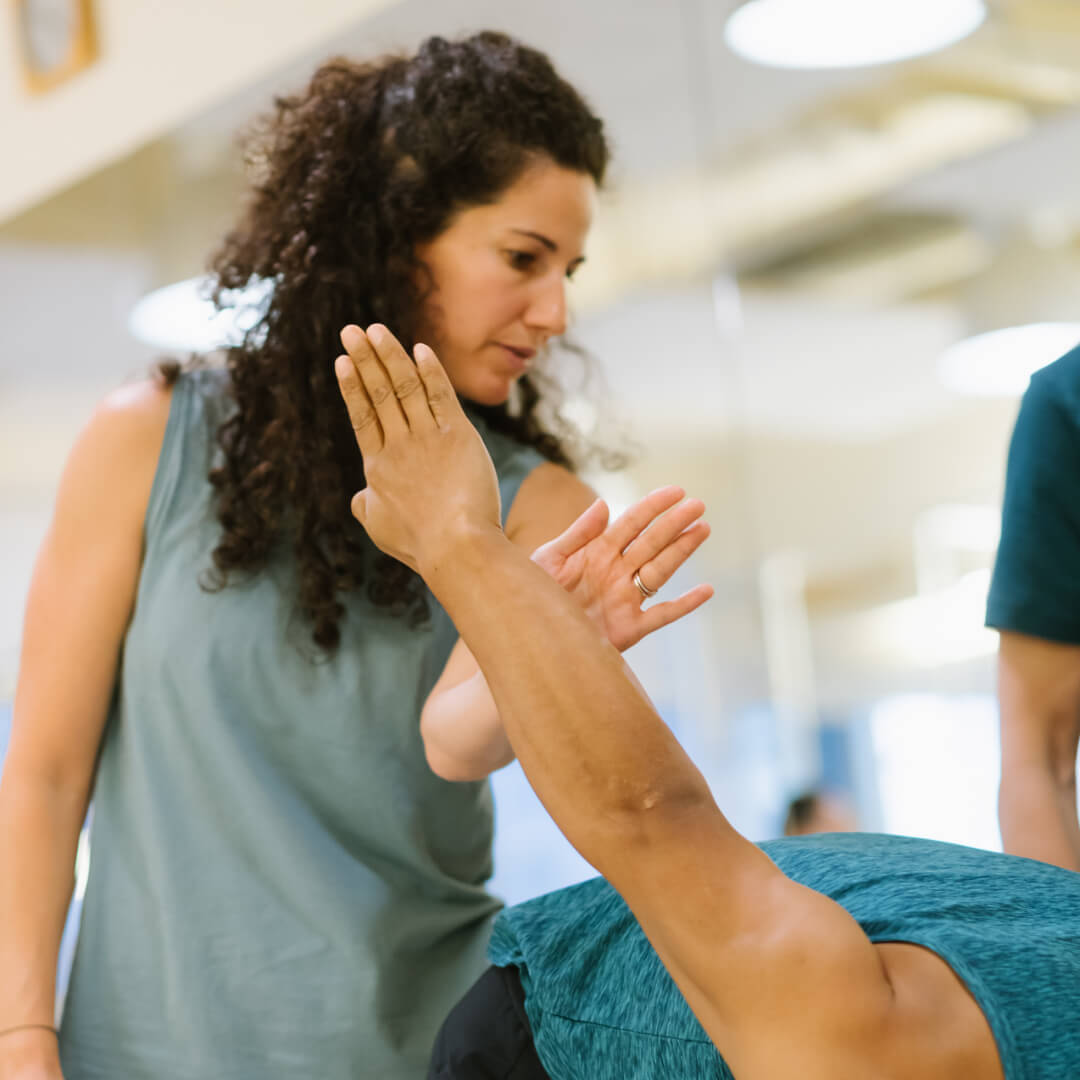 06 May

Q&A with Jessica Williams: Postnatal Recovery Through Classical Pilates

Holistic Nutritionist Jessica Simkin Williams explains why Classical Pilates is best for postnatal recovery and how it helped her after giving birth to her second child

Yoga Instructor and Holistic Nutritionist Jessica Williams first discovered Pilates after a back injury in 2009 left her unable to practice yoga for six months. A year later, the pain returned and since then she has been doing Pilates anywhere from four to six times per week. "Strangely I am grateful for that injury – because of it, I've been doing Pilates ever since," she says. 

In 2017, Jessica gave birth to her second child Rhys in Hong Kong. Prior to that, she had only been practicing Contemporary Pilates. When she returned to her workplace Flex Studio, Jessica discovered that it had transitioned into the Classical system, confusing and intimidating her at first. It turned out to be a blessing in disguise, as she ended up doing her postnatal recovery through Classical Pilates, and now vouches for it as the best exercise for new mums.

Let's hear from Jessica on why moms shouldn't give up on their training after giving birth, and why she advocates getting back in the game as quickly as possible on a programme tailored to one's personal needs.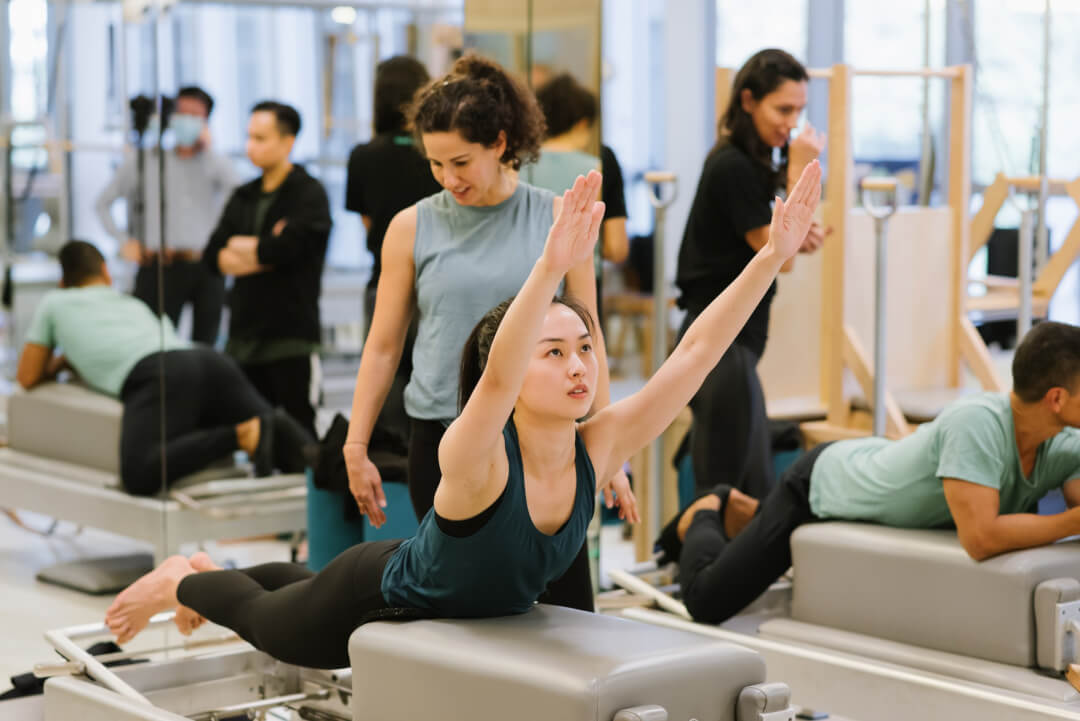 Can you tell us about yourself? 
I was born in Miami Florida but grew up in St. Louis, Missouri. My family moved back to Florida when I was in middle school. I attended Indiana University where I studied Anthropology. Originally I wanted to do a Master's Degree in Primate Behaviour and Ecology, but ended up getting a master's in holistic nutrition. This was a natural direction for me as I had been indirectly studying nutrition on my own from a very young age and really never stopped. I am a bit of a school nerd. Every year I do continuing education hours in nutrition and currently I am also studying herbal medicine. 
You discovered Pilates after a back injury. Why did you continue?
Pilates is the only form of strength training that leaves my body feeling better after every session. Other forms of strength training aggravate my back issues and leave me feeling tight and uncomfortable. I love the amount of focus and precision Pilates requires. 
What was your fitness regimen like? What made you focus on Pilates compared to other sports or activities? 
While I am both strong and flexible, I tend to use my flexibility more than my strength when working out, which long term led to some problems. Two pregnancies also contributed to an imbalance in my body where I lacked stability compared to the amount of flexibility I have. 
I focus on Pilates because I need strength training. I also practice yoga twice per week, and while it is amazing for the body I do it more for my mental and emotional health. I also hike a couple of times per week when time allows. I love being out in nature getting my heart pumping out in the hills.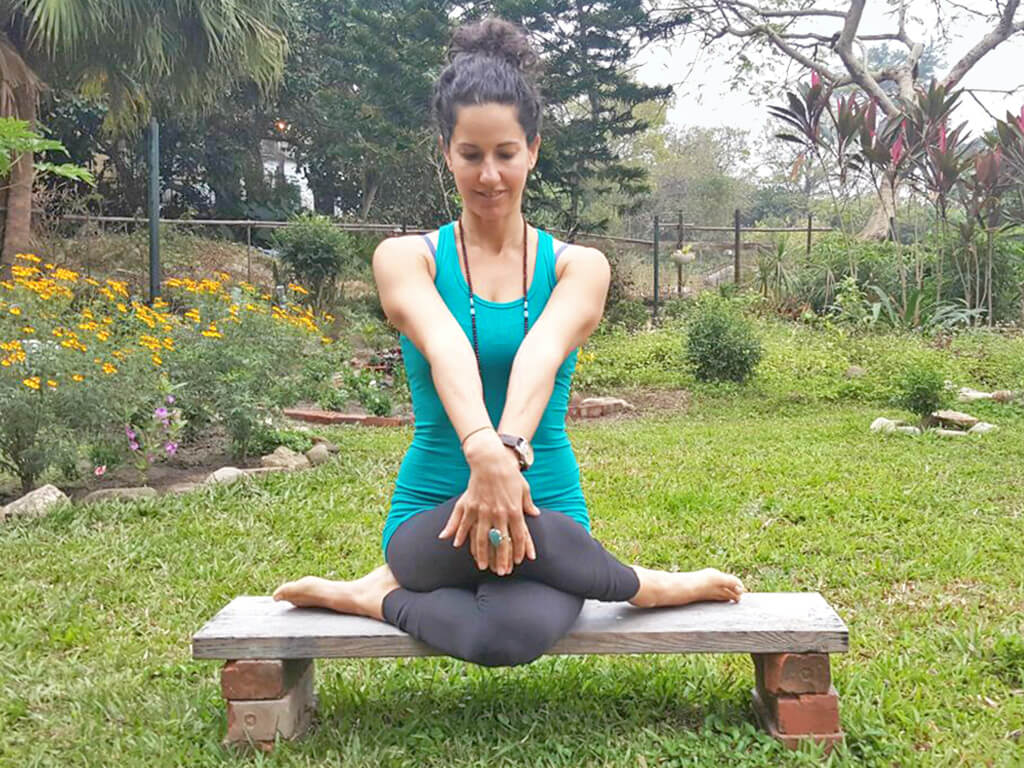 What brought you to Hong Kong? 
I met my now husband when I was living in Shanghai working as a full time yoga instructor. He grew up in Hong Kong and his family lives here. Once they started moving outside of the city, we had a totally different experience of what life in HK could look like. At some point we decided to swap big city living for village life. What's great about Hong Kong is that we are super close to the city, but then can easily retreat to our quiet little town surrounded by beaches, waterfalls, buffalo and great hiking.  
How many years have you been with Flex Studio? 
Five years and counting! I started at Flex when my older son was one year old. I actually wasn't looking for more work at the time, but I was given an introduction to Heather from another instructor, and before I knew it I had a couple of classes on the schedule.  

How was your process of getting into Classical Pilates? How does it compare to Contemporary/other disciplines for you? 
It was scary at first. I came back from maternity leave after having my second and the studio had completely changed. I felt totally lost and even considered giving up working as a Pilates Instructor. Luckily I didn't. I started attending all of our instructor training sessions to get myself up to speed. I quickly shifted to Classical as it made complete sense both in my body and how I approached teaching. I am trained in both Classical and Contemporary and honestly, there isn't any comparison. Once I started learning the Classical approach, I never looked back.
Why did you decide to do a Classical Pilates Teacher Training? 
I had already spent a year training in Classical when the first REAL Teacher Training was offered at Flex. I knew I wanted to do it at some point, and it made sense to take the training with my colleagues as we had already been training together for years. The programme was amazing. It completely took over my life for a year, but I came out the other side a much better teacher and far more confident in my teaching than I had ever been. 
What helped you the most in terms of getting your body back to normal? 
Classical Pilates definitely helped my post natal recovery. Pregnancy highlights any weaknesses you already had in your body. Months of hormones relaxing your joints plus carrying extra weight and then of course the work labor, delivery and caring for this little human can really be taxing. Pilates places special focus on the areas that are weak during that postnatal period like your deep abdominal muscles and your pelvic floor and then of course it is an amazing full body workout on top of everything else.  
For me, getting back in shape really took work. I didn't bounce back easily or quickly, but with steady, regular workouts and training I was certainly able to feel strong again.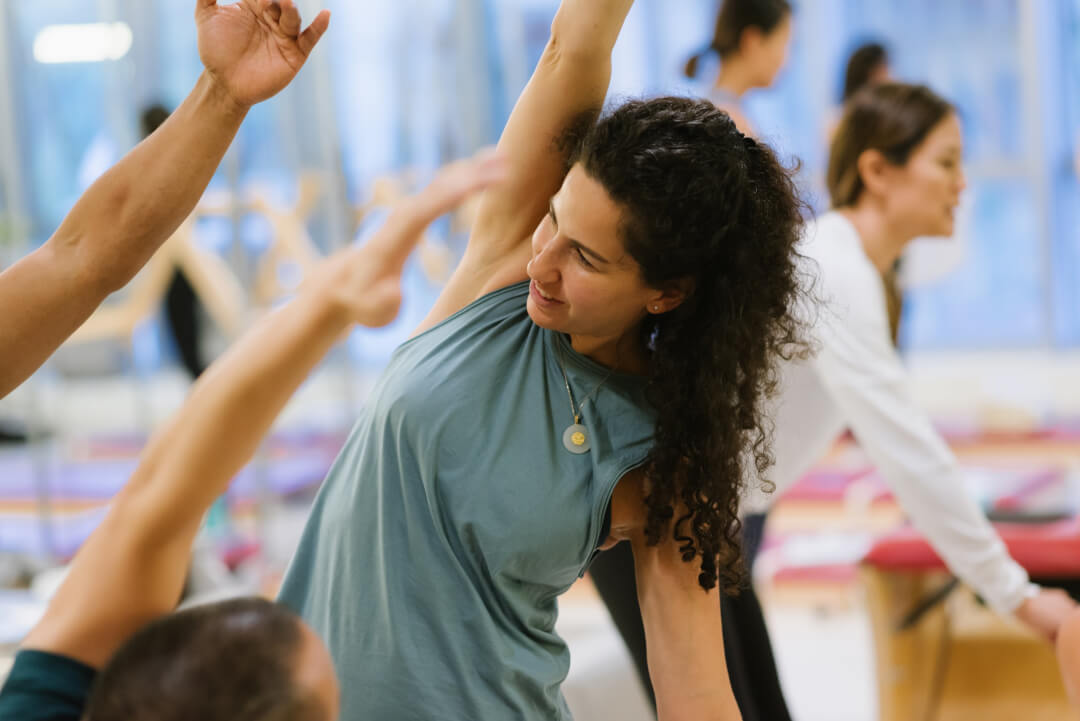 Do you work with postnatal clients? What would you recommend to them in terms of your experience recovering from childbirth?

I work with post natal clients all the time, and most of them start to see and feel a difference within their first couple of sessions. I recommend taking time and being patient with yourself. The early months with a baby are a huge adjustment, and you need to find your rhythm, but once you do, make sure to prioritise your own health as well. 
Making the time and being consistent makes a huge difference in the long run. Pilates is the best way to recover and workout when you are in the postnatal period. It is safe and retrains stability first, strength second and then mobility which is what post natal recovery requires. 
What's your teaching philosophy? 
It has to be fun, hard work and feel good. If I can offer these three things in each and every session, then I know my clients will keep coming back for more. It's the same reason I never stop practicing!
Flex Studio holds weekly postnatal small group classes with three to four persons per class at its Wong Chuk Hang location. Private Pilates sessions are available at both Central and One Island South branches. We also have a PostNatal Recovery Package including 1x Pilates Assessment, 2x Pilates Privates and 2x Pilates Trios for HK$3,500; click here for more details.