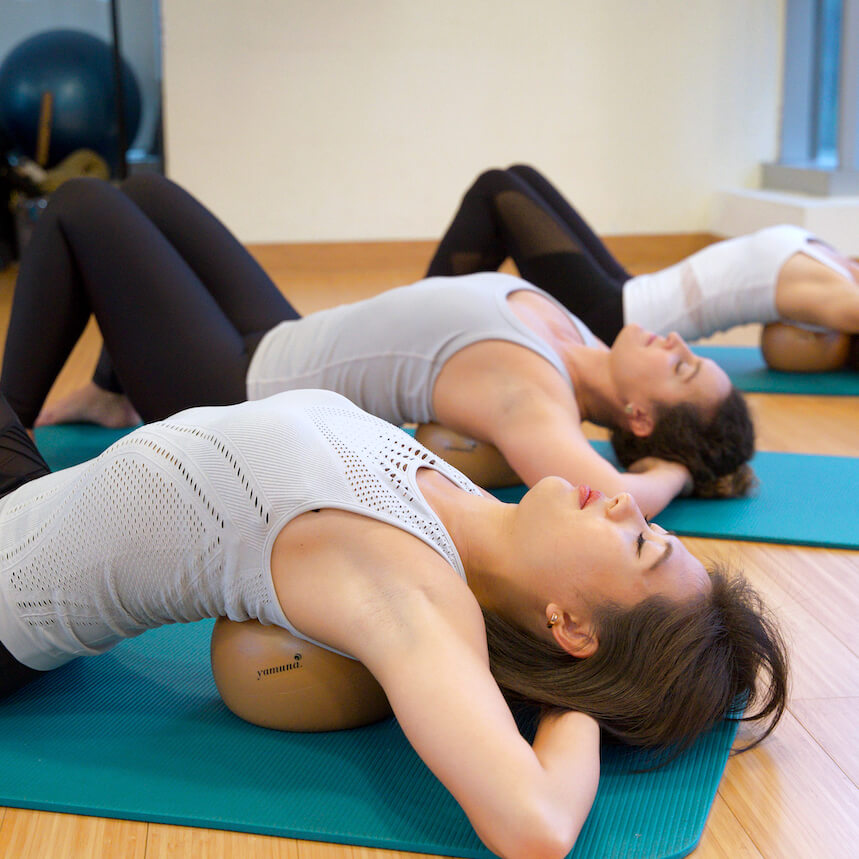 07 Oct

Meet The Women Behind HK's Yamuna® Body Rolling Movement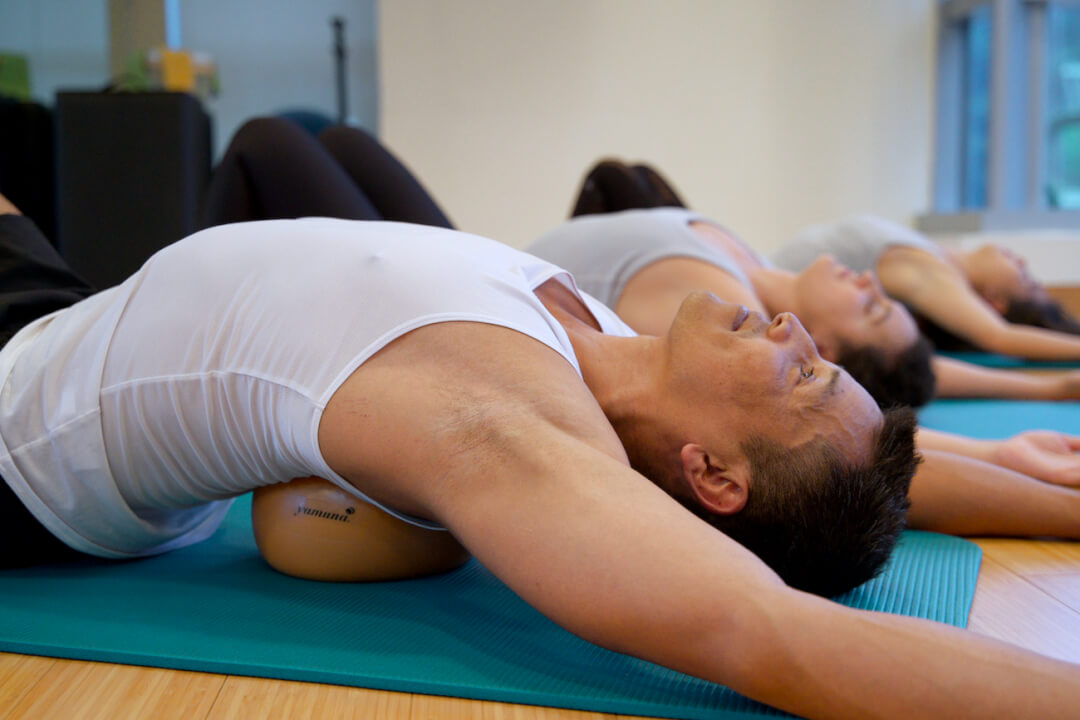 We talk to Kazuyo Forrer and Tamantha Tsang, who are leading the increasingly popular Yamuna® Body Rolling movement in Hong Kong
It started with an innocuously named workshop at Flex Studio Central in June 2021: "Alleviate Body Pain with Yamuna® Body Rolling." It immediately resonated with office-going clientele, who filled up the slots and created demand for another workshop, and another, and another… that seemed to have gotten the ball rolling on the fast-growing Yamuna® Body movement in Hong Kong led by certified practitioners Kazuyo Forrer and Tamantha Tsang at Flex Studio. 
Prior to that first workshop, Yamuna® had been flying under the radar at Flex Studio Hong Kong, which focuses on Classical Pilates, Xtend Barre and Yoga. While less known in the city, Yamuna® is more popular in the US, Europe and Japan, with more than 500 certified practitioners worldwide and over 150,000 people purchasing Yamuna® products annually.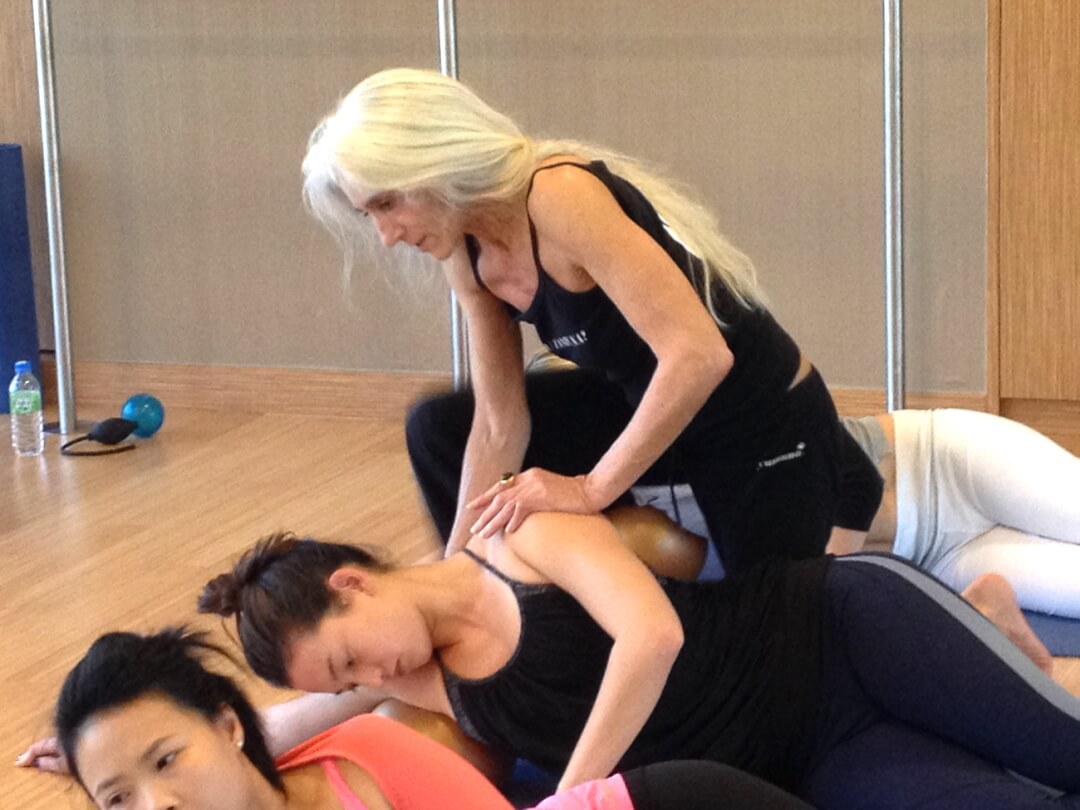 What is Yamuna®?
What is Yamuna®, exactly? It is a comprehensive approach to body sustainability supported by products, education, trainings and treatments to help people create positive change in their bodies. Yamuna® was founded by master teacher Yamuna Zake, a world-renowned authority who has dedicated her life to understanding how the body works. Flex Studio had the honour of welcoming Yamuna Zake herself in November 2018. 
Today, Flex is running fully booked workshops several times per month, opening more workshops and classes due to increasing demand. "Yamuna appeals to people who suffer from muscle pain," says Tamantha. "People are coming because they want to have a better understanding of their own body, and give it the TLC it deserves."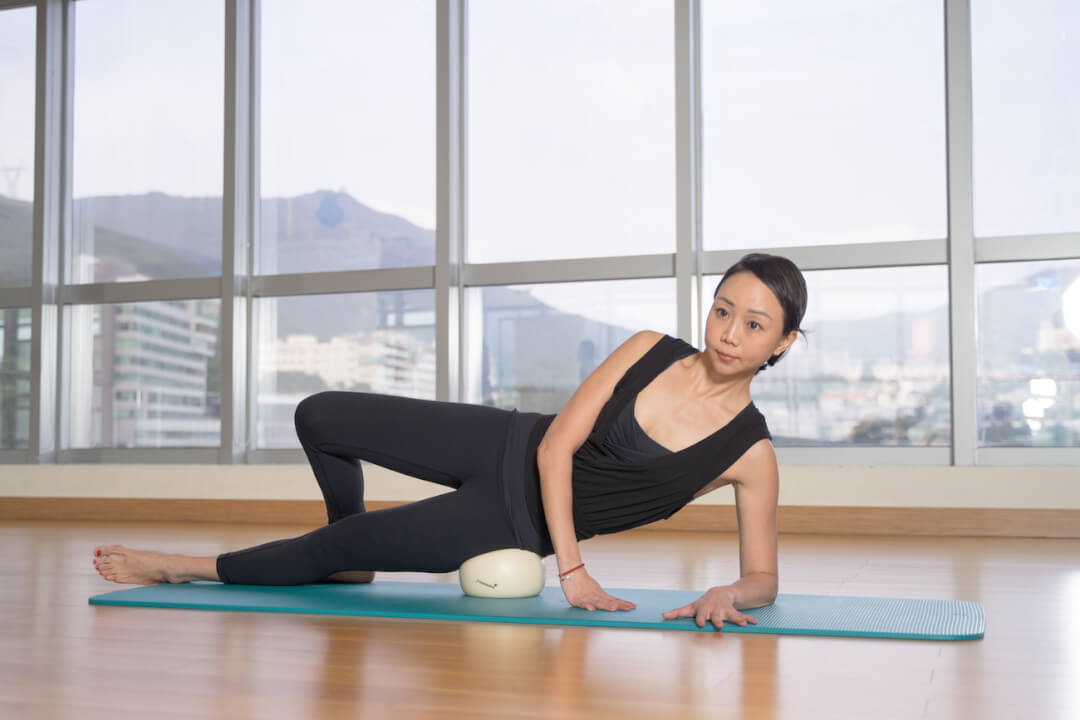 Saying goodbye to body pain
Tamantha herself used to enjoy intense cardio workouts as a way to take her mind off work. Over the years she realised the importance of having a more well-rounded regimen that also takes care of her mind, prioritising correct body alignment to correct bad posture at work and prevent injury. That was when she found Yamuna® Body Rolling. 
Originally from Japan, Kazuyo Forrer had a more compelling reason to seek out Yamuna®: she was plagued by chronic back pain, stiff shoulders and other body issues. Before discovering the Yamuna® method, she was resigned to the belief that these problems were unavoidable and part of every person's ageing process.
"During my first Yamuna Body Rolling session, I noticed my persistent stiffness melt away," says Kazuyo. "By the end of the session it felt as if I had created a totally different body!" After such a positive encounter, it wasn't too long before Kazuyo decided to pursue a training course to learn more.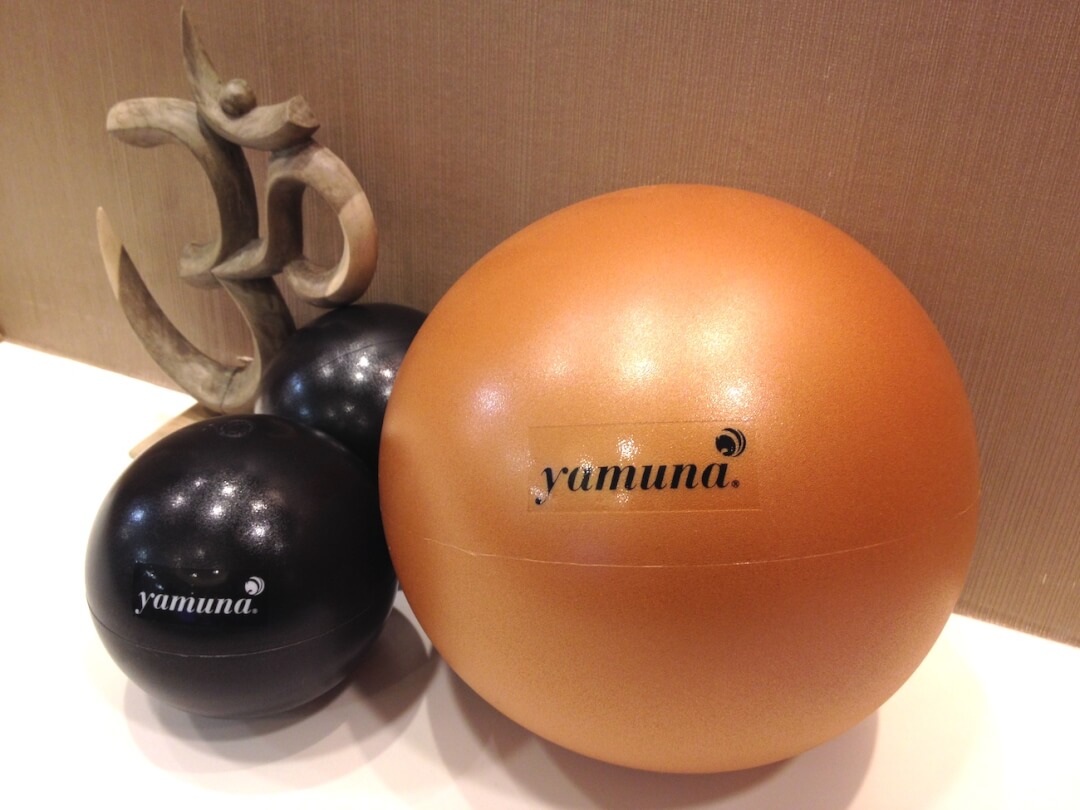 Enhance performance and prevent injury
"Anyone can join our Yamuna sessions," says Kazuyo. "This gentle method is good for all ages, all fitness levels." She highlights the practice as good for warming up or cooling down for all forms of fitness practice. "It helps to enhance performance and prevent injury," she says. "But at the same time, if a person is looking for an easy, therapeutic option to reduce his or her physical restrictions, I will highly recommend giving Yamuna a try."
What can participants expect from Flex Studio's upcoming workshops with Tamantha and Kazuyo? "The workshops could help expand exercising options for people who prefer an easy and  therapeutic session," says Kazuyo. Tamantha concurs: "Participants can expect a mellow and slow-paced hour and a half doing something new and different."
Understanding the body better
"In my next few workshops, I will focus on basic Yamuna® Body Rolling routines rather than complicated ones," says Kazuyo. "Many of the previous participants had never practiced this method before, so we will work at an approachable pace for everyone to grasp the concepts of each routine." The goal is to have participants understand their own bodies better and relieve pain.
While Flex Studio also offers hour-long classes apart from the 1.5 hour workshops, the certified instructors say the workshop's longer time formats are what the body needs to fully benefit from Yamuna®. 
"Practicing on weekend afternoons creates a more relaxed class atmosphere," says Kazuyo. "The workshops are 30 minutes longer than regular classes, allowing us to go for more detailed routines that eventually help people reset all the stress from busy weekdays."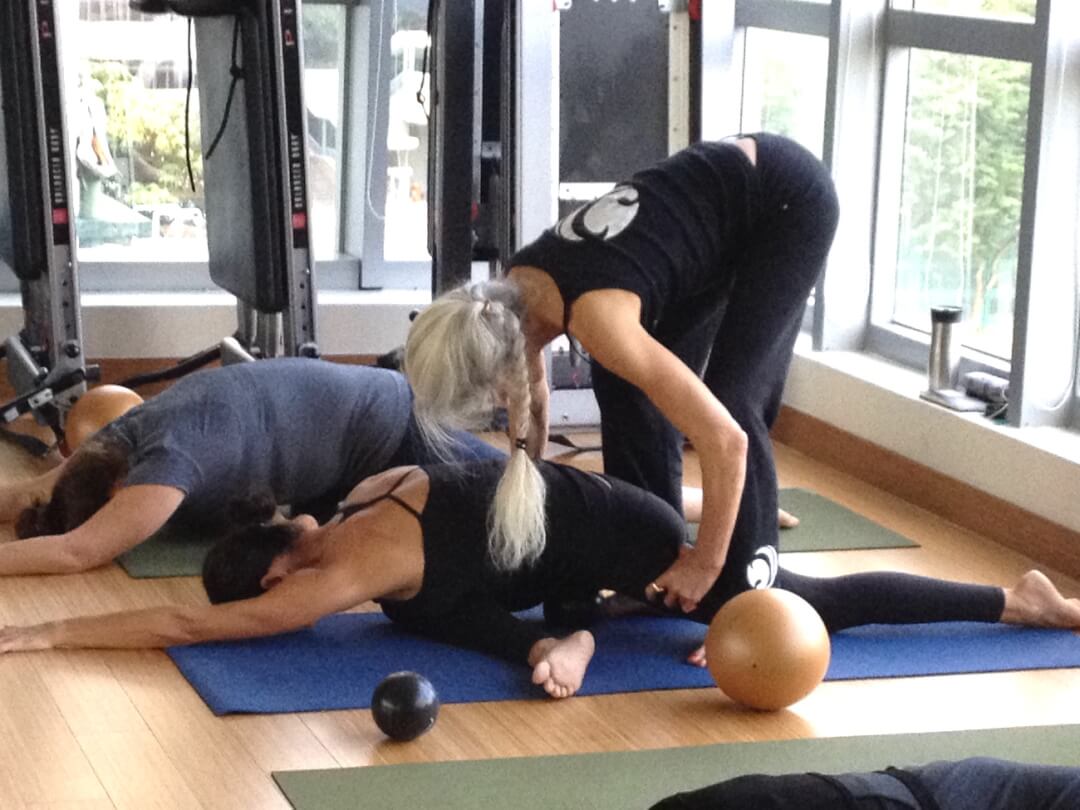 Restoring balance, alignment and function
When asked what special element they bring to their workshops, Tamantha says "Everybody is different, we will spend this time getting to know your OWN body." For Kazuyo, it's the sense of awareness she will guide people to develop. 
"I want participants to come out knowing how to pay attention to signs, feelings, and feedback from their bodies," says Kazuyo. "During the practice, I will help people to understand their own anatomy and the connections between different areas of the body. I believe that this awareness will eventually help them restore balance, improve alignment and function." 
Kazuyo Forrer and Tamantha Tsang are certified Yamuna® Body Rolling instructors at Flex Studio Hong Kong, alongside Floriane Begasse. They teach regular classes and workshops at both Central and One Island South locations. For the full workshop schedule, visit https://flexhk.com/workshops/. For the class schedule, click here.