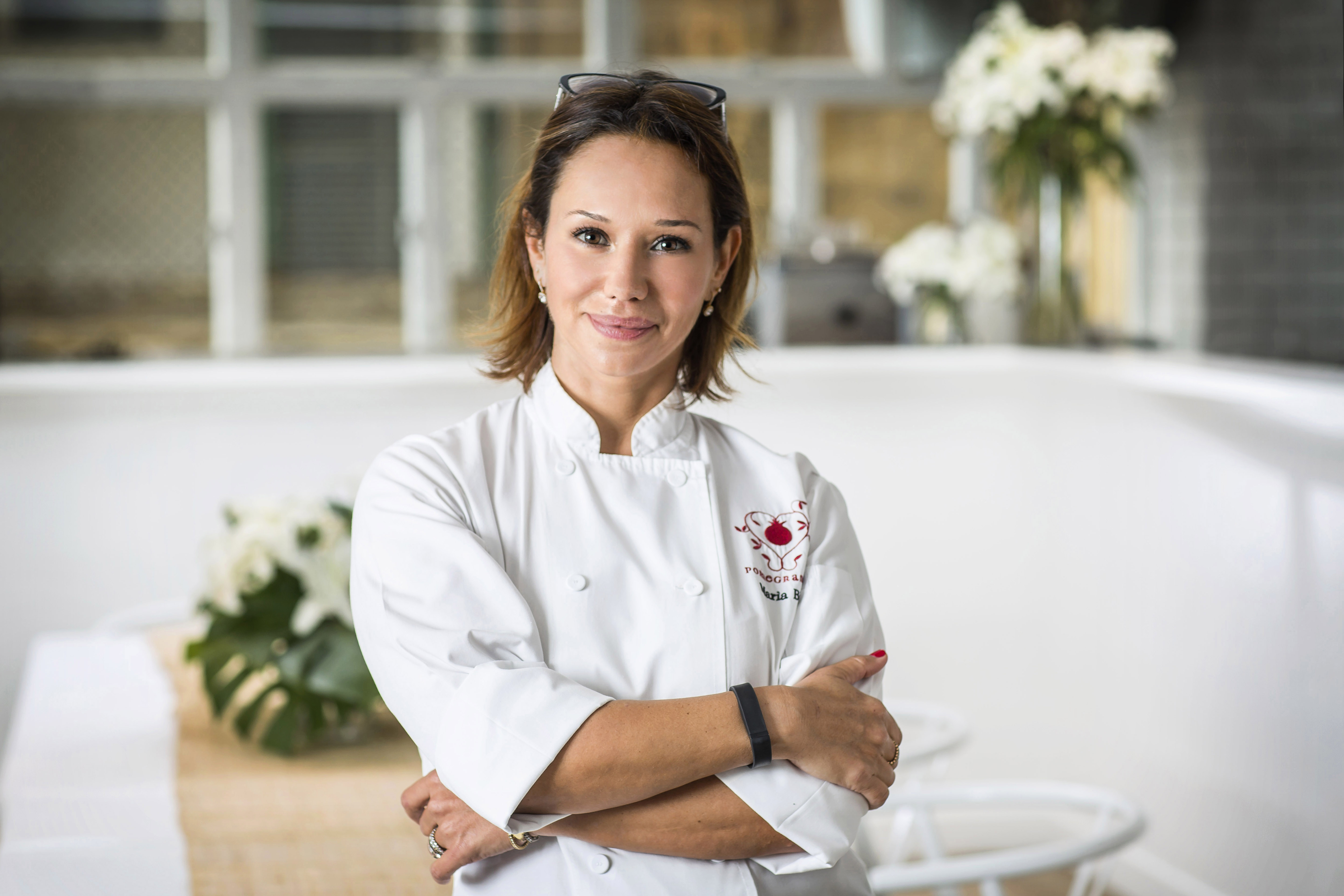 25 Nov

Eat balanced to stay healthy, says chef Maria Bizri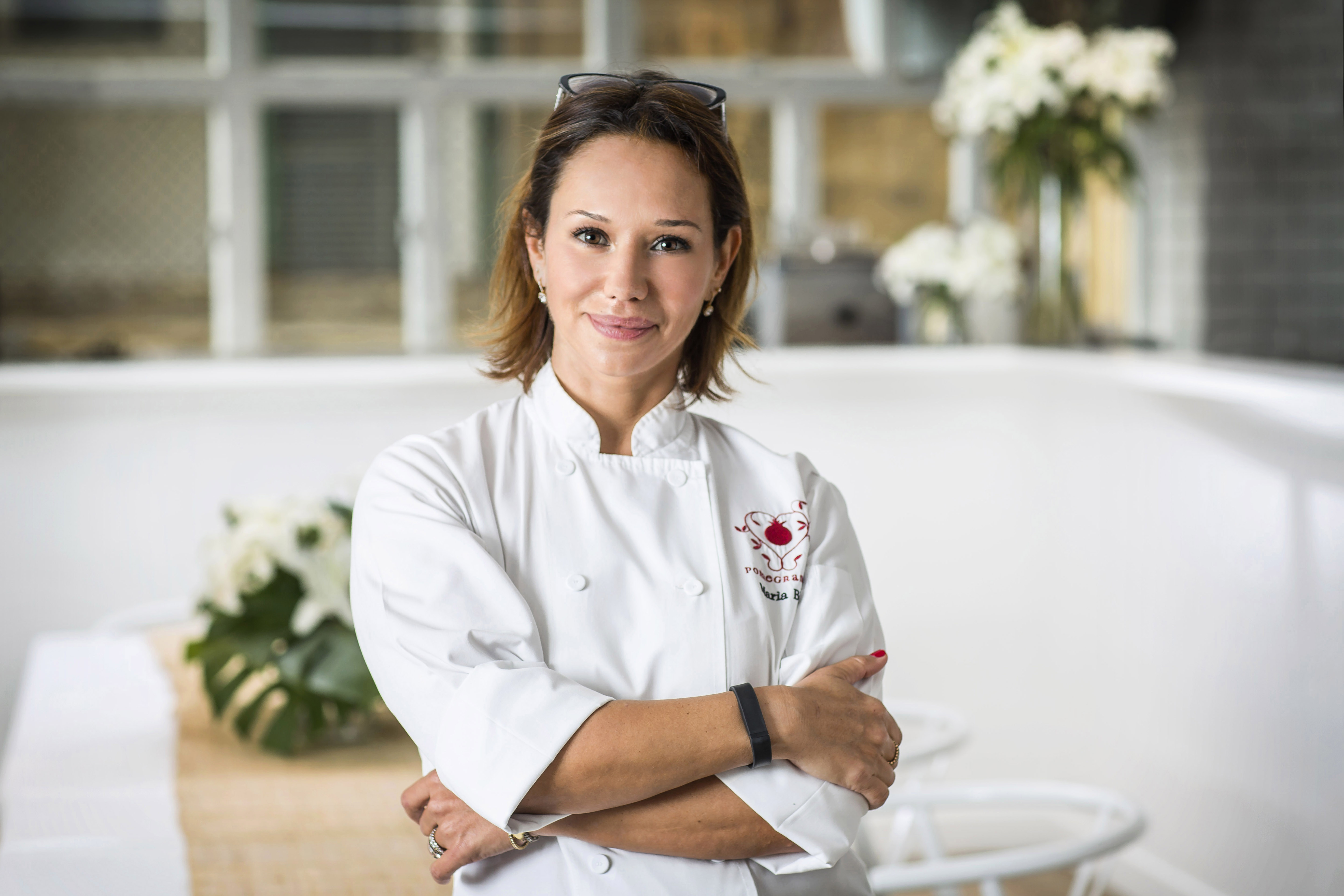 Maria Bizri of Pomegranate Kitchen fell in love with the hustle and bustle of the kitchen and the art of cooking and sharing food as a child, growing up in Beirut and Damascus. Despite numerous careers since then, she returned to food when she opened catering and events company Pomegranate Kitchen in 2011. She believes that you don't need to be vegetarian or vegan to eat healthily and her dishes reflect that with lean lamb, beef, chicken and fish paired with beautiful produce and grains in a Mediterranean-meets-the-Orient concept.
How far back do you remember being fascinated with food and cooking?
When I was very young I loved watching all the activity that went on in the kitchen of my family's homes. They were full of fun and laughter with some hot tempers flying around and tons of stories being told. I was happiest there: I enjoyed the playful politics and the strong sense of competition over whose dish was best.
You have worked in many different fields, like journalism, TV presenting and advertising, what was it that tipped you into becoming a professional chef?
I've always loved cooking and had my friends over for dinner all the time. The step into the industry happened when a friend of mine encouraged me to cater a few of her events and I really enjoyed it! Both the cooking and the pressure!
At what point in your chaffing career did you open Pomegranate Kitchen?
It was after a couple of events for my friends that I found I needed a bigger team and it started growing and growing. The only step was to have my own kitchen that could produce the volume of the events I wanted to cater to.
And why Aberdeen?
I always like Aberdeen's accessibility to both Central and the South side. I was also excited at the prospect of starting Pomegranate Kitchen in an area that is undergoing such huge transformation.
How important is it to you that you create dishes that are healthy as well as delicious?
At home, my family eats primarily Lebanese home-style dishes. The interesting thing is that our home food is healthy by definition and does not need too much adjusting. Typically a dish is made up of 1/3 protein be it beef, lamb, chicken or fish, 1/3 veggies or pulses and 1/3 carbs, so I know that my family is eating very healthily when they stick to home food.
Do you have any dishes you recommend in particular?
I am a big believer in protein (sorry to all the vegetarians out there), especially for women in their late 30s, 40s and 50s. I think it helps maintain muscle density and keeps us looking fit and healthy.
I love a nice steak tenderloin seared with a dob of butter (yes, fat is also good for our skin), a dash of garlic and thyme. I like to top my steak with Pomegranate's yummy chimichurri sauce. It's a fresh sauce (no cooking needed) of shallot, red wine and sherry vinegar, coriander, chili and extra virgin olive oil. The acidity cuts through the fat (although tenderloin is a very lean cut) and freshens it all up.
Pomegranate Kitchen
POMEGRANATE Kitchen is a full service catering and event company that specializes in Mediterranean and Middle Eastern dishes. AT POMEGRANATE Kitchen, we take pride in creating innovative and heartfelt events filled with unique and delicious dishes. Every client and event is different and we cater for anything from an intimate dinner for 6 to a cocktail party for 200. From private dinners to corporate lunches, we can create your perfect event. The dishes are Mediterranean in taste with rustic but elegant presentation.