26 Apr

Xtend Yourself with our New 30 Day Challenge!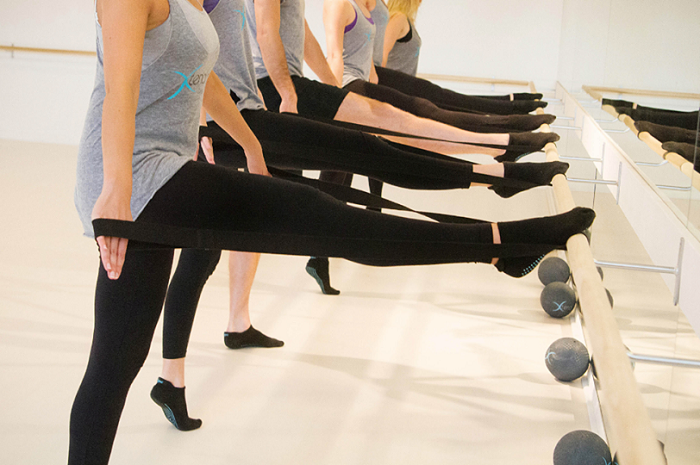 "I was too self-conscious to try any sort of dance class. Now I'm taking the Xtend Barre Challenge." Sharon Telling, Flex client. It's the ballet-inspired exercise class that has people around the world buzzing with the results. And you do not need dance experience!
Xtend Barre – offered by specially trained instructors at Flex studios in One Island South and Central – is hailed as one of the most effective all-over body toning, strengthening and muscle chiseling group exercise out there, with our new month-long challenge perfectly timed for the summer months.  "It gives optimal results, regardless of fitness level. People really get hooked," says instructor Anna Serafinas Luk.
What better way to see if it's for you than to take up our new challenge?
Xtend Barre client Sharon Telling will definitely be doing it. After a bout of illness, Xtend helped her go from unfit to Xtend aficionado, someone who now gets compliments on the results.  "I had been seriously unwell and was looking for an exercise to compliment my (very intermittent) Pilates practice, one that wouldn't punish my body immune system, which my previous exercise of choice had done," says Sharon.  "The Xtend tagline 'If Pilates sculpts your body, Xtend will chisel it', was the hook to ignite my initial curiosity.
"Finding myself aged 46 and at my heaviest, my most unfit and more importantly, having to be extremely mindful of pacing my recovery, I wanted something that offered cardio and helped build and sculpt long lean muscles, as well as keeping me focused and out of my thoughts."
Sharon says the experience of being unwell but being on the road to full recovery also triggered a desire to do something that would force her out of her cocoon and at the same time, help her take a dance-related class. She had been too self-conscious to do so (her sisters had done Xtend challenges in Australia) on account of "not being particularly coordinated".  Yet she took that first step.  "The friendliness, genuine encouragement and detailed attention from the instructors helped ease my anxiety and preconceptions that Xtend was only for those that perhaps had a dance background.  "I found my first class both challenging and confronting. The combination of small movements and multiple repetitions accompanied to music were new for me and both my body and focus were challenged in a whole new way.  "Then there was the fierce muscle trembling. I hadn't experienced that degree of intensity before either. That tremble still accompanies me in every class."  She loved, however, the options that come with each exercise for beginners and the more advanced, which has allowed her to witness her own improvement.  "I love that the routine continues to feel even harder as my form has started to improve. Whilst I can't claim that the inches and pounds have fallen off (yet) I can definitely see the definition forming and I do feel physically stronger, finding myself standing with more awareness.  "Perhaps the best testament is that friends and family have commented (unprompted) on my poise and posture.  "I will certainly be signing up for the May challenge. I want to embrace my continuing (surprised) enjoyment of each class and of course keep focused on that notion of a chiseled self."
The challenge is pretty simple. For the month of May, challenge yourself to do 15-20 Xtend Barre classes. If you reach this goal, you will see results, feel great and have a new exercise regime up your sleeve.  With over 18 Xtend Barre classes per week, including the new Xtend Barre Cardio Blast class, Xtend your way to a bikini-ready body with us in May!  There's also an added bonus. If you sign up for 15 classes over 30 days, receive an Xtend Barre ribbed tank. If you sign up for 20 classes, get a free tank, Xtend Barre socks and two mini-intensive Xtend Barre workshops.
Created in the US by former professional dancer and choreographer Andrea Rogers (who had started incorporating some ballet moves into her Pilates classes to spice things up), it has taken the fitness world by storm, in no small part because the system sculpts the body proportionally so that all body parts are equally challenged.
"You don't need any ballet experience," says Anna, "If you put a foot wrong or can't manage a specific sequence, it doesn't matter. You're still moving, still sculpting your body. You can set your own pace and challenges within the class. But if you do the challenge in a month, you will be addicted."
See the Flex XB schedule here and Xtend Barre video https://flexhk.com/group-classes/group-xtend-barre/.