07 Sep

Pilates Changed The Way I Think About Movement

With Emily Lieginger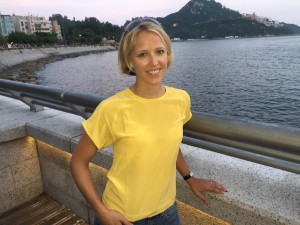 Originally from the East Coast, Emily Lieginger grew up in Boston, Massachusetts. She worked as a public accountant before her husband and she moved to Tokyo in 2009 and then on to Hong Kong in 2011. "Since moving abroad I have been working at home to raise our three kids. Just this year my littlest is off to pre-school in the mornings. I'm experiencing a bit of empty nest syndrome, but not to worry, by 11:30 each morning the chaos has returned and my home is full again."
Why?
During my second pregnancy, at about 30 weeks, I suffered from debilitating hip pain. I asked my obstetrician about the pain and she recommended I see a physio. He explained that since I had my children so close together (I was eight months post-partum when my second pregnancy began), my body hadn't reset its hormone levels and there was an overabundance of relaxin in my system. My ligaments were too loose to maintain the stress of the pregnancy weight (although I didn't think I'd gained that much!). What would have helped was a strong core; something I was determined to fix before the third time around.
In between my second and third pregnancies, I started my Pilates practice. I did post-partum classes, just once a week. Even still, I began to feel stronger in no time and I started to join a few regular classes. I was just six months into my Pilates journey when I began my third pregnancy. I continued with the Pilates classes until about 32 weeks of pregnancy (I so look up to those women I have heard about who stick with it until days before giving birth), when fatigue and the sheer size of my mid-section were enough to hold me back. I had done enough work, however, to strengthen my core and I experienced no hip issues that time around. Huge win!
After the baby was born, it took about three months of chasing the needs an almost three-year-old, an eighteen-month-old and a newborn to remember that I had needs too. Back to Pilates it was for me. Still only practicing once or twice a week, the rebound was slooooow. When Flex did the 20-hour challenge in November 2013, I was keen to join, but not sure how to fit it all in. My husband urged me to go on with it, I carved out the time for myself and I haven't looked back since.
Your body awareness now?
I have always been athletic, captaining varsity teams during my school years and turning to running to keep my fitness as an adult, but body awareness is not something I had even an inkling about. Pilates has taught me to be aware of the mechanics of movement, not just the brute force of getting it done. It has changed the way I think about movement in every part of my life from driving a car (think about your obliques the next time you take a sharp turn, you'll be amazed at how much they turn on), to lifting babies and kids, to running (I have shaved more than a minute off my average mile time.)
Best benefit from the practice?
I love going head-to-head with my husband, a Crossfitter, when we try to impress our kids with our gym moves. I best him every time when it comes to core strength, although he certainly has me beat in every other muscle group!
Find out what Pilates can do for you with the new Pilates Introductory Course, starting 14th September. Learn the key principles on mat and Reformer and understand how to access your deep core musculature so you can make the most of your future group classes. Read here for more information.
Island South
Starts 14 September | 11:30am for 8 weeks