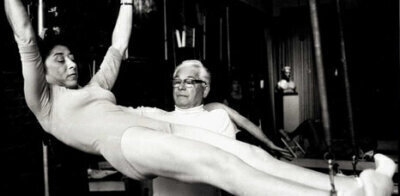 11 Jan

Classical Pilates History: Who Are The Pilates Elders?

Deep dive into Classical Pilates history, learning about Joseph Pilates and the Pilates Elders: his dedicated students who kept The Method alive

 

When choosing a Pilates instructor or facility, you'll find it helpful to understand which "school" of instruction they are associated with. Classical Pilates concerns itself with the original Pilates tradition rooted in Joseph Pilates himself, and the first-generation instructors who studied directly under him. These instructors are often referred to as the "Pilates Elders", and while some consider as many as eleven people among the "Elders", here we will discuss the five dedicated students who most closely worked with Joe and Clara Pilates, and made Pilates a worldwide phenomenon.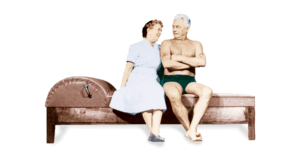 Photo Credit: www.pilatesfoundation.com
Clara Pilates
On the ship that took Joseph Pilates to the United States in the 1920s, he encountered a quiet kindergarten teacher named Clara. They eventually married, and opened a studio in New York at 939 Eighth Avenue shortly after they arrived in 1926. After Joseph died at the age of eighty-seven in 1967, Clara continued her work at their studio, teaching the Pilates method of fitness, which included a series of rehabilitative exercises that relieved her arthritis pain. In 1971 when she was ready for retirement, Clara turned over the Pilates studio to a trusted and experienced student and instructor, Romana Kryzanowska. Though Clara's teaching days were over, she continued visiting the studio in its new location at 29 West 56th Street until her death in 1977.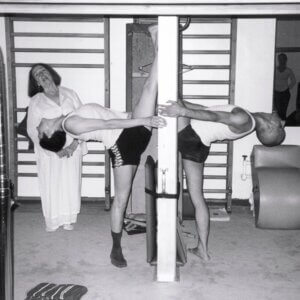 Photo Credit: www.pilatesanytime.com / Mejo Wiggin
Romana Kryzanowska
Romana Kryzanowska (June 30, 1923 – August 30, 2013) grew up in the Florida Everglades and moved to New York City at an early age to study dance. She became a student at the School of American Ballet, and was introduced to Joseph Pilates in the early 1940s by the school's director, George Balanchine. Kryzanowska had suffered an ankle injury, and Balanchine was hoping that Pilates' fitness conditioning therapy could help her return to dancing.
At that time, sports medicine was unheard of, and Pilates' therapy was one of the few nonsurgical treatments available. Joe told Romana, "If I haven't cured your ankle in five sessions, I'll give you your money back." Kryzanowska felt improvement in just three sessions, and was converted to the Pilates philosophy for life.
In 1971, Clara chose Romana to take over the Pilates studio's operation, which she continued to run until it closed in 1989. Kryzanowska's commitment has always been to maintain the integrity of the original work as it was created and developed by Joseph Pilates. For years, she instructed and certified others in what many refer to as the "true" classical Pilates method. She is credited with keeping alive Pilates' original techniques and philosophy.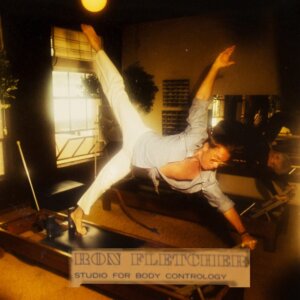 Photo Credit: www.pilatesanytime.com / Mejo Wiggin
Ron Fletcher
Originally from Missouri, Ron Fletcher (May 29, 1921 – December 6, 2011) moved to New York City in 1944. He was drawn to dance and became a member of the Martha Graham Dance Company. After a knee injury sidelined him early in his career, Fletcher began working with Joe and Clara. As Ron describes it, Pilates put him to work on the Universal Reformer, which allowed Fletcher to avoid undue pressure on his knee while focusing on therapeutic strengthening and lengthening exercises on the surrounding muscles.
Fletcher was able to return to dance and continued his work with the Graham Company. In 1967, he returned to work with Joe and Clara until Pilates' death later that year. Fletcher continued to work with Clara and, in 1971, with her blessing, opened his own studio for Body Contrology in Beverly Hills.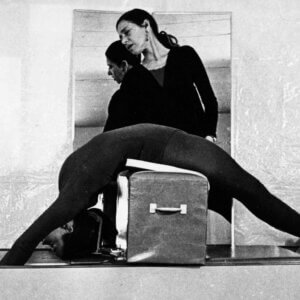 Photo Credit: www.coredynamicspilates.com 
Eve Gentry
Eve Gentry was a master of modern dance and movement who worked with Joseph Pilates for over twenty years. She was also a student of dance master Hanya Holm and motion study expert Rudolph von Laban – who had observed Pilates at work back in Germany prior to World War II. Dancing up to ten hours a day took its toll on Eve, causing knee and back pain. Hanya Holm then introduced her to Joseph Pilates.
"I'll never forget this sensation – after Joe had worked with me, all of my pains were gone, back pains and knees – everything. It was the first time in three years that I had not had pain, and I felt wonderful," Eve was quoted as saying. By 1945, Eve was teaching at Pilates' studio and later developed her own body conditioning technique. In 1991, she helped found the Institute for the Pilates Method, to carry on the teachings of Joseph Pilates. She continued teaching until shortly before her death in 1994 at the age of eighty-four.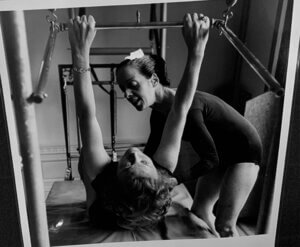 Photo Credit: www.rhinebeckpilates.com 
Carola Trier
Carola (1913–2000), a professional dancer and acrobatic contortionist (who performed on roller skates, no less), began studying with Joe in the early 1940s after severely injuring her back. She thought she'd be using orthopedic support for the rest of her life, but regained her strength and stability after working with Pilates. Clara went on to teach the Pilates method in dance and movement classes around New York City, before opening her own studio with the help of Joseph Pilates himself in the late 1950s.
Originally from Germany like Pilates himself, Carola stressed Joe's philosophy that uniform development was a key to fitness. She identified common problems in dancers like the swaybacked stance, rolled-in feet, and hyperextended knees, developing many Pilates-based exercises to correct these problems. She studied anatomy at Lennox Hill Hospital, where she met a Dr. Jordan who began to send his patients to her for rehabilitation. Carola continued to teach Pilates until the mid-1980s, and died in October 2000 at age eighty-seven.
One of Carola's successful students, Deborah Lessen of Green Street Studio in New York City, became founding board member for the Pilates Method Alliance.
Photo Credit: www.pilatesanytime.com
Kathy Grant
Kathleen Stanford Grant (1921-2010) was another important keeper of the Pilates flame. Like many of Joe's students, Kathy was a dancer before she began her Pilates training. Kathy was introduced to Joe Pilates by fellow dancer Pearl Lang after injuring her knee in a fall. She hoped Pilates could help her rehabilitate her knee so she could return to dancing. Kathy became a longtime student of Pilates, and one of the only two people to receive official Pilates certification through a federally subsidized programme of instruction approved and supervised by Joe himself at the New York State Division of Vocational Rehabilitation.
Kathy taught at Carola Trier's studio and later managed the Pilates studio in the famous Henri Bendel department store from 1972 until it closed in 1988. Joe had opened that studio in 1965, to offer his training techniques in the store's highly fashionable beauty salon. Kathy Grant later taught Pilates on the faculty of the Department of Dance at the Tisch School of the Arts, New York University.
Source: The Everyday Pilates Book by Amy Taylor Alpers and Rachel Taylor Segel with Lorna Gentry
Flex Studio is the biggest Pilates studio and teacher training centre in Hong Kong that offers instruction in the Classical Pilates Method. Flex traces its roots to Pilates Elder Romana Kryzanowska through Alycea Ungaro's Real Pilates Teacher Training Programme. For more information, visit flexhk.com/teacher-training