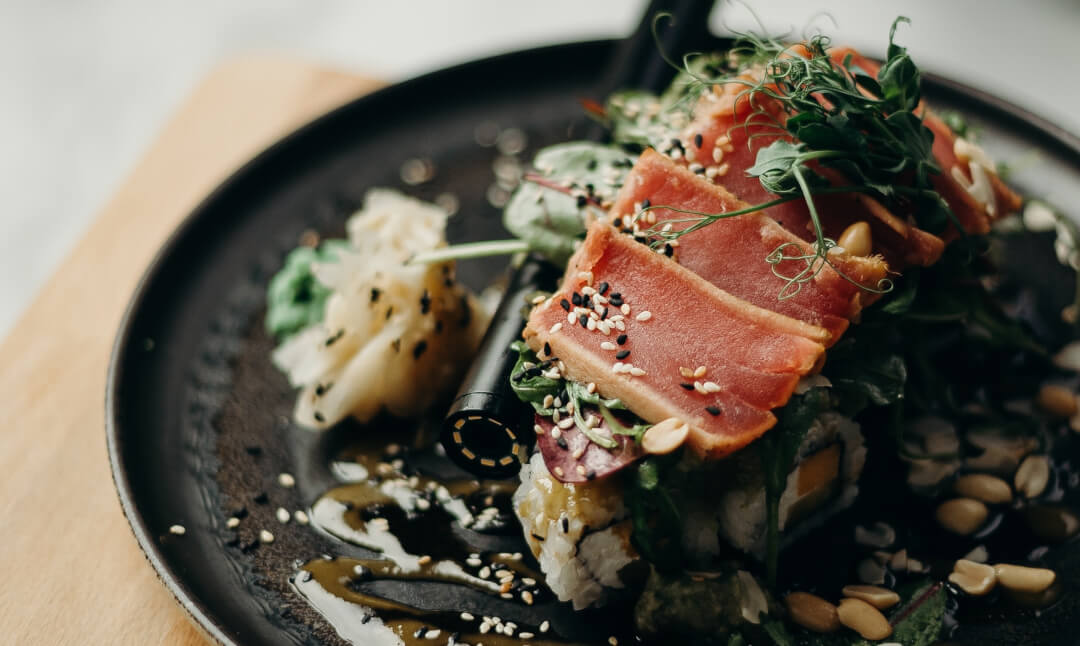 06 May

Vietnamese Salmon Salad with Anthi Vu

Fresh, flavorful, and simple. Learn how to make a Vietnamese salmon salad with one of  Anthi Vu's favourite recipes from Neil Perry's Balance and Harmony.

Vietnamese salads are perfect for when the weather gets warmer. We of course turned to one of Flex Studio's instructors, Anthi Vu, for one of her favourite recipes. 

Originally from Vietnam, Anthi grew up in Adelaide, Australia where she studied law and started her professional career as a Judge's Associate. She has lived and worked in Melbourne and Dubai as a construction lawyer before moving to Hong Kong for work. She discovered Pilates in 2014 when she was pregnant with her first child. After practising Pilates for 6 years, she joined the Real Pilates New York Pilates Teacher Training in 2020. 

"I think Vietnamese salads are not only healthy, but with this salmon salad, you can either just have it as part of a shared table, or you can add a few Asian herbs like shiso, chives and Thai basil – roll them up in some rice paper rolls for a quick and healthy snack with a Vietnamese dipping sauce*" says Anthi. "I also like to add some thinly sliced pineapple to give it a bit of texture and sweetness. Just stuff, roll and eat."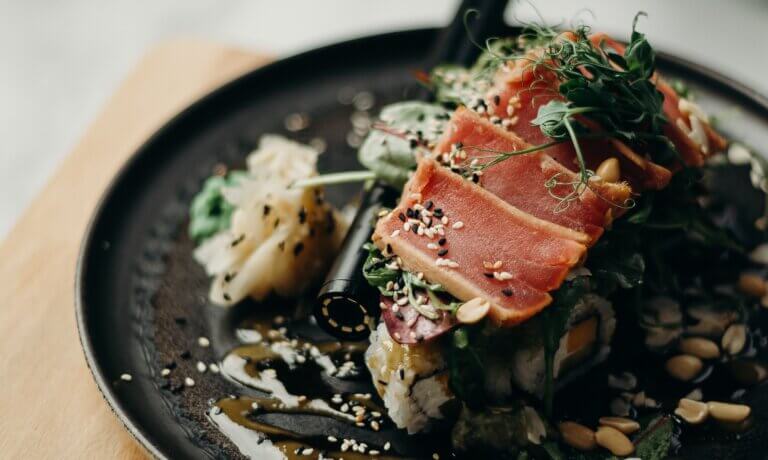 INGREDIENTS
250 g salmon fillet
3 tablespoons fish sauce
a pinch of sea salt
a pinch of caster sugar
3 red shallots, finely sliced
2 tablespoons peanuts, roasted and crushed (can also be substituted with cashews)
1 handful of mixed mint and coriander (cilantro) leaves
1 clove garlic, finely sliced and deep-fried until golden
1 ½ tablespoons salmon roe
Dressing
a pinch of caster sugar
a pinch of grated palm sugar (jaggery)
2 tablespoons lime juice
2 tablespoons fish sauce
Optional – 1 thinly sliced fresh chilli
Method
Mix together the fish sauce, sea salt and sugar, add the salmon and make sure it's coated well, then refrigerate for about 30 minutes. Transfer the fish to a wire rack positioned over a bowl or tray and refrigerate, uncovered for several hours or overnight. This will allow the fish to dry out slightly. Remove the salmon from the fridge about 30 minutes before cooking.

Barbeque the fish over high heat for about 2 minutes on each side, or until the outside is charred but the inside is still rare. Rest for 5 minutes. Coarsely flake the fish.

Mix together the shallots, peanuts, herbs and garlic in a bowl then gently fold in the fish. For the dressing, whisk together the sugars, lime juice, fish sauce and sliced chilli and drizzle over the salad. Sprinkle with the salmon roe to serve.
Source: Balance & Harmony: The Secrets of Asian Cooking by Neil Perry
Anthi's own dipping sauce (nuoc cham)
1 cup of sugar
3 cups of water
1 cup of fish sauce
¼ cup of vinegar
1 chilli thinly sliced
1 small clove garlic
Half a lemon (or lime)
Simmer the sugar and water just so that the sugar dissolves. Wait for the mixture to cool (to at least room temperature). 

Add the fish sauce and vinegar and stir to completely incorporate the flavours. This mixture can be stored in an airtight jar in your fridge for 2-3 years. 

Only add chilli, crushed garlic and the juice from half a lemon when ready for use.
As well as being a great dipping sauce, this dressing also suits something like vermicelli noodle salads, or barbequed chicken or fish.
About Anthi Vu
With three young children, Anthi believes in a balanced approach to exercise and health, and provides progressive training that is accessible to everyone. In 2021, she completed her certification process and apprenticeship with the Real Pilates New York Teacher Training Programme under the direction of Alycea Ungaro. Anthi speaks English, Vietnamese and Japanese. Read her full bio and check her class schedule here. Anthi is available for one-on-one private sessions at Flex Studio One Island South.