07 Sep

Vegetable and Cashew Balti

By Michelle Ricaille and Zeny
Serves 4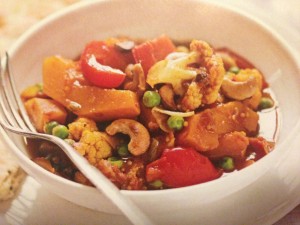 A delicious recipe fresh from Michelle's kitchen, this fragrant curry is free of wheat, dairy, eggs and meat. "Wheat, dairy and eggs are the most common food intolerances," she says. Cook this up and you'll have a tasty, rich dish ideal for supper on a cool autumn day.
Ingredients
For the vegetables listed, really you can use any vegetables you like:
1 tablespoon coconut oil
1 onion, chopped
1 red pepper, cut into chunks
450g of butternut squash, peeled, seeded and cut into chunks
1 cauliflower or broccoli, cut into florets
200g of fresh or frozen peas
400g chopped tomatoes
125g raw cashew nuts
300ml of water
2 garlic cloves, chopped
1.5cm piece of fresh ginger, peeled and grated
1 teaspoon mustard seeds
2 teaspoons garam masala
2 teaspoons ground cumin
1 teaspoon ground coriander
1 teaspoon ground turmeric
1/4 teaspoon dried chili flakes
1 teaspoon fennel seeds
Method
Heat the oil in a large saucepan, add the onion and red pepper and cook over a medium heat for three minutes until they have softened.
Add the mustard and fennel seeds and cook for 30 seconds until they start to pop and smell fragrant.
Add the garlic, ginger, garam masala, cumin, coriander, turmeric and chili flakes and cook, stirring for three minutes.
Next the butternut squash and cauliflower go in. Stir to coat them in the spices.
Then add the tomatoes and water, season with salt and pepper and bring to boil before covering and simmering for 10 minutes, stirring occasionally until the vegetables are tender.
Add the peas and cook for another three minutes.
Stir in half the cashew nuts, retaining the rest to sprinkle on the top to garnish.
This dish is delicious to eat just like this for those on a Paleo diet or if not, accompany it with brown rice.
Michelle is a yoga instructor at Flex, as well as a Doctor of Homeopathic Medicine and a detox specialist, working from her holistic practice The Round Clinic in Wong Chuk Hang. She reminds us that everything tastes better and is definitely more nutritious when using organic products, so check out her company www.greenlittlefrog.com, which imports organic fruit and veggies from North Thailand and delivers to your home. www.theroundclinic.com, www.michellericaille.com
Don't miss Michelle's upcoming workshop uncovering the reasons, symptoms and eliminations of food sensitivities. Read more here about Understanding Food Intolerances: Symptoms and Remedies, which will take place on Thursday 17th September, 2.15pm to 3.45pm.
Michelle is also leading Flex's transformative 6 Day Detox Program, which runs from the 5th to the 10th of October. The focus will be on detoxifying the digestive system, the liver and the mind's cravings and weaknesses to protect yourself against future illness. Register by 12th September for an early bird 10% discount. Read more here.
And don't forget the Cleanse & Energize Flex Yoga & Pilates Retreat taken by Michelle and founder Heather from 27th October to 1st November at Kamalaya Wellness Sanctuary on the Thai island of Koh Samui. Read more about this beautiful opportunity here.