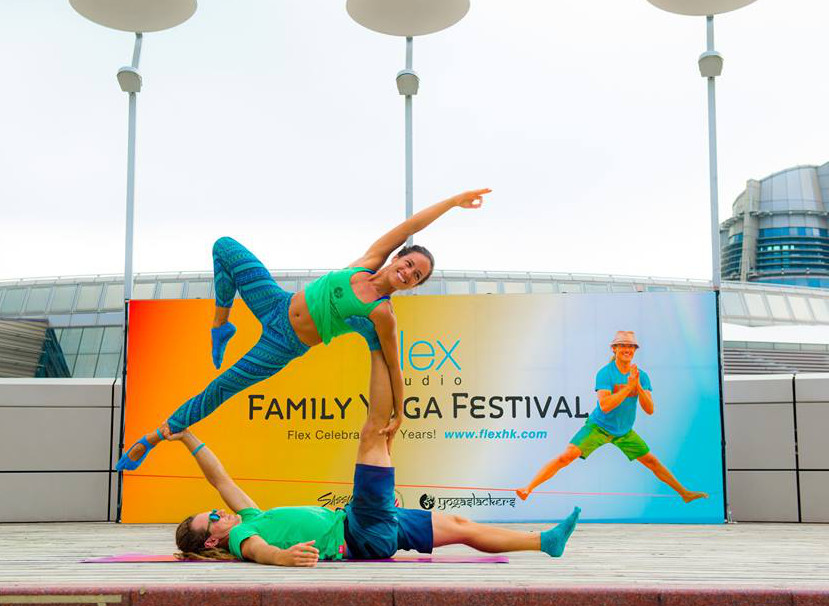 26 Nov

The fantastic Flex festival!
Take a gorgeously sunny Hong Kong day and add a beautiful alfresco location, superstar Flex yoga instructors, the USA's YogaSlackers, Hong Kong's most exciting wellness providers showcasing and selling healthy products, services, foods and drinks, and a wonderful crowd of Hong Kongers of all ages… and you have Flex's first ever Family Yoga Festival! The hugely successful event was a fantastic family day of exciting challenges, high-energy fun, restoring relaxation and delicious food and retail therapy, all in one. Thanks so much to everyone who made it such a sensational triumph!
Inspiring classes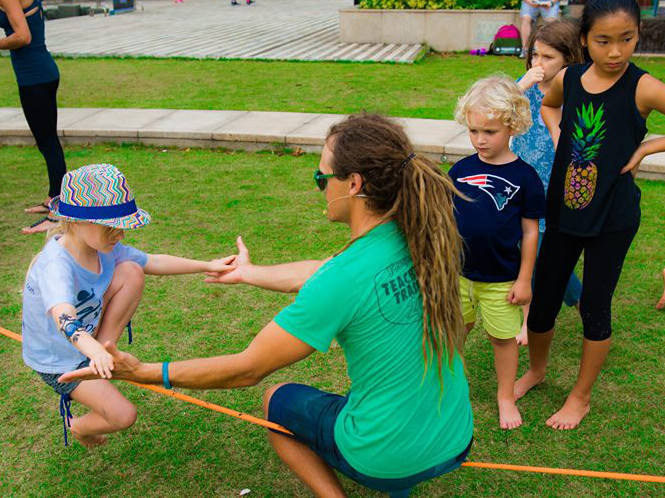 Throughout the day classes took place on the grass in front of the main stage. Kicking off with slacklining, YogaSlackers Raquel and Sam made good on their promise to get everyone on the line and loving it within 90 minutes. Between classes, the slack lines were magnets for all ages of Flex fans who were testing their balance and courage standing, walking, sitting and lying on the lines.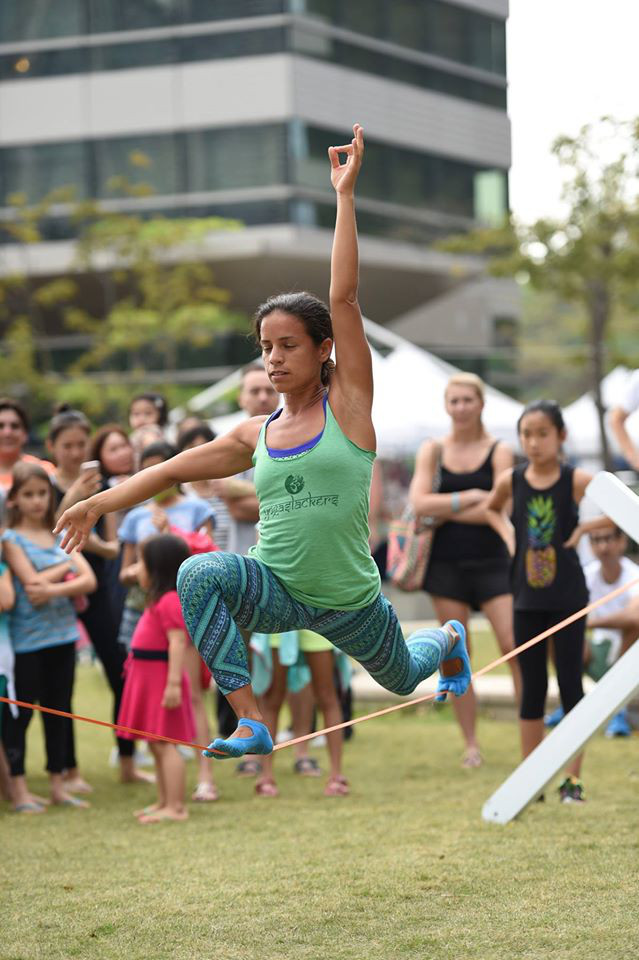 The series of yoga classes drew Flex regulars and first-timers to experience the wide range of yoga, from Michelle's divine Detox Flow, Charlotte and May's entertaining Funky Flow, Heloise's chilled Recharge & Restore and Yoga Bliss, and May's fun Hoop Flow.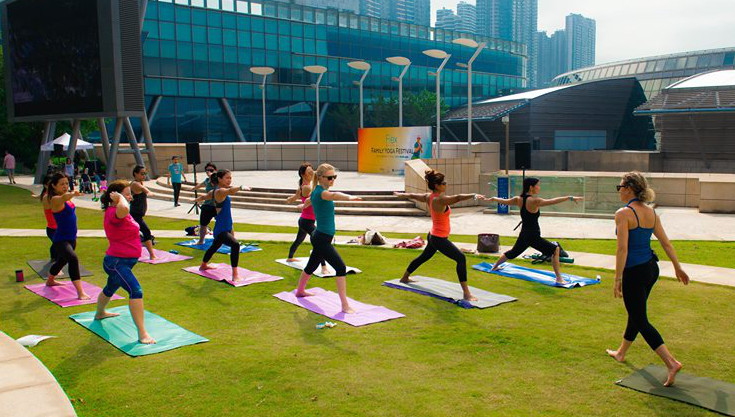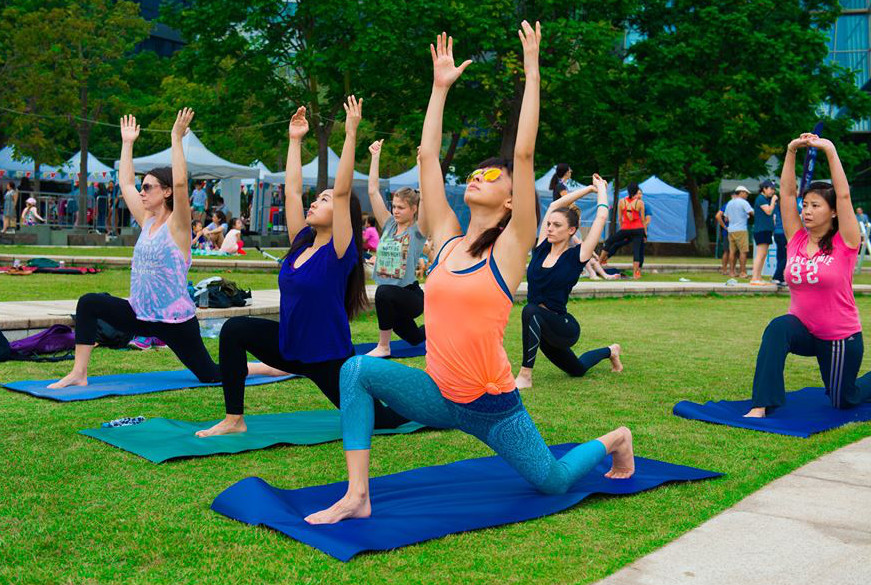 The kids' classes introduced little ones to the joy of yoga, Hersha gently coaxing basic asanas out of the various ages, while the Born to Move™ and Teen Hoop Flow got everyone moving. Colour My World had a steady flow of creative kids wanting to trace their own bodies and create colourful mandalas and figures.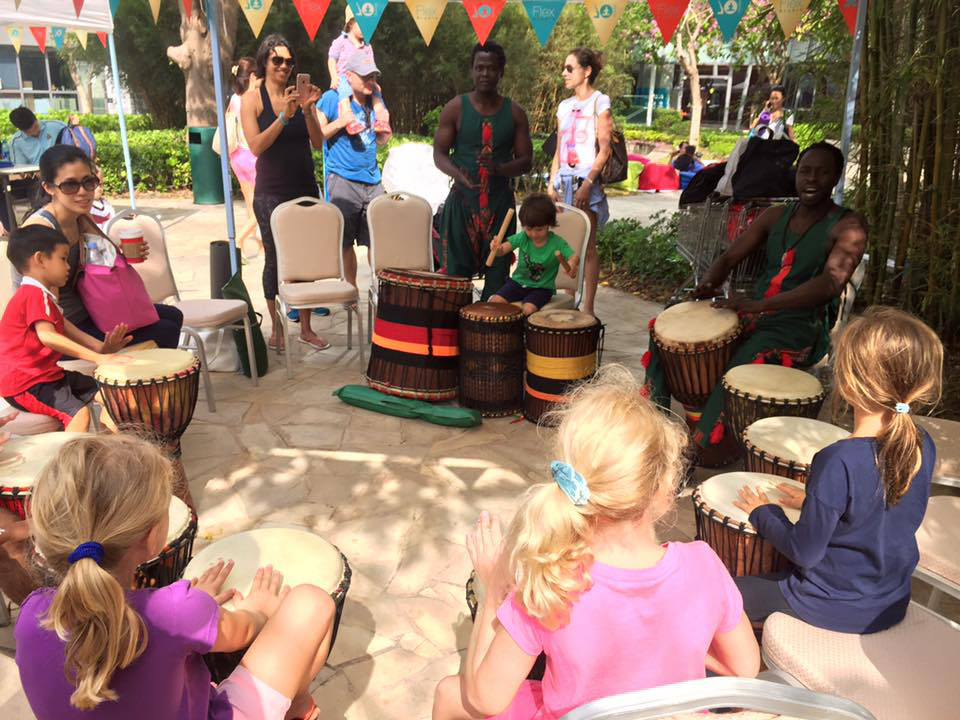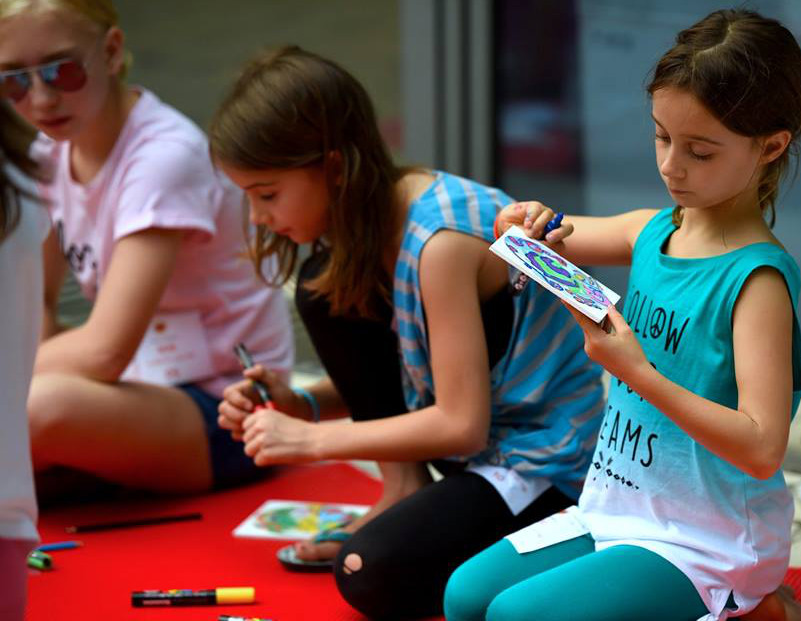 The lunchtime Zumba class had festival-goers spontaneously heading to the central space and following Trixie's dynamic lead. The music, the movement, the mayhem transformed everyone into a crowd full of energy, laughter and happiness.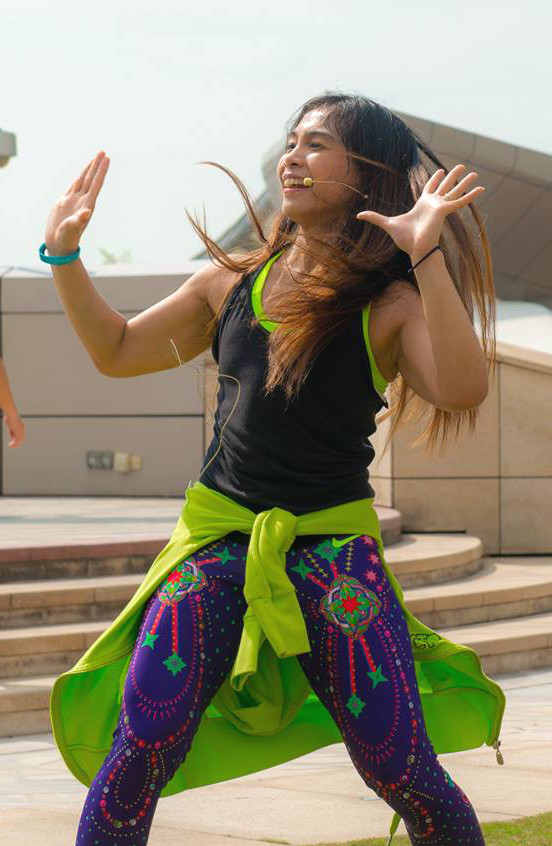 Hong Kong's best wellness providers
All round the area Hong Kong's leading wellness providers set up shop, introducing festival goers to their goodies. From delectable dishes of healthful foods like beetroot soup, kale salads, amazing chocolate and alkalizing vinegars, everyone loved the choices on offer.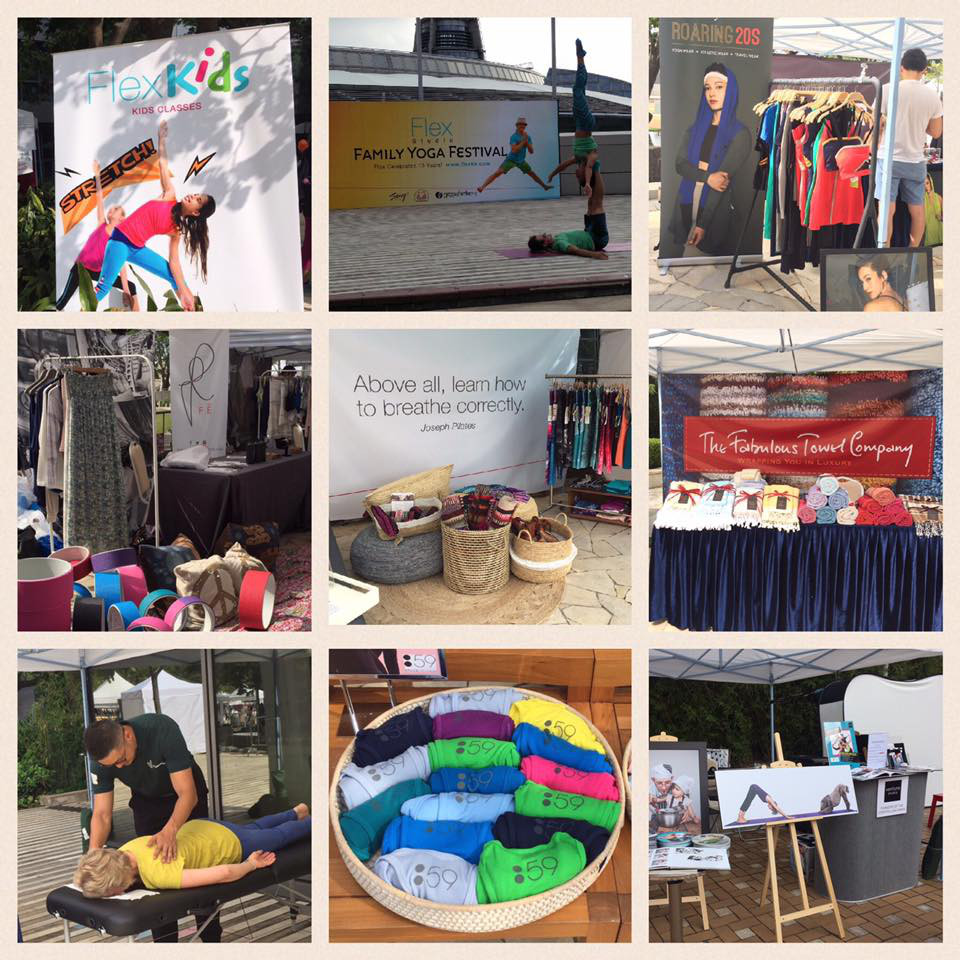 "Coming together and supporting the Flex community at their 10th year celebration was an honor," said Punam Chopra of SpiceBox Organics. "Flex's dedication shone through at the event, where the atmosphere was festive and full of great classes, products and food displays, including our own debut with the SpiceBox Fresh Cafe line of gluten free and vegan food. We have more and more people growing in awareness towards their health and dietary needs and it felt great to participate for a cause!" 
There was plenty of retail therapy with yoga fashion, woven yoga mats and yoga rings, as well as beautiful homewares and jewelry pieces ideal for stocking up on early Christmas presents. And lots of service providers were advising on health and how to negotiate the various physical, mental and spiritual issues thrown up by today's society.
"I had a beautiful day, it was fabulous, congratulations!" said Sharon Vipond of Knots & Strokes. "So glad I was able to join your celebration!"
Thank you to everyone who took part!
"We are thrilled with the success of our first festival, and delighted to have the support of so many people in Hong Kong's wellness community," says Flex co-founder Heather. "The festival's success shows that people in Hong Kong are truly committed to their family's wellbeing, which is wonderful to see. We hope to have more of these special events in the future."