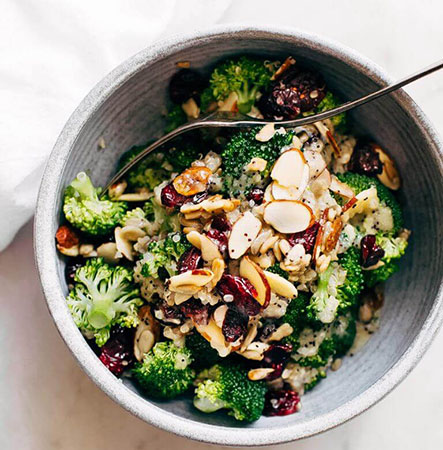 06 Jun

Superfood Broccoli Salad with Creamy Poppy Seed Dressing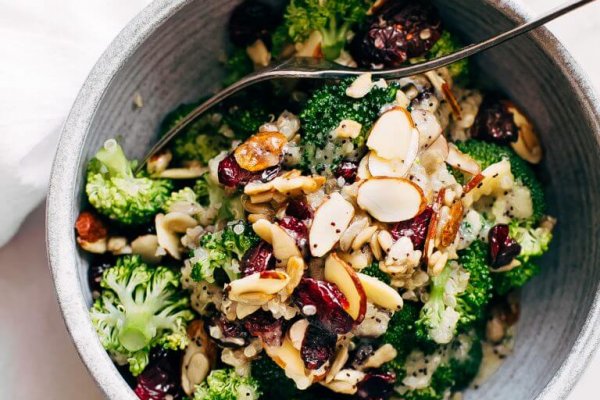 Broccoli salad reinvented with cranberries, nuts and seeds in creamy poppy seed dressing
This month, Flex Yoga Program Director Rebecca Jean-Wong shares her latest food obssession – a leaf-free salad perfect for the summer!
The Superfood Broccoli Salad is a Meditteranean-inspired dish with complex textures and an absolutely addicting dessing. No leafy greens necessary, although you could chop up some kale or spinach and throw it in if you must.
For those with dietary restrictions, you might be happy to know that the salad is dairy free, gluten-free and potentially vegan-friendly. For the latter, you can just substitute the honey for brown sugar, agave of maple syrup.
 "It still shocks me how good it is… a feast for the eyes before it's one for the belly." — Marzia, Nutritionist
RECIPE
Prep time: 15 mins
INGREDIENTS:
POPPYSEED DRESSING:
3-4 tablespoons honey (VF: agave or maple syrup)
3 tablespoons white wine vinegar
⅓ cup olive oil
1 tablespoon white miso paste
1 tablespoon poppy seeds
1 shallot, roughly chopped
BROCCOLI SALAD:
3 ½-4 cups fresh broccoli florets
1 cup cooked quinoa, cooled (⅓ cup pre-cooked) or brown rice
½ cup dried cranberries or golden raisins
½ cup sliced walnuts or almonds
½ cup sunflower seeds
DIRECTIONS:
DRESSING: 
Combine all dressing ingredients in a food processor beginning with 3 tablespoons of honey and a generous pinch of salt and pepper.
Blend until smooth.
Taste and adjust with more honey or salt and pepper as desired.
Notes:
If you prefer your salad with lots of dressing, you can double up this part.
You can use this on other salads too, such as fresh romesco.
Superfood BROCCOLI SALAD:
Steam or boil broccoli.
Combine salad ingredients in a large bowl.
Dress entire salad (if eating within 24 hours; otherwise, keep the two separate, and mix later on).
Notes:
You can opt to add the following to this recipe: grilled chicken, cooked salmon, crumbled bacon or cheddar cheese.
You can go half cauliflower, half broccoli
The salad tastes better after sitting for a while (maximum 24 hours)