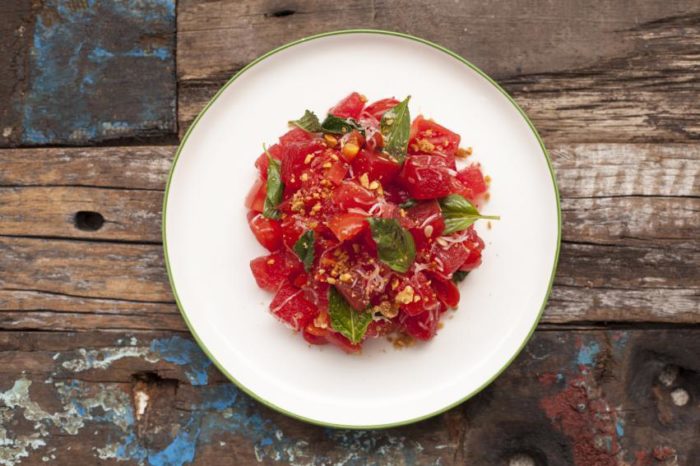 07 Aug

Stop Everything! It's Time To Make This Watermelon Salad

Ditch the lettuce. Instead, create this mouth-watering salad with a twist, thanks to the people at Limewood in Repulse Bay (http://www.limewood.hk/).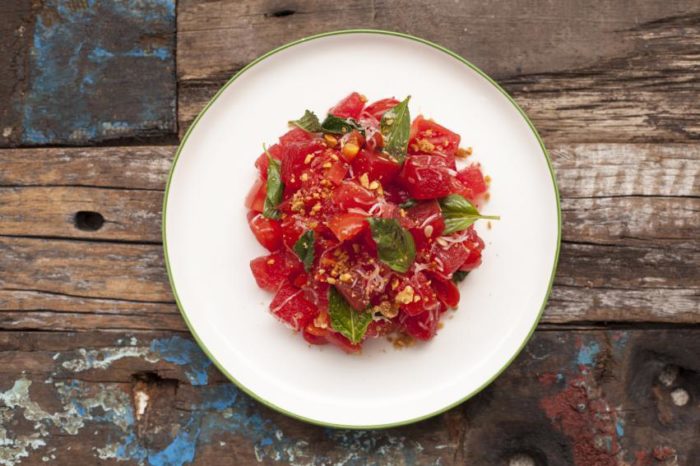 "This dish has been on the Limewood restaurant menu since day one," says Russell Doctrove, Group Corporate Chef with Maximal Concepts, which owns Limewood. "And for good reason! I have always enjoyed watermelon and wanted to create a refreshing salad around it that would appeal to a wide range of our customers."
It's the perfect refreshing combination of crunch, sour, and spice, ideal for long summer days, Russell adds, and it goes extremely well with fish or meat dishes."
"But it's the Nahm Jim dressing that really brings the dish together."
So gather your friends and savour the flavour this summer.
 Compressed Watermelon Salad
Dressing – Nahm Jim
1 whole lime, juiced
2 tablespoon fish sauce
1 teaspoon brown sugar
1 teaspoon minced fresh ginger
1 teaspoon minced garlic
1 small red Thai chili, finely diced (you can remove the seeds to tone down the heat)
5 coriander roots and stem, roughly chopped
Combine all the ingredients together and leave to sit in the fridge for 15-20 minutes.
Salad
¼ whole watermelon, rind and seeds removed, cut in to 1 ½ inch chunks
6 small red radishes, very thinly julienned
200g red cherry tomatoes cut in half
Handful of fresh mint, roughly chopped
Handful or fresh Thai basil, roughly chopped
10g toasted peanuts
10g crispy shallots
Olive oil
This dish is best served cold, so once the watermelon has been diced along with the tomatoes and radishes, store in the fridge for 20-30 minutes.
Once chilled, remove from fridge and combine the watermelon, radish, cherry tomatoes, mint, and Thai basil together in a bowl along with the Nahm Jim dressing. Season with sea salt to taste.
Add the fresh herbs, toasted peanuts and crispy shallots and toss carefully, making sure not to break up the watermelon too much.
Serve immediately and drizzle with olive oil.