25 Oct

Red Hot Vegetable Thai Curry

Red Hot, Vegetable Thai Curry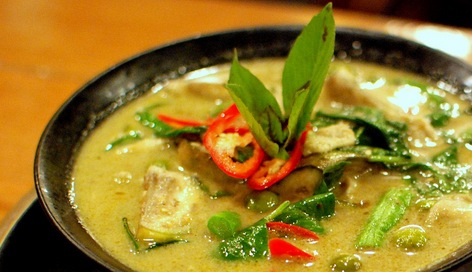 It's coming up to that time of year, when the weather cools and our desires for warming dishes heats up. Make the choice a healthy one with a feel-good favourite, from Flex's very own yoga-detox guru, Michelle Ricaille.
Serves 4
Prep Time: 30mins
Cooking Time: 30mins
Main Ingredients:
1 zucchini, chopped
2 carrots, chopped
1/2 red pepper, chopped
1/2 yellow pepper, chopped
1 cup small cauliflower heads
1/2-1 mini Japanese pumpkin, cubed (can eat with or without the skin)
4-5 tablespoons of soy sauce or Braggs soy sauce Alternative or Tamari
400ml of coconut milk
Juice from 4 limes
1 – 2 red chillies, finely chopped (depends on how spicy you like it)
2 tablespoons of grapeseed oil
20 grams of fresh basil
1-2 tsp of brown sugar (depends on taste)
Brown rice or jasmine rice to serve.
Sauce Ingredients
2-3 red chillies
1 lemongrass, chopped
3 shallots, chopped
1/2 red pepper, chopped
Juice of 1 lime
20g of coriander stalks
Grated thumb-size of ginger
2 garlic cloves
1 tsp of ground pepper
1 tsp ground coriander
Method:
1. Whizz the paste ingredients in a food processor. Marinate the pumpkin in 2 tbsp soy sauce, juice 1 lime and the chopped chilli.
2. Heat half the oil in a large pan. Add 3-4 tbsp paste and fry for 2 mins. Stir in the coconut milk with 100ml water, the zucchini, carrots, cauliflower and peppers and cook for 10 mins until almost tender.
3. Drain the pumpkin, pat dry, then fry it in the remaining oil in a small pan until golden.
4. Add most of the basil to the curry, then season with the sugar, remaining lime juice, soy sauce and pumpkin and heat through. Scatter with sliced chilli and basil and serve with jasmine rice or brown rice.
This amazing recipe is brought to you by our friends at www.greenlittlefrog.com
…
Flex is dedicated to better, healthy, stronger you. To learn more about Flex's dedicated classes at both Island South and Central Hong Kong, please visit our website here.
To see our upcoming schedule, please go here.