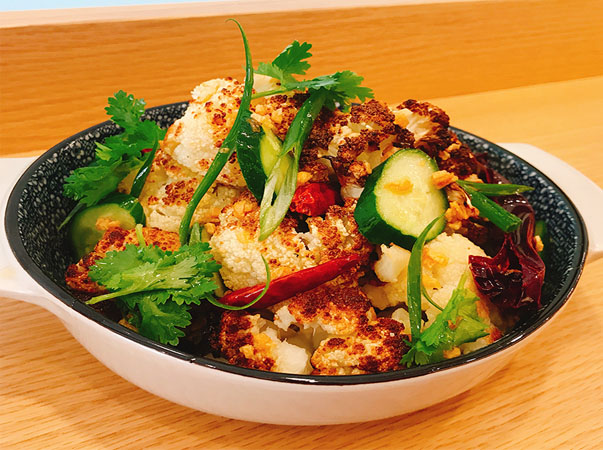 05 Sep

RECIPE: Sichuan Cauliflower Salad x Fete Up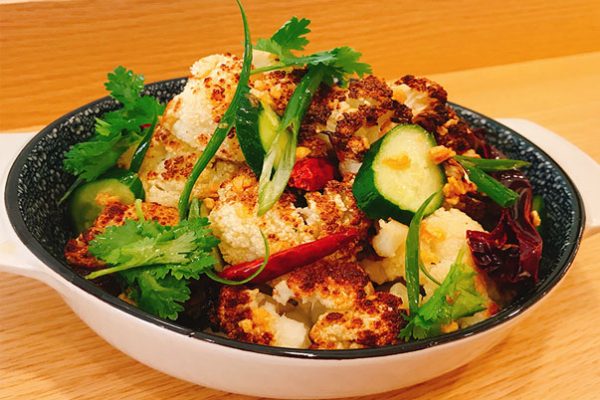 When greens meet sichuan
This isn't your everyday salad. The team from healthy eating counter-serve Fete Up has shared with us the recipe for their delicious and unique Sichuan Cauliflower Salad – veg with a kick of mala!
We have their Chef William from Singapore to thank for this. Before starting Fete Up, he was working as Executive Chef for Qantas Lounge at the Hong Kong Airport, serving First Class and Business Class passengers. He also previously worked under Régis Marcon in France, as well as Guy Savoy in Singapore.
According to him, "this edition is an upgraded version of one of the most popular vegetable options that we currently serve in our outlets."
Ready for some Asian Sichuan Fusion to spice up your greens? Try your hand at this creative yet easy dish utilizing the best of regional Chinese cuisine!
If you want to try the original version, you can also head to any Fete Up branch in Sheung Wan, Quarry Bay and Kowloon Bay (opening soon). Be warned – servings are balanced but massive! Bon appetit…
RECIPE
Prep Time: 30 Mins
Serves: 4 People
INGREDIENTS:
1 Big cauliflower head
1 Cucumber
1 Stalk spring onion
1 Bunch coriander
Salt
To make the fragrant oil:
30ml sunflower oil
5g Whole Sichuan peppercorn
5 pieces of dried Chinese chilli
1 Bud Garlic
PREPARATION:
Fragrant Oil
Pour 50ml of sunflower oil into a heating pan on medium heat.
Add in smashed garlic cloves (with skin) and Sichuan peppercorn.
Once garlic cloves turn golden brown, add in the dried Chinese chilli.
Stir-fry for 30 seconds.
Turn off heat and set aside.
Sichuan Cauliflower Salad
Cut cauliflower into florets, toss them in a mixing bowl with sunflower oil and place them evenly on a roasting tray.
Preheat oven to 190ºC
Roast cauliflower for 15 mins
Slice cucumber and spring onion diagonally
In a big mixing bowl, mix in roasted cauliflower, cucumber and spring onion. Season with salt to taste.
Drizzle fragrant oil all over and mix well.
Dish up in a serving bowl and garnish with coriander.
Catch delicious recipes right here on our blog every month. 'Till the next one!
Fete Up 182 Wellington St., Sheung Wan; 933 King's Road, Quarry Bay; www.feteup.com