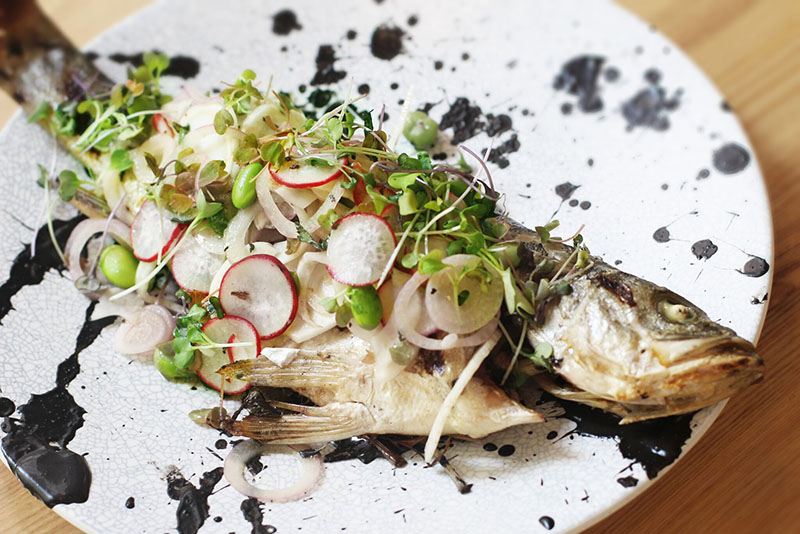 08 Oct

RECIPE: Seabass Tamarind Salad from Elementary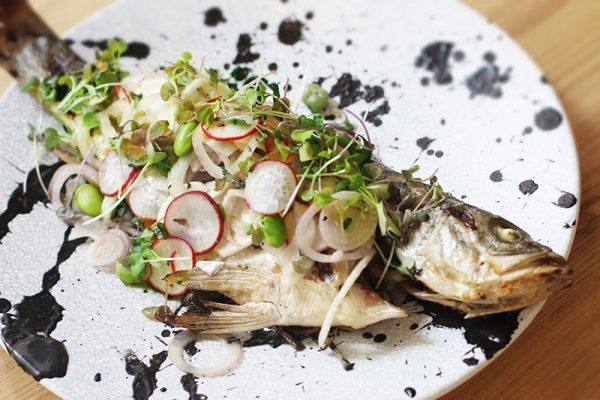 A fresh and light Thai-inspired salad with tamarind squid ink aioli and edamame
This month's recipe is brought to us by the guys behind Catch Concepts – the group who conceptualized Kennedy Town favorites Catch and Mama Malouf. Pescatarians and flexitarians alike would love this fresh and light Seabass Salad enriched with Asian-Mediterranean flavors: tamarind squid ink aioli, fennel, mint and edamame.
The delicious dish is an offshoot of a well-loved main course at Elementary, a contemporary restaurant in the charming Tai Hang neighborhood. Recreate a bit of the modern menu at home, whipping up a delightful and innovative flavor combination right in your kitchen!
Oh, and did we mention it's easy to prepare?
Prep time: 16 minutes*
Cooking time: 15 minutes
*Overnight marination required
INGREDIENTS:
Fish marinade
1 whole Sea bass
2 pcs Lemongrass (smashed)
1 bunch Thai basil
1 pc red Thai chili (chopped)
2 pcs shallot (roughly sliced)
2 pcs peeled garlic (crushed)
20g ginger (smashed)
1/2 tsp Fish sauce
1/2 tsp salt
300 ml vegetable oil
DIRECTIONS:
Sauté ginger, shallot and garlic in 2 tbsp oil until soft.
Add lemongrass, chilli and Thai basil; make sure everything is nicely sautéd
Add lime and fish sauce.
Add remaining oil and bring to boil. Let it infuse the flavors.
After oil becomes cold, add fish and marinade overnight.
Squid ink aioli
100g Squid ink
1 tbsp mayonnaise
1 tbsp tamarind paste
Add all the ingredients; mix well and add water if it's too thick.
Edamame salad
2 tbsp edamame beans
6 mint leaves
1 baby radish (sliced)
1/2 fennel (shaved)
1 tsp sherry vinegar
1 tsp extra virgin olive oil
Mix all the salad ingredients add salt and pepper to taste.
DIRECTIONS
Preheat the oven 180°C
Bake sea bass for 16 minutes
Splash squid ink aioli on a plate with the help of a spoon
Place seabass on top of aioli
Add salad over the fish, then drizzle some nice olive oil.
This dish is a spinoff of the Seabass Fillet main with tamarind & squid ink aioli, edamame, mint & fennel (HK$198) at Elementary restaurant, Hong Kong.
15-16 School Street, Tai Hang, Hong Kong www.elementary.hk