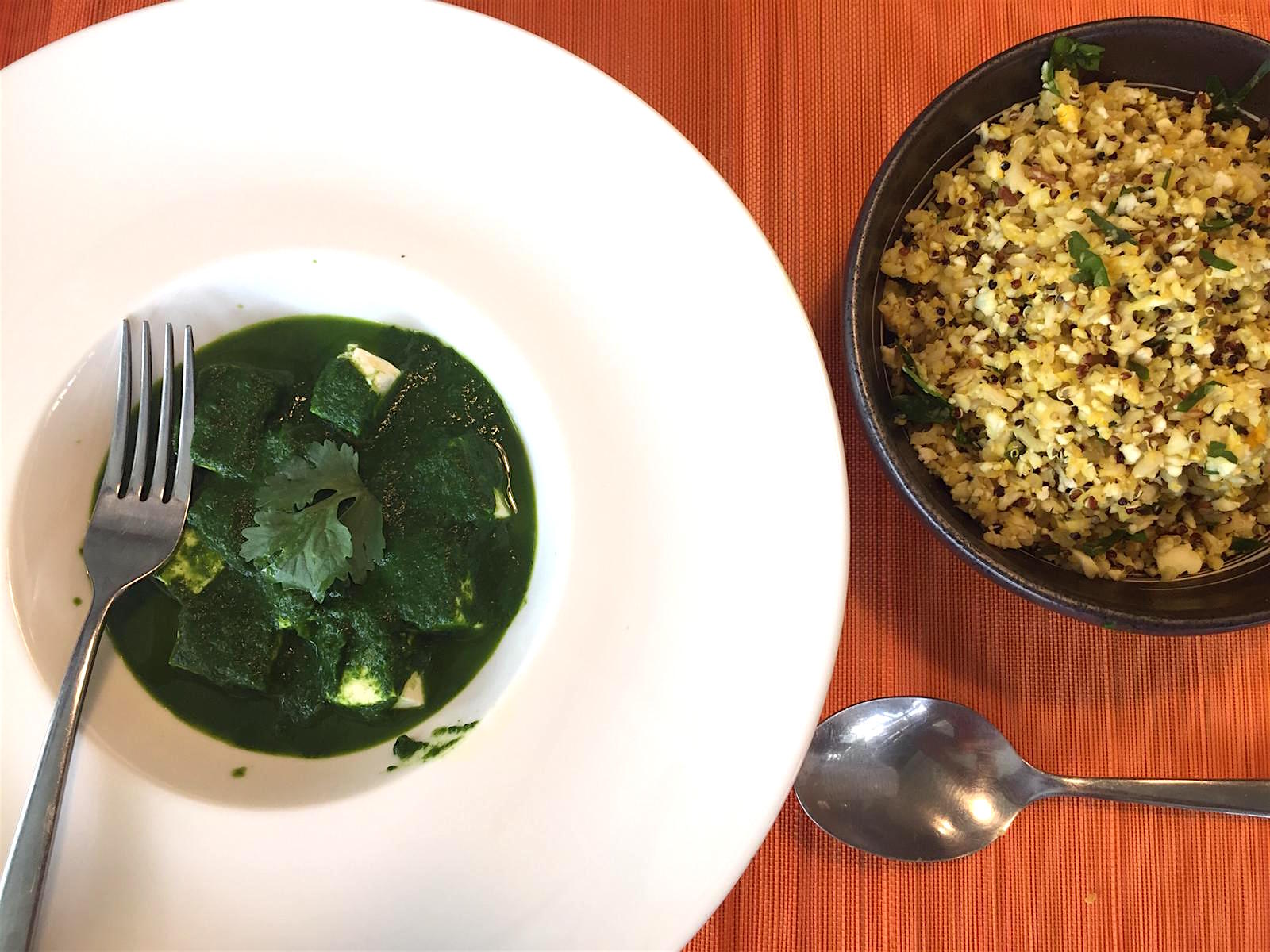 29 Jun

RECIPE: Palak Paneer by Food Folk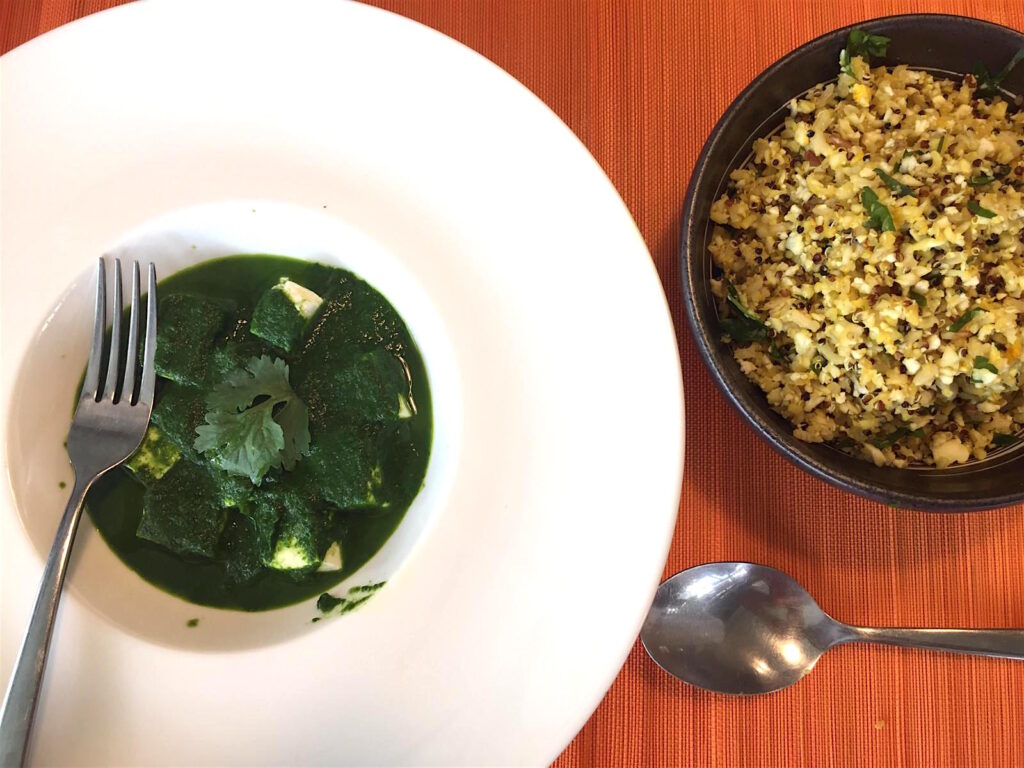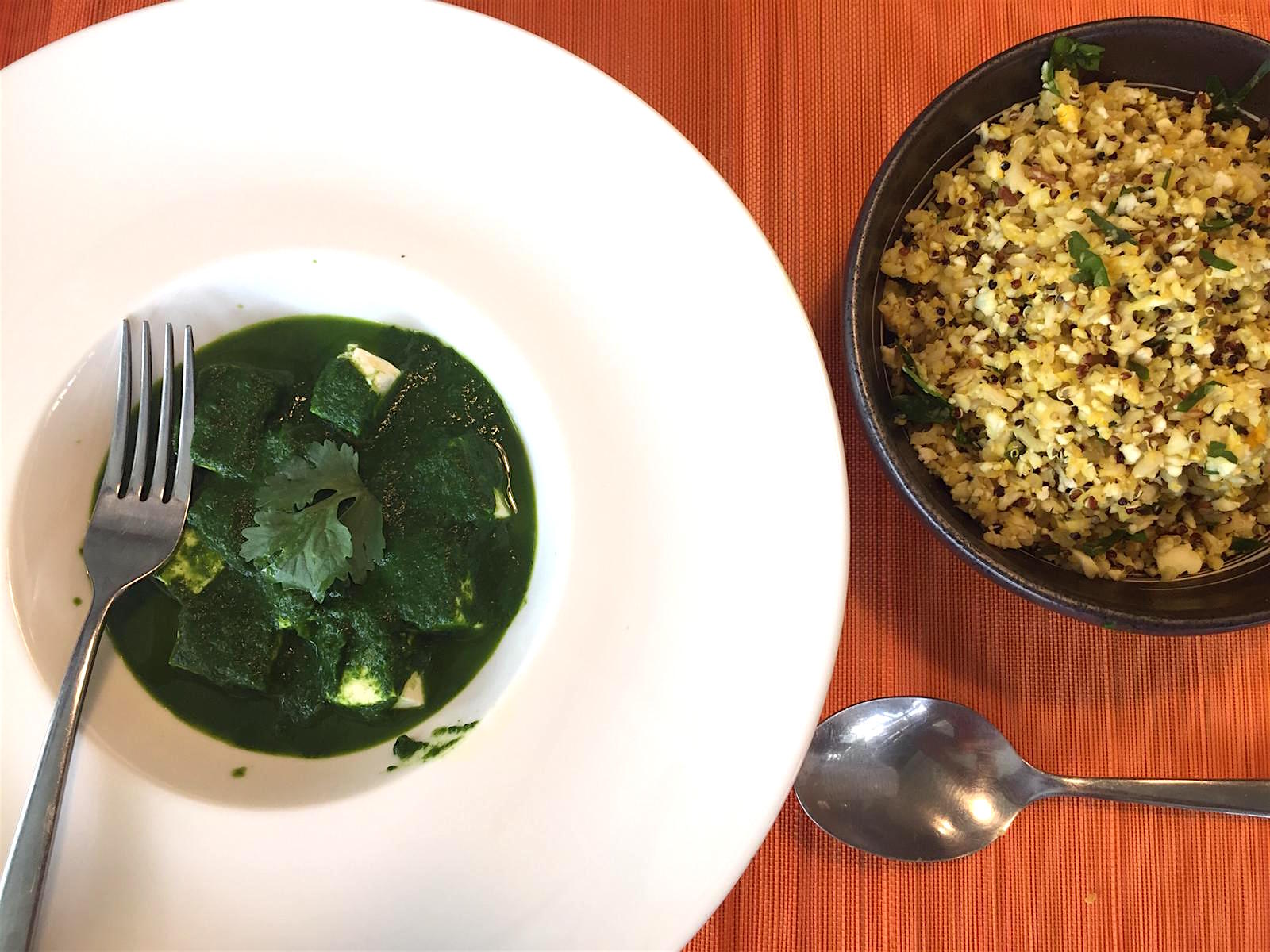 Rich in nutrients as well as in flavour, this dish is the perfect one to add to your weekly rotation at home this season
Want to liven up your menu this summer? Look no further than Food Folk's Palak Paneer. Packed with vitamin K from the spinach and protein from paneer cheese, this dish is the health boost you'll love to keep repeating. Let's begin!
Ingredients:
2 cloves

1 cardamom

1 tbsp light olive oil

Half onion (150g), chopped

1 plum tomato (120g), chopped

2 garlic cloves, minced

1-2 small green chili, deseeded and chopped, as spicy as desired

1 tsp chopped ginger

250g baby spinach leaves, washed

2 cups vegetable or chicken stock

1 tsp garam masala

1 tsp salt as needed

Turmeric Cauli Rice

500g Cauliflower, riced in a food processor or box grater

1 tbsp extra virgin olive oil

¼ tsp turmeric powder

Salt as needed
Method:
Spinach Curry
Dry fry the cloves and cardamom for a minute to help release the flavor. 

Add in the onion with the olive oil and saute until translucent. Then add in the garlic, chili and ginger. 

Add the tomato and saute on low heat until the tomato is broken up and softened, 3-5 minutes.

Next add the spinach and stir until wilted, about 1-2 minutes.

Finally, add the stock and garam masala and bring to a boil. Then simmer for 1-2 minutes.

Blend the spinach curry on high for 1 minute. Add the salt as needed.

In a separate frying pan, heat the oil and lightly pan fry the paneer cheese on medium heat  with a sprinkle of cumin and salt. This will heat through the paneer cheese and give a hint of browning. Once heated through, plate the cheese cubes and pour over spinach curry sauce. Serve with basmati rice or our Turmeric Cauli Rice.
Turmeric Cauli Rice
Heat the oil and turmeric in a skillet on medium heat until simmering.

Add the riced cauliflower and season with salt. Toss to coat and steam fry for 1-2 minutes until just softened but still with a bite.
About Food Folk
Food Folk is a meal delivery company based in Wong Chuk Hang that is dedicated to creating real food for professionals on the go. All ready-to-eat meals are made from fresh and sustainable ingredients, and are available for delivery or takeaway from Monday to Friday, 11am to 2pm.
Unit A, 14/F Derrick Industrial Building, Wong Chuk Hang, Hong Kong
+852 3594 6111 [email protected] www.foodfolk.hk
Curious to know which dieting method works best for you? Join our Diet and Detox Yoga Workshop at One Island South to find out! Kickstart the workshop with a healing detox yoga session, followed by a discussion on diet and nutrition led by Certified Holistic Nutritionist Denise Tam. Dive deeper into the Keto, Intermittent Fasting and Vegan diets, dissecting the benefits and potential drawbacks of each one. Click here to book!