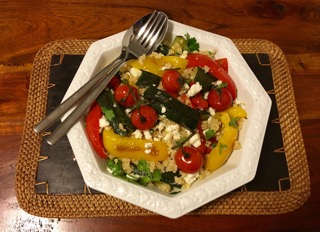 25 May

Quinoa and Feta Salad with Roasted Vegetables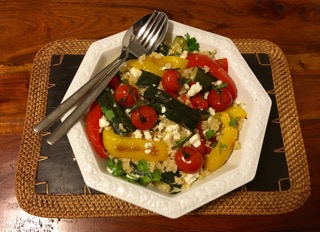 By Jan Ball, Pilates instructor at Flex
So easy to make, this dish can be prepared in advance as it doesn't go mushy and it is packed full of healthy ingredients. Quinoa is high in protein, amino acids and has a good source of phosphorus, copper, magnesium, folate, zinc and dietary fibre. The veggies, as well as the quinoa, are full of antioxidant phytonutrients too. With the addition of the feta you can eat this dish by itself as a complete meal. I often have it as a satisfying but not too heavy lunch on dragon boat racing days, and I love to include it when hosting BBQ parties on my rooftop.
Ingredients
200g quinoa
3 tbsp cold pressed extra virgin olive oil
2 bell peppers, 1 red and 1 yellow
200g courgettes
200g baby cherry tomatoes on the vine
3 garlic cloves, unpeeled
Zest and juice of 1 unwaxed lemon
Bunch of flat leaf parsley, roughly chopped
200g feta cheese
Seasoning to taste – freshly ground black pepper
Method
Rinse the quinoa, then add it to 600mls of cold water. Bring to the boil and simmer gently for approx 15 minutes or until the grains are cooked and all the water is absorbed. Drain well and set aside in a serving dish.
De-seed and chop the peppers into chunky wedges. Halve the courgettes and cut into similar size pieces. Divide the tomatoes into clusters of two or three, still on their vines.
Heat the oven to 200ºC. Add a tablespoon of oil to a shallow roasting pan, then toss the peppers, courgettes and whole garlic cloves in the oil so that they are coated. Roast for 15 minutes. The peppers should still have a bite to them while being a little charred at the edges.
Add the baby cherry tomatoes to the roasting pan, toss all the vegetables again and roast for a further 5 minutes.
Squeeze the roasted garlic cloves out of their skins and mash with some seasoning (black pepper). Stir in the remaining olive oil, lemon juice and zest, and drizzle over the quinoa. Add the roasted vegetables, parsley and feta, and combine gently.
About Jan
Jan's career spanned fitness instructor and personal trainer before she discovered Pilates ten years ago. She is constantly amazed at the improvements practicing Pilates can bring and is passionate in helping her clients achieve their goals. She has been working at Flex since March 2008 teaching OIS, Private & Semi-Private, Sessions and Trio classes as well as Level 1 Pilates Allegro classes – see her bio here.
And check out her blog about how Pilates can help your dragon boating performance.