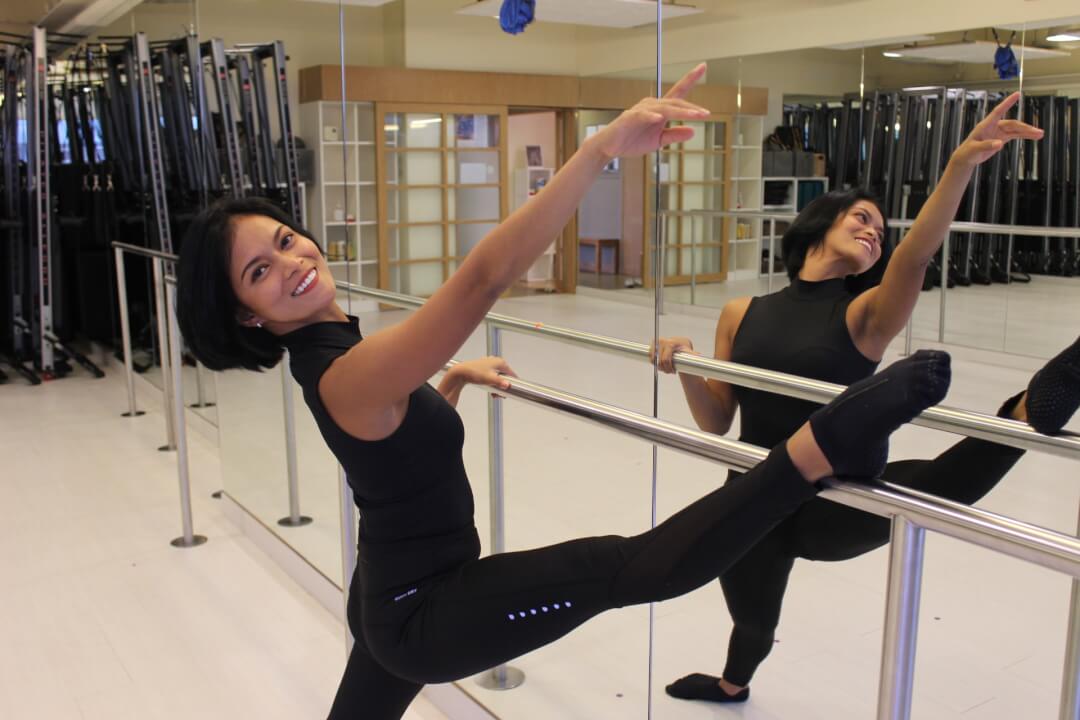 17 Jun

PreNatal Fitness: Dina Magat on How Exercise Fixed Her Pregnancy Pain

Twenty-five weeks into her pregnancy, Dina Magat continues to teach barre classes at Flex Studio and plans to keep moving well into her eighth month – she tells us why

At Flex we are firm believers of staying active during pregnancy, and our instructors are proud ambassadors of this. Our mainstay barre teacher Dina Magat, seven months into her pregnancy, shows up for her students six days a week, inspiring everyone with her energy and enthusiasm – and she doesn't plan on stopping anytime soon. 

"I love my job, and plan to keep coming to the studio as long as I feel my body is comfortable with it," says Dina. She hopes for a natural birth and thinks she can teach as far as up to two weeks before popping. We catch up with her in between classes:

Congratulations on this beautiful chapter of your life! How is your pregnancy going so far? 

Thank you! When I was in my first trimester, I won't lie, I had a hard time! Morning sickness hit me, and I was unable to do anything. In some ways I was lucky with the timing, because back then the studio was closed. Afterwards things became more manageable, light and easy. At this moment I still can do my normal activities. I do lots of hiking and long walks… my lifestyle hasn't changed much as thankfully I still feel agile.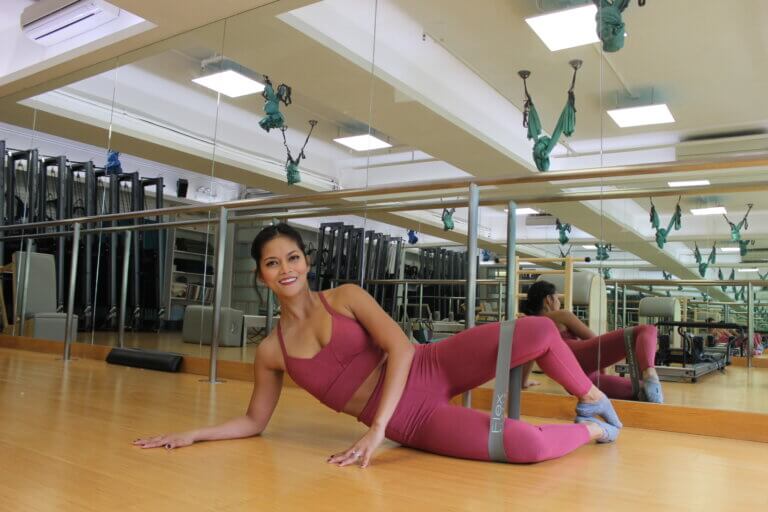 How far along are you? Have you decided on a name yet?
I am on my twenty-fifth week at this moment, and we found out we're having a baby girl. We decided to name her Carina. She becomes very active inside every after I teach and while walking. 
How often do you teach these days? When do you plan to slow down?
I'm still teaching barre workouts at Flex, and kids' ballet at another studio. I lead four to five classes a day, except for Saturday when I teach three kids' classes. I work six days a week at the moment… I'm thinking of stopping in my eighth month depending on how I feel.
You're really listening to your body through this, we love it! How do you think this is impacting your pregnancy?
I believe that being active will help me to carry and deliver the baby naturally and more comfortably. During my first and third months when the studio was closed, I felt so much pain on my back as I rested too much being at home. All I remember was doing nothing and getting morning sickness. Before I went back to work, I prepared for four days by hiking and doing long walks to condition myself for teaching. That really helped a lot. Then after a week of teaching, all the pain went away! My power house got back on track.
What an amazing discovery! We gather you're still working out now, then? 
At this moment I'm still working out my core, stamina and back. I feel strong and light even though I'm carrying baby Carina.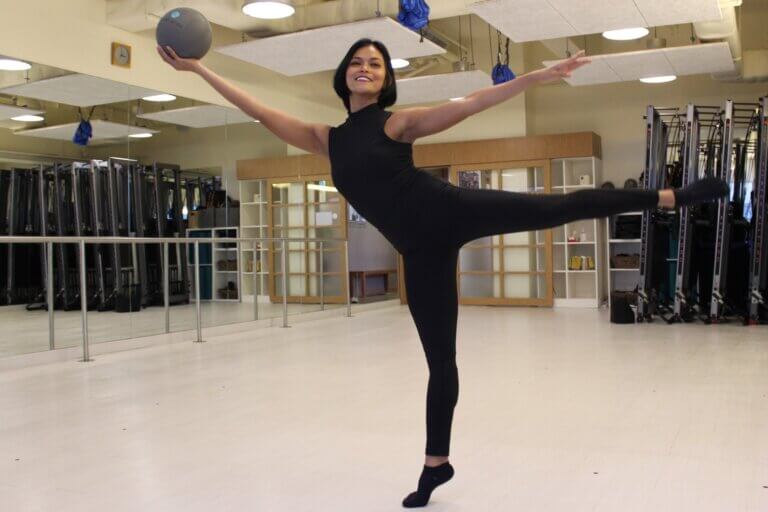 What would you advise mums to be who are navigating workouts during their first pregnancy?
If working out was not part of your daily routine before you got pregnant, I would advise you take it slow. Just do long walks and hikes to get your stamina up. If you can handle long walks and elevation, you can take it to the next level and start strengthening your powerhouse – your core – in a safe way like through Pilates
Why should you focus on the core when pregnant? 
In my experience, this really helps to ease pain in the lower back and avoid Diastasis recti or abdominal separation. I would suggest working on your three groups of abdominal muscles: the transverse abdominis, obliques and rectus abdominis during the prenatal period. There are a lot of easy exercises one can do to work on them. 
How do your students react seeing you teach so late into your pregnancy?
I am teaching barre classes at least three times a day, still doing my core workouts, and clients are freaking out! [laughs] Honestly, I just feel like I have a bump on my tummy. I'd much rather move than sit still and lay all day. Hopefully in the next three months I will remain agile even though she'll be bigger than now.
Are you on any health or diet plan at the moment?
I'm still eating as normal three times a day. I just add fresh pressed juice and more fruits and veggies to avoid constipation. Instead of rice, I eat quinoa and I'm taking twenty-three multi-vitamins and minerals from my doctor.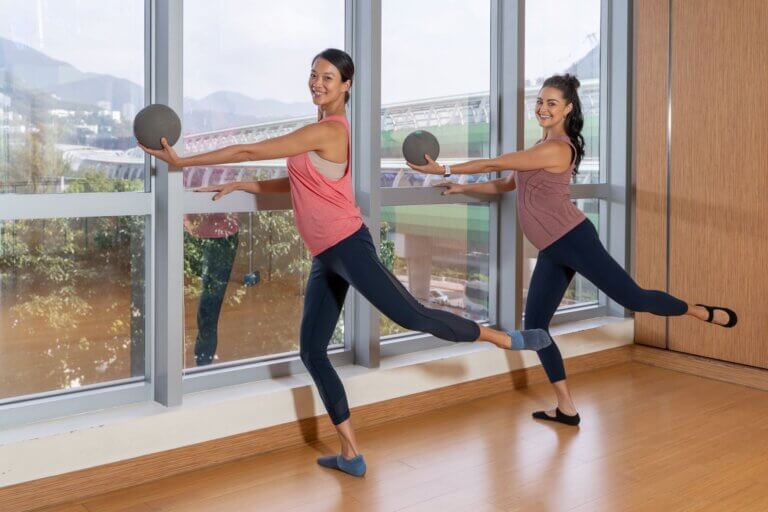 What are you looking forward to the most?
I am so excited to become mother to a little baby girl. I know a lot of things will change, but it's a good transition, and I'm ready for this next chapter of my life.
Do you plan to continue juggling physical activity and work with motherhood? 
I'm sure I will be fine with the right time management. I will come back to work, and that will be my physical and mental workout. So far, I'm thinking about how it will feel to have my baby in my arms… I can't wait to hold her. 
Did you know that Pilates is one of the safest and most effective ways to train the core during pregnancy? Read more about Pre and PostNatal Pilates at flexhk.com/pre-post-natal/. To see Dina's full class schedule and bio, visit flexhk.com/xtend-barre/dina-magat
Pre Natal Pilates classes at Flex:

Mondays 12pm
Wednesdays 1030 am (NEW! with Lauren Homer)
Lauren Homer
Lauren began dancing at the age of three, training in classical ballet, contemporary, lyrical and jazz. She danced professionally for a number of years before becoming a manager and teacher across three studios for Fitness First Australia. Throughout her years of dance training, Pilates was an essential strengthening technique, one that she grew a strong love for and has since trained to become an instructor herself. As a mother of two young children, Lauren understands the benefits of building a strong core and fitness foundation through the Pilates method.
Lauren is also available for Private sessions.