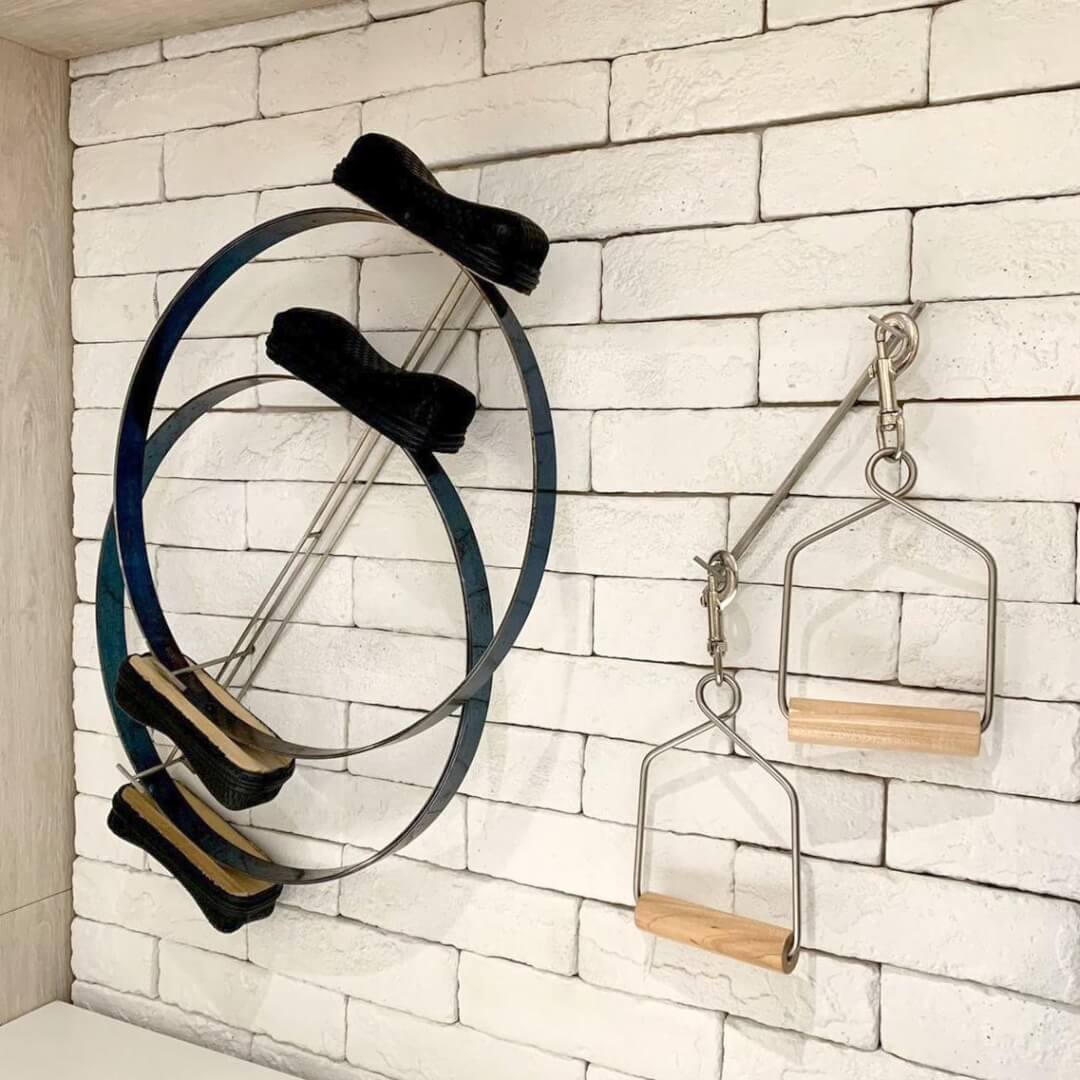 06 May

Pilates Meets Art At Flex Central: Artist Installations

For Arts Month in Hong Kong, we speak to Scottish sculptor Kirsteen Pieterse who explores the theme of the body as architecture

If you've been to our Central location recently, you might have seen a couple of conceptual installations by Scottish artist Kirsteen Pieterse, who's also been practicing Pilates at Flex Studio for a while now. It was exciting to collaborate on the similar relationship with physics that both sculpture and 'the body in motion' share. 

Originally from Scotland, Kirsteen moved to Hong Kong 12 years ago. Prior, she lived in Sydney for nine years. "I'm very lucky to have a studio in Wong Chuk Hang, very close to Flex," she says. She lives in HK Southside with her husband, two daughters, two dogs, a cat and a full fish tank. Let's hear about her more about the inspiration behind the pieces…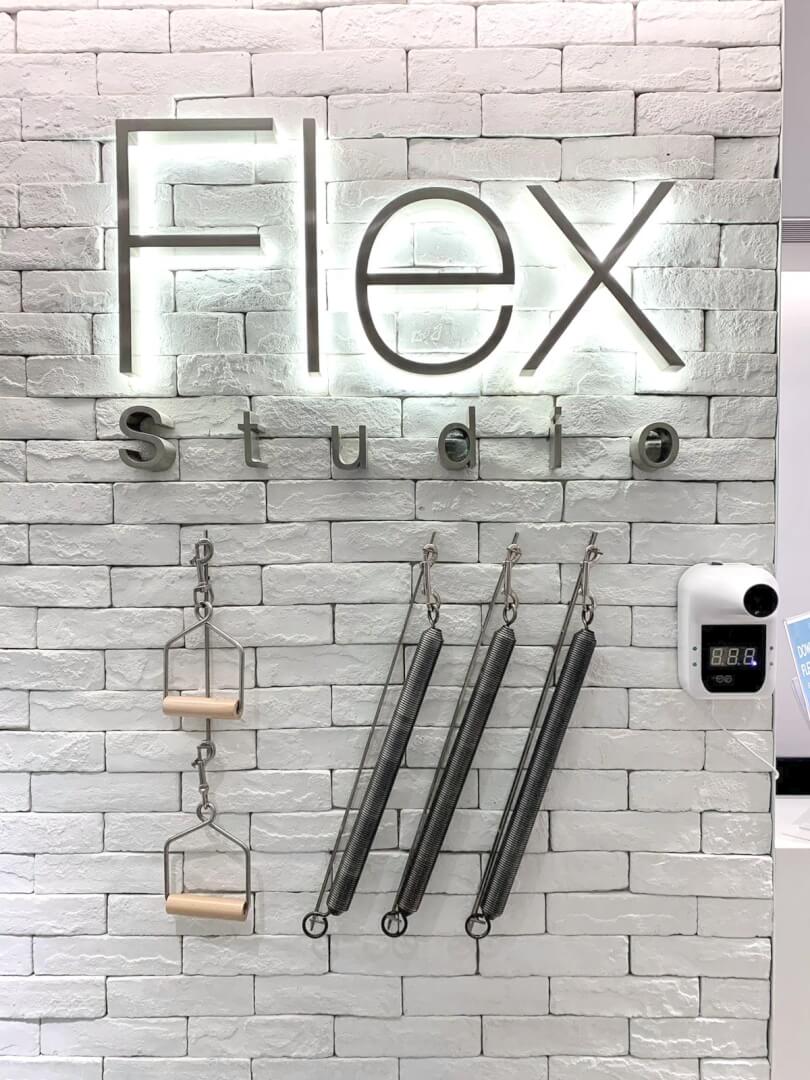 Can you tell us about your Pilates art installation at Central Flex? What is the concept behind it? How should people look at it?
This installation came about after several conversations with Heather about the intriguing and beautiful equipment in the studio. They are a collection of beautiful objects, large and small, which have their basic materials of timber, metal and leather straightforwardly presented with craftsmanship, with the function of building our bodies. Fascinating! The studios are very pleasant spaces to be in.
When we were discussing how best to celebrate these objects, to let people see them and wonder about their function, I tried to think how I could make something with stainless steel. My preferred medium, stainless steel shows the objects off without competing with them for the visual limelight. For example, I used a lot of stainless steel square bars in my sculpture, so it was easy for me to put something together which visually connects with the parallel lines in the frames of the reformer, cadillac and tower. 
I hope the installation makes clients aware of the equipment more, to ask about what it does, how to use it in their practice and to think about alignment. Most of the small equipment I hadn't used before in my practice. It reminds me how layered Pilates is and fires me up to keep finding out, progressing and learning.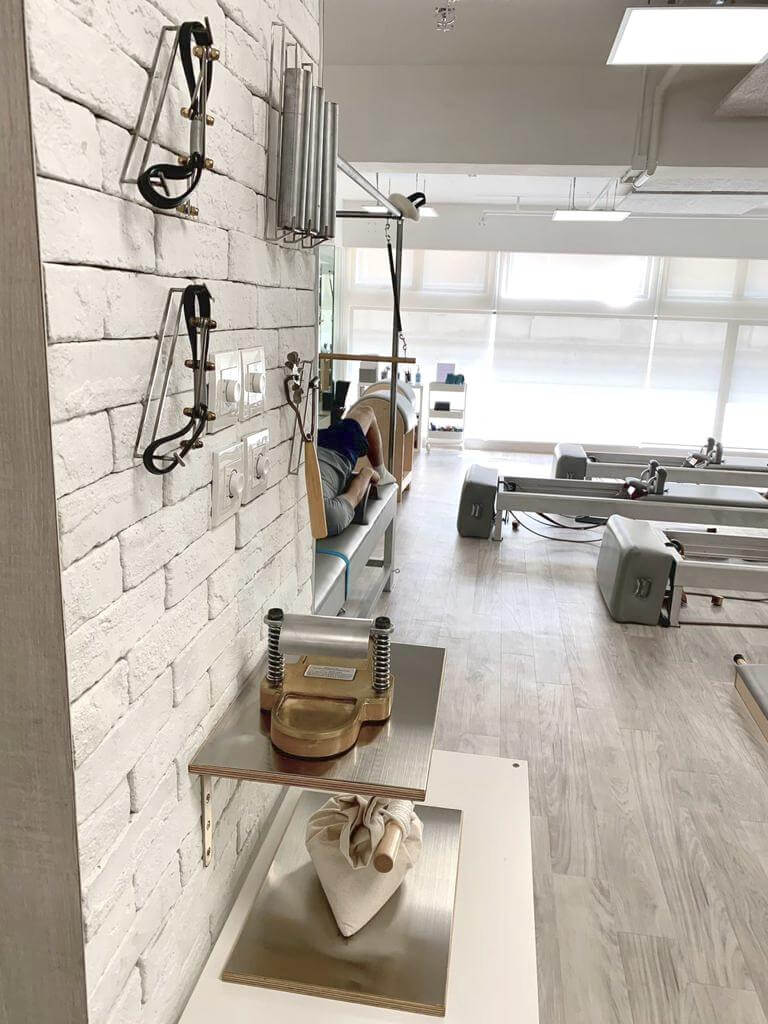 We hear you're quite the Pilates practitioner. How did you find Flex?
I found Flex doing a few mat classes elsewhere, and subsequently discovering Flex was very close to my studio space in Wong Chuk Hang. Having young children at the time meant I found I could get my 'fix' more enjoyably if I practised during my 'work time', i.e. when I was away from home! The teaching at Flex has always been excellent and I enjoyed the professionalism and clarity I found there. I've been hooked ever since. That was probably around 7 years ago.
What do you like about Pilates? What has your journey been like? 
The concentration required in Pilates is attractive and I like how strong it has made me, I'm nearly 50 and I have never been stronger in my life.  It has improved my performance in my sport, which is golf. I always feel safe and assured I will not injure myself when practising. This is important for me as my sculpture is physical work too, and I need to be fit and strong for it. Gyms have never attracted me, and the equipment can be quite ugly. 
I started with beginner reformer classes with Jan Ball, progressed to Level 1 Xtend Barre with Anna and it took off from there. My favourite classes are Xtend Barre, Reformer and now I do a weekly Private with Heather, which has been a challenge and a revelation. My flexibility leaves a lot to be desired but it is far better than it was. I try to fit in classes when I can, and, my studio's proximity to Flex in Wong Chuk Hang helps a lot.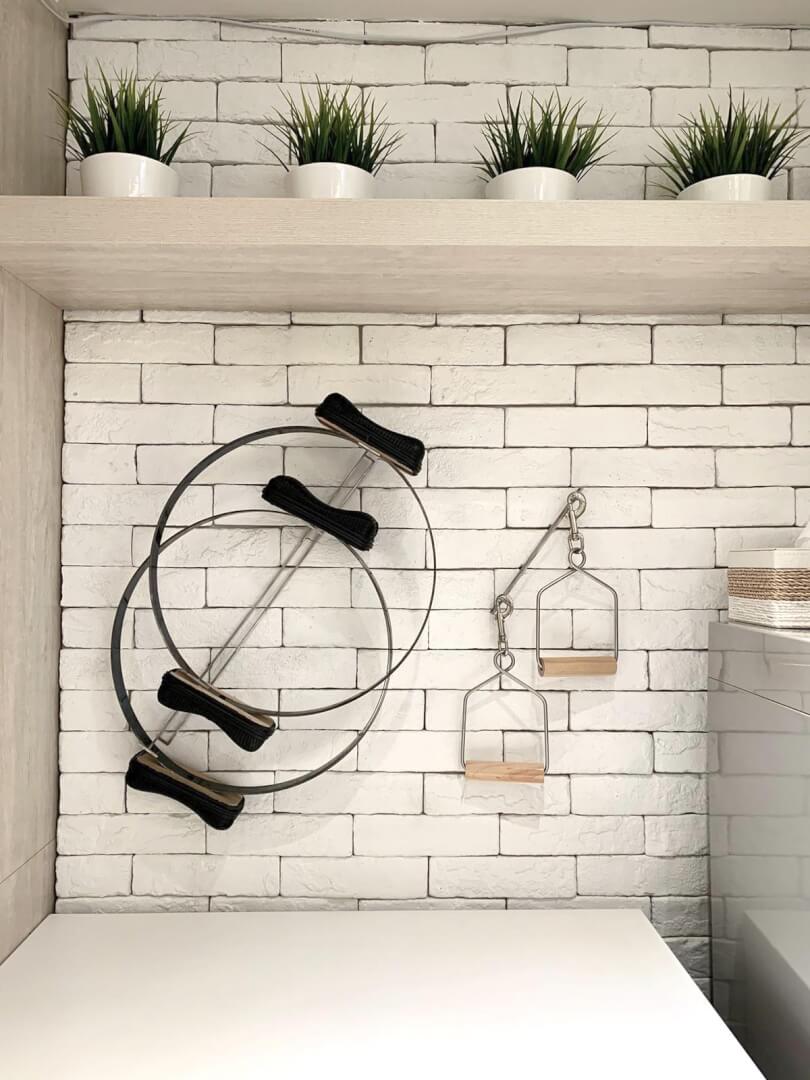 Is that why you choose Flex Studio? 
I also like the fact that all of the teachers are great; I can drop into any class and not feel short changed. The desk staff are friendly and accommodating, and importantly, I like the nice changing room and good towels!
Does my Pilates practice affect or inspire your art?
When I'm in a class I need to give it my 100% concentration, this helps me once I go back to the studio after a class. It clears my head. A lot of the language of the teaching echoes how I think about my sculpture work, for example, stability, balance, distribution of weight, elongation and compression. It's interesting to hear these words spoken to me by a teacher to try to help me to control what my body is doing, instead of me thinking of these words when I'm trying to control materials. This is something I personally enjoy a lot. I enjoy working out in a beautiful environment and on beautiful equipment… to me, this matters.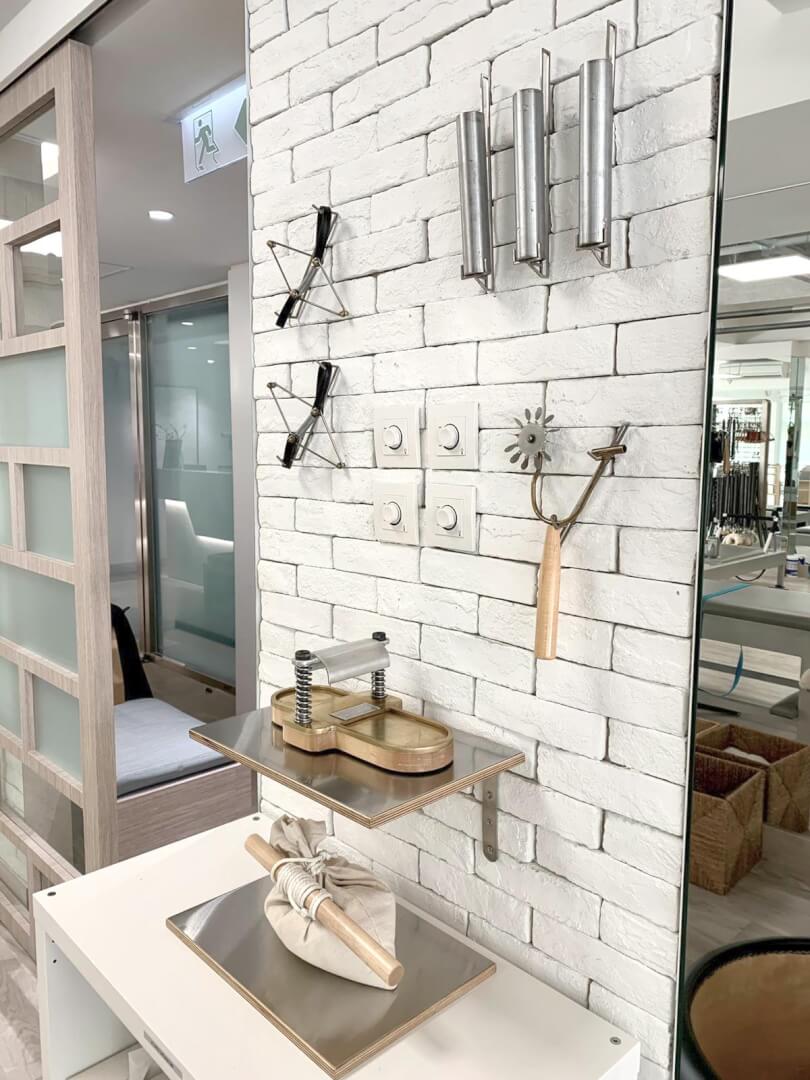 What's next for you?
I'm delivering three sculpture pieces to a new hotel opening in Wong Chuk Hang, The Arca at 43 Heung Yip Rd. I also have a large scale, outdoor work being installed at the University of Western Sydney in early May. After the last year of having commissioned work filling my studio time, and finally free from a long stretch of homeschooling, I am working on some new ideas for sculptures to exhibit in a few group shows in Hong Kong, and am looking to build a body of work for an upcoming solo exhibition in Sydney next year.
Thank you Kirsteen! We're proud to collaborate with such an accomplished artist who understands Pilates and reflect it in her work. Catch Kirsteen's mini installations at Flex Studio Central at 3/F Man Cheung Building 15-17 Wyndham Street.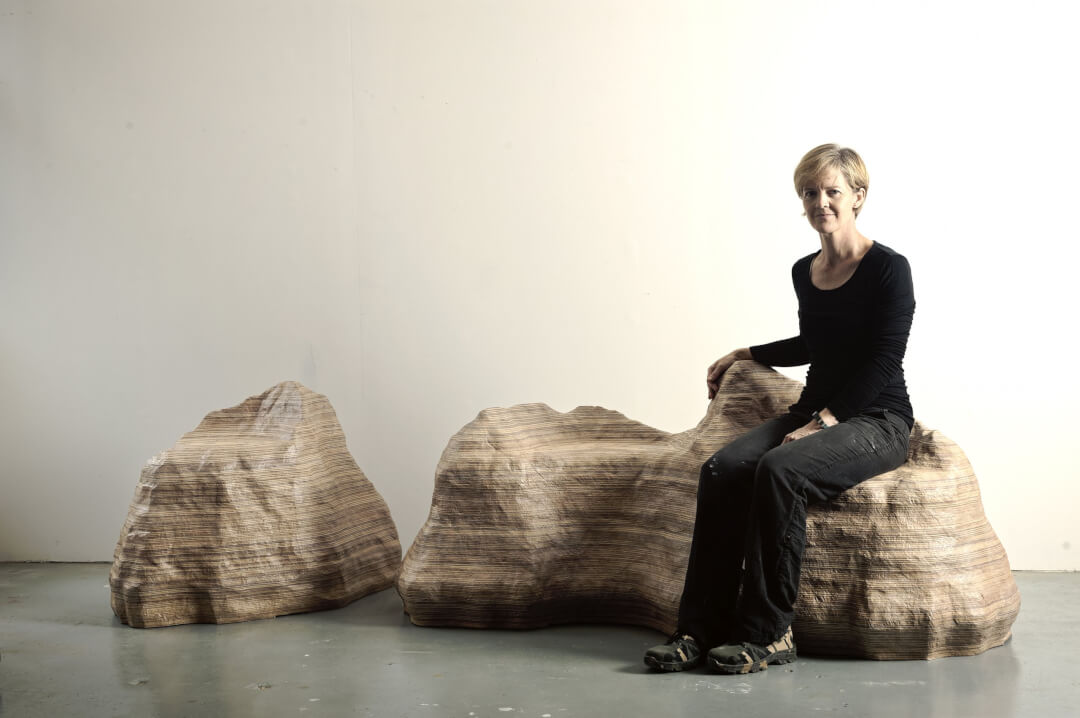 About Kirsteen Pieterse
An award-winning artist in the Romantic tradition, Kirsteen draws upon the precarious relationship between man and built environments in her work. Her current work fuses her interest in the subject of landscape in Western and Chinese painting with contemporary large-scale engineering construction and infrastructure. In Hong Kong she has been featured at the Hong Kong Visual Arts Centre, Sundaram Tagore Gallery and Gallery HZ.