29 Sep

Pinwheels by Megan Farrugia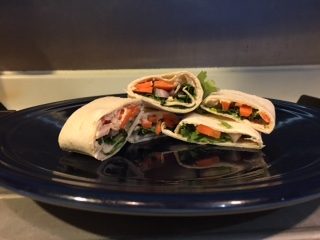 Flex instructor Megan Farrugia assures us that although this dish looks impressive, it is in fact ridiculously easy. Full of fresh, tasty and crunchy veggies, it packs a healthy punch of vitamins too. Serve it as a healthy appetizer alternative, or even as a party dish for holidays.
Ingredients
Your favorite type of wrap – to make them colorful look for wraps made with spinach or sundried tomatoes. You can also find gluten-free wraps and wraps made with coconut flour at good health food stores.
Hummus
Your choice of crisp veg – good choices are baby spinach, peppers, sugar snap peas, spring onions, carrots, cucumbers
Tabouli
Method
Lay the wrap out flat on a plate or cutting board.
Spread two generous spoons of hummus liberally over the surface of the middle of the wrap.
Layer the veggies over half of the wrap.
Spoon some tabouli over the top of the veggies.
Roll the wrap and its contents, tucking the sides into the middle as you go to form a tube.
Cut the tube into 1-inch strips and arrange on a plate.
About Megan Farrugia
A long-term weekend warrior, Megan is a triathlete as well as a skier and took up Pilates when stress in her neck and shoulders started giving her headaches. Not only did it rid her of the pain, it also increased her athletic performance and frame of mind. She loves Pilates and loves teaching it to others, having shared her expertise and learned more, while travelling with her family around the globe. Check out her upcoming workshop on Pilates for skiing here.