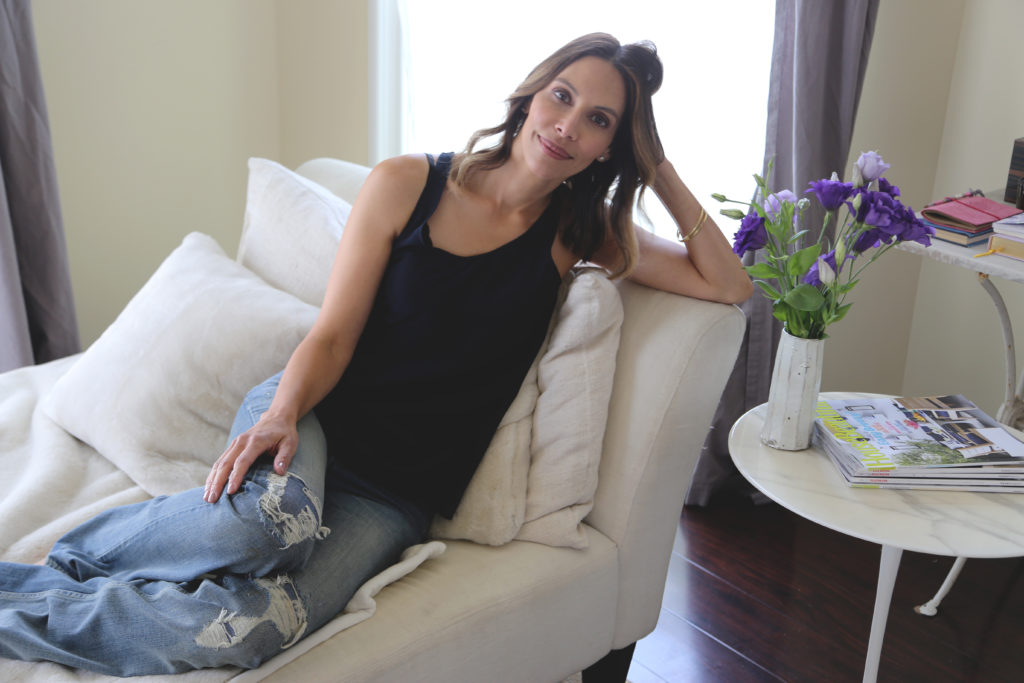 08 Aug

Sexy, Structured and Stylish – Garbe Luxe Comes to Flex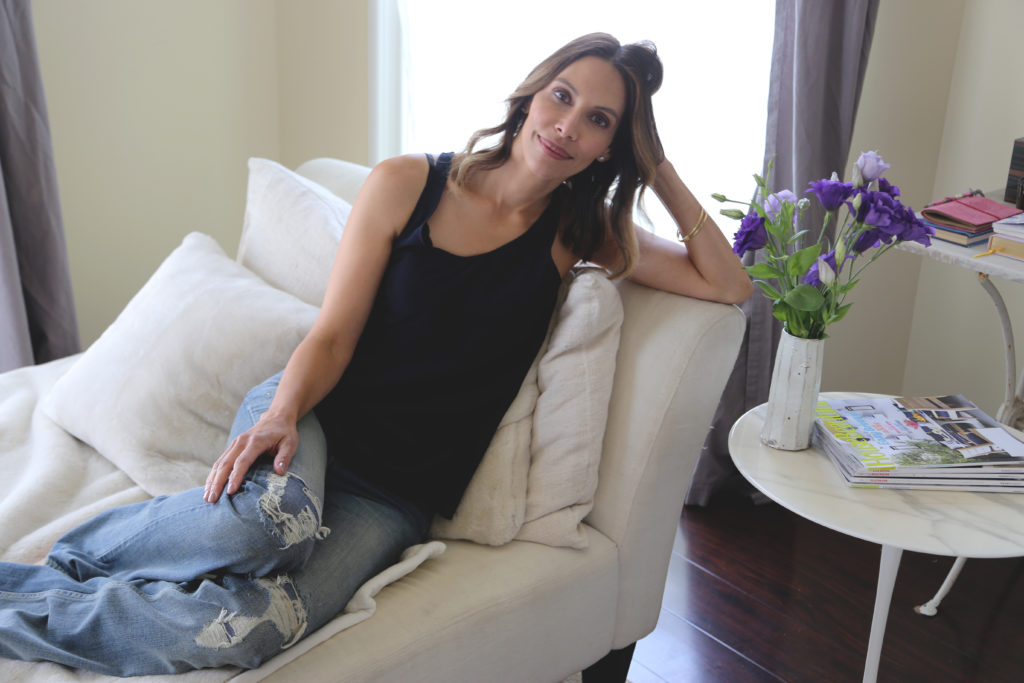 LA athleisure brand Garbe Luxe has hit Flex Studio shelves and the beautifully structured, clean-lined pieces with high fashion aesthetics are the perfect mix of sporty and stylish. Famous for the Moto Leggings, ballet style sports bra and Bomber Jacket, Hongkongers are going to be treating the studio like a catwalk. We talked to Natalia MacLeod, Garbe Luxe's founder, designer about her influences, her favorite pieces and Asia.
When did you start Garbe Luxe?
In 2010, but it took me an entire year to roll out because I did so much R&D. I love design, I had designed furniture for my home and sewed clothes throughout my youth and I've always loved fashion. I have two older sisters who subscribed to Vogue Magazine and I would read it like a novel when I was 11 years old! I often made my own clothes. Fashion is in my cells.
What motivated the first piece?
I was in yoga class one day, and I looked around and saw a sea of women in black Lululemon. Every woman was wearing the same thing, the aesthetic didn't resonate with my style. I wanted something that was reflective with fashion at the moment and was technically functional to workout in.
At the time there were only a couple brands like Stella McCartney for Adidas doing fashionable workout clothes. I wanted something that fused both fashion and athletic wear, what is now coined as 'athleisure' because like so many women I found myself spending the day in my workout clothes,. If my jacket or t-shirt was a little refined and fashionable I was a little more inclined to doing errands in the city without feeling really under dressed.
I set out to design 10 pieces, which ended up being 30. I couldn't stop I was so excited. I sought out the biggest manufacturer of technical fabric and designed the Moto Legging. It was in early 2010 and the concept of a black legging that had some detail and style and that could be worn with a cashmere sweater, a pair of boots if you were traveling or to workout in. I remember my pattern maker questioning my design with welt pockets, knee patch and stitching on the thigh.
The Moto Legging is still one of the star pieces still in my collection. I also created a military jacket and designed a striped tee of thin cotton that breathes so I could wear the seamless bra top I tested it skiing, running and of course for yoga, and it stays put and is extremely comfortable, you forget you're wearing a sports bra.
What does your line look like?
My colour palate is changes somewhat from season to season but I don't stray far from neutrals navy, black, white, grey. I like a bit of pink, and I'll throw in a popper colour.
How does the next design occur to you?
I'm very mindful of the pieces I want. Every piece is something I needed or wasn't finding – something you always hear in fashion. It is still how I design. I never stray far from what I would like in my own closet.
I design a new collection every season, I'm always inspired by fabric and my ideas are born from seeing the fabric drape, the texture and it's potential is exciting to me. I usually have to reel back, I can't design all the pieces I want or I'd have four different lines!
I've been influenced by so many designers, like Jill Sander the beautiful drapes and clean lines. Balenciaga has always been a brand that I've loved. And I've been a fan of Calvin Klein from when I was little, stealing clothes from my fashionable father. He had better clothes than my mother! I like anything with structure and detail. But I don't like anything too fussy. Whether it's a t-shirt or a ball gown, it's has to look effortless.
How has the athletic gear world changed over the last few years?
I think it's to my benefit that now we have a different aesthetic, we wear clothes out that were never shown before. It used to be that one would workout and take off your gear and put it in your bag. Now wearing your workout gear is like a badge of honour. It's worn throughout your daily life, on planes etc.
In the past if women worked out they didn't talk about it. Now it's a given that it's something you do, it's a different world. Women used to spend all their money on clothes, now they spend more on their active wear than contemporary fashion.
How important is it to you that fashion mixes with function?
When I go for a workout I want something that looks different, I think every woman wants to feel unique. I design all my pieces to mix with my regular wardrobe, which was the concept when the line was born; a fusion of the two.
Are the fabrics key?
The fabrics used to be heavier and designed to hold you in., but they were very hot. It took a long time to evolve from that. Not unlike fashion, the boundaries are being pushed with technical fabrications. I found thin, recycled polyester made from plastic bottles, this is more common now but at the time there was hesitation that the fabric wouldn't be flattering. The fabric caught on a few seasons ago – they are extremely flattering, have a sheen that makes the legs look toned and they are not hot, not to mention they dry in a minute after leaving a hot workout class.
Which are your hero pieces?
Our Sports Bra is made of amazing seamless fabric and is extremely flattering and comfortable. I was inspired by the tops ballerinas wear.
Of course there's the Moto Legging, women will love this piece in and out of the workout studio.
From this season one of my favorite pieces is the Laura Vest – it's textured cotton a woman can throw over anything. The Ruby Tank is a staple in my wardrobe – born from wearing t-shirts and scrunching up the sleeves the cut is extremely flattering on every shape.
The Bomber Jacket has a great clean refined cut to it and different textures that play off each other. I'm from the east coast and I love coats and jackets – I love the layering. Layers are perfect for the workout world.
I think Flex members will especially love the Carolyn jacket. It's really sumptuous fabric with a detachable hood in a bolero cut, casual and cosy with the hood once removed it completely changes the look and versatility of the jacket.
Garbe Luxe in Asia
I think Asian women will love it. I'm very influenced by Asia in general, I designed a bookshelf with a Japanese aesthetic, symmetrical cubes carrying the pottery I've collected over the years, mostly Japanese potters making pieces in beautiful pale blues. Everyday (almost) I have a ritual of selecting the tea pot and cup, setting up the tray for a pot of green tea, the preparation is very zen in and of itself.
I wear everything, I make sure that the drape, feel of each piece is something I would purchase and want to wear it again and again… Although I'm small and we tend to design for what we know, I keep in mind universal concerns women have when designing. I think Asian women will appreciate the clean lines and simplicity with design details that elevate the casual pieces in our everyday wardrobe.
Look out for Garbe Luxe's beautiful collection at Flex One Island South and Central's retail spaces – and for a sneak preview click here.