18 Mar

Lemon Coco-Pie Macaroons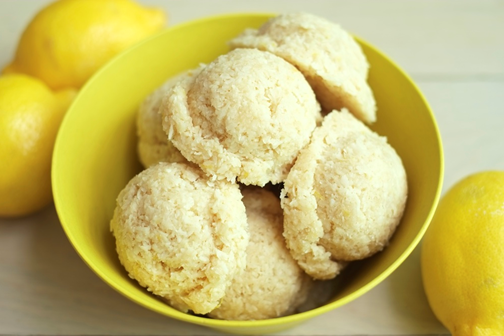 'These are so yummy to have on hand as a snack.' Says chef Priscilla Sogo of Rawthentic Food.  Refreshing lemon and coconut makes these perfect slightly crispy on the outside and chewy on the inside macaroons.  Serve these up at a party and watch them quickly disappear, or if you love a good ol' cuppa curled up on the sofa like me then these are the perfect accompaniment.
Ingredients
(Makes 30 Macaroons)
31/2 Cups (313g) Desiccated Coconut
1 Cup (123g) Macadamia Nuts
1/3 Cup (82g) Melted Coconut Butter
1/2 Cup (156g) Maple Syrup
1/4 Cup (53g) Lemon Juice
1 tightly packed tsp (2g) Lemon Zest
15 Drops Vanilla Liquid Stevia
2 tsps (10g) Vanilla Extract
1/2 tsp (4g) High Mineral Raw Salt
Directions
In a food processor, process macadamia nuts to make a meal, or crumbs.  Place into a large bowl.
Add in all other dry ingredients, desiccated coconut and salt.
In a small bowl, combine all wet ingredients, coconut butter, maple syrup, lemon juice, lemon zest, vanilla extract and stevia.
Combine wet ingredients into large dry ingredient bowl and combine well by hand.
Prepare two dehydrator trays lined with drying sheets.  Using an ice cream scooper, scoop out macaroon mixture onto drying sheets and dehydrate at 118F for 6 hours.  Remove drying sheets and place macaroons onto mesh dehydrator trays.  Continue dehydrating for another 18 hours, or until crisp on the outside and chewy on the inside.
This recipe was published on: http://rawthenticfood.com/recipes/2014/2/15/lemon-coco-pie-macaroons
Rawthentic Food is a family owned Hong Kong based company that promotes delicious vibrant whole plant-based clean foods that are authentic in colour and flavour and that nourish our body and mind.  For more information, please go to: www.rawthenticfood.com