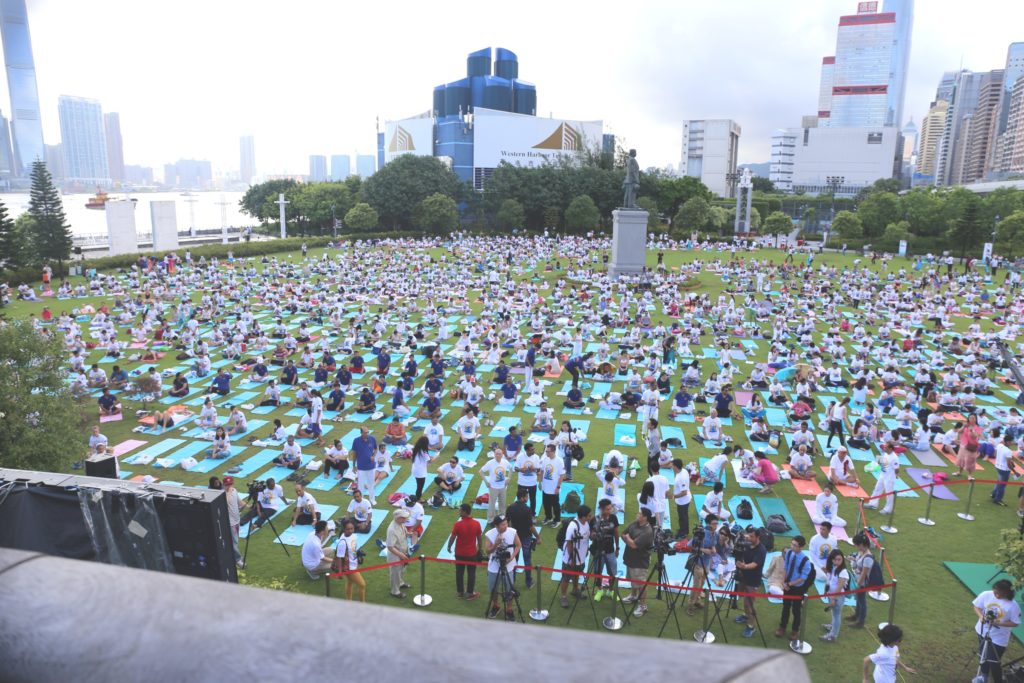 06 Jun

Join Hong Kong's Alfresco Harbourside Practice Celebrating International Yoga Day – June 19th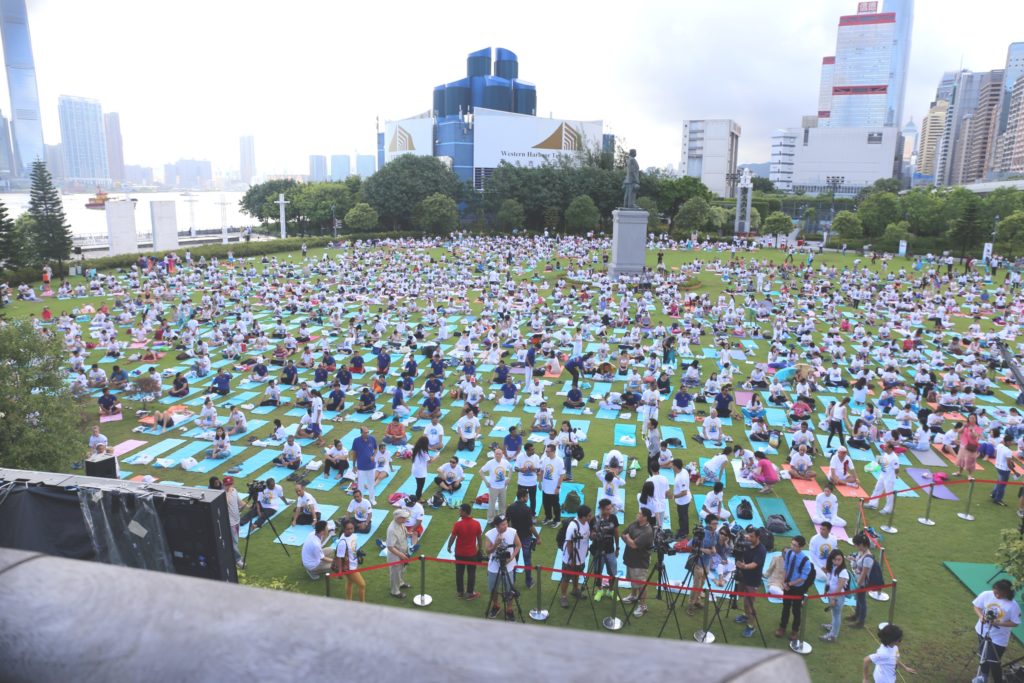 What are you doing on June 19th at 7.30am? We hope you're joining hundreds of others at the Sun Yat Sen Memorial Park to celebrate the second ever International Yoga Day! At 8am the program will start with Prime Minister Narendra Modi's address, followed by the same yoga series millions will be following around the world. And after a discussion on the benefits of the practice, you'll find break-out yoga classes springing up all over the park. Of course Flex's instructors will be there, leading a free class on the grass, under the sky and surrounded by the most incredible atmosphere. Don't miss it!
It was Indian PM Narendra Modi who suggested to the UN there should be a day set aside each year to celebrate yoga. June 21st was the date he chose, as it falls on the longest day in the year, the summer solstice, the day upon which Lord Shiva is said to have started teaching yoga to mankind.
He introduced the practice at the UN's General Assembly by saying: "Yoga is an invaluable gift of India's ancient tradition. This tradition is 5,000 years old. It embodies unity of mind and body; thought and action; restraint and fulfillment; harmony between man and nature; a holistic approach to health and well-being. It is not about exercise but to discover the sense of oneness with yourself, the world and the nature. By changing our lifestyle and creating consciousness, it can help us deal with climate change. Let us work towards adopting an International Yoga Day."
And there and then a record number of 175 nations co-sponsored the resolution.
The first International Yoga Day 2015
In New Delhi alone, the first International Yoga Day, which happened last year, saw nearly 36,000 people from 84 nations performing 21 asanas for 35 minutes, making two Guinness world records. And millions more joined them from across the world.
In Hong Kong, last year saw the event being celebrated at the Sun Yat Sen Memorial Park in Sheung Wan. Flex instructor Micha Chan was MC on stage. He remembers that the crowd of around 2,500 followed the International Yoga Day video, practicing the same 21 asanas as they were in India. Several yoga studios took part, and following the collective early morning meditation and asana practice, led specific yoga classes in different corners of the park.
International Yoga Day 2016
This year the event will fall on Sunday 19th, just before the official day, so that as many Hongkongers as possible can join.
"We want to introduce meditation to more people this year," says Micha. "Meditation is central to this Indian tradition, and teaches a different aspect of yoga compared with the more physical western approach. This is a great way to promote traditional yoga, helping people understand not only the physical asanas, but also the meditation and breathing aspects. Traditional Indian yoga is not just physical, it is also mental and spiritual. It is the way to union with god and nature, the way to uplift to higher state, to a state of enlightenment."
This year he says the event will also be more inclusive of children, and also those with disabilities with their introduction of wheelchair yoga. This year the target for the park is 4,000 people and for 30 studios to sponsor the event.
After the main event, which will last around 1.5 hours, the sponsor yoga studios will again spread out over the grassy parkland and divide into different sections leading classes focusing on various kinds of yoga.
"Sometimes in Hong Kong it can be hard to find a place without buildings but this will be outdoor yoga, by the sea, on the grass and under sky, rain, wind and sun," says Micha.
Register to join the main event at www.yogainhk.org and then stay around to join Micha and many of the Flex instructors for their free class. In addition, to celebrate International Yoga Day during the entire month of June you can get a 7 Day Unlimited All-Yoga Pass, at Central and One Island South studios, at only $499! Check out the schedule here.