20 Oct

Jessica Alba wears Splits59…only available at Flex!

Pining for Coachella? Jessica Alba hits the gym in a festival-motif crop top and form-fitting workout leggings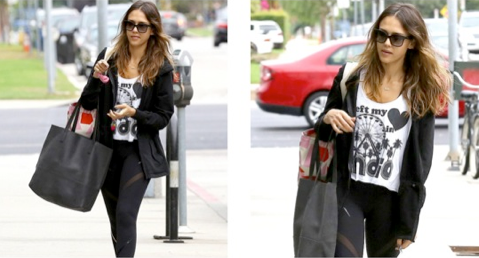 As the sun settles on another summer in California, Jessica Alba was longing for the long hot festival days of Coachella.
Not wanting to admit defeat on a dull day in LA, the brunette beauty headed for the gym wearing her sunglasses and an "I left my heart in Indio" crop top on Wednesday afternoon.
Fitness fanatic Jessica teamed her Tee with a fleeced jacket as she made a beeline for KMW Training Center for self-defense class.
She showed off her lean figure in Splits59 tight-fitting leggings in Kym Noir style black and gold making strides towards the gym in white trainers at the same time as carrying two tote bags.
Jessica is known for her impeccable sense of style, and after spending time at the Indio-based festival in 2013 with husband Cash Warren, had likely added her festival keepsake shirt to her enviable wardrobe last summer.