05 Mar

Aligning ourselves!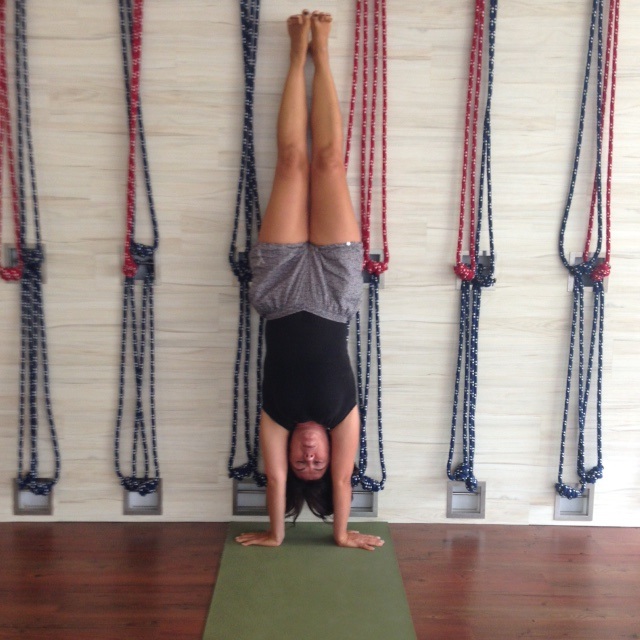 Iyengar Yoga, named after B K S Iyengar, one of the foremost yoga teachers in the world, is a form of Hatha Yoga that places emphasis on alignment, sequencing and timing.
"These three elements not only help the development of overall strength, mobility and stability" Says Gaelle Foulon Daffner, new Iyengar instructor at Flex studios, "but also allow for the enjoyment of the more subtle aspects of yoga such as Pranayama (breathing) and meditation."
Gaelle explains how Alignment plays an important role in Iyengar:
Alignment  – what is it?
Alignment is the precise way in which the body should be positioned in each yoga pose in order to gain the maximum benefit from the pose and avoid injury.
Iyengar yoga is really accessible to everyone regardless of their age and fitness level.  Because no two bodies are the same, Iyengar aims at helping people find their own optimum alignment and without forcing their bodies into unsuitable or overambitious poses. We are not aiming for a perfect shape in order to match photographic perfection.
What are the benefits of alignment?
Alignment protects the structures of our body: many of us practice yoga several times a week and if a movement or an Asana is performed incorrectly and repeatedly, it can end up damaging the joints, muscles and even organ functions, potentially resulting in injury.
To reap the benefits of yoga in our everyday life: it's crucial we learn to move our bodies properly, and once we have experienced proper alignment, we will find ourselves standing straighter, rolling our shoulders at our computer, and taking other steps in our day to day life to replicate these movements.
A more subtle benefit is its effect on our energy flow.  When we become more aware of our energy we can start making better decisions, such as resting when needed, or detoxing when we are sluggish, overall we can improve our health and wellbeing.
How do we achieve alignment?
Iyengar yoga places emphasis on our postioning, movement and breathing while practicing Asanas.  Once we have a greater understanding of the practice, we learn which specific areas of our bodies require focus and attention and how to stretch and align effectively.   Often we have learned bad habits (unknowingly) and hurt, or deformed our bodies over a long period of time …reversing these tendencies also takes time and repetition.
Safe, meditative and happy…Iyengar yoga aims at helping every one regardless of age, body type and fitness level to enjoy life at its best and alignment is a key element of this process.
This article was written by Gaelle Fulon Daffner
Flex New Iyengar Yoga Classes
Iyengar Body Work class!
with Gaelle Foulon Daffner
One Island South    |           Tuesdays       |           12.45pm – 1.45pm
Balancing Iyengar Practice
with Gaelle Foulon Daffner
One Island South    |          Fridays          |           10am – 11.15am
For more details: https://flexhk.com/group-classes/group-yoga/