22 Sep

"I love how music and yoga make me feel."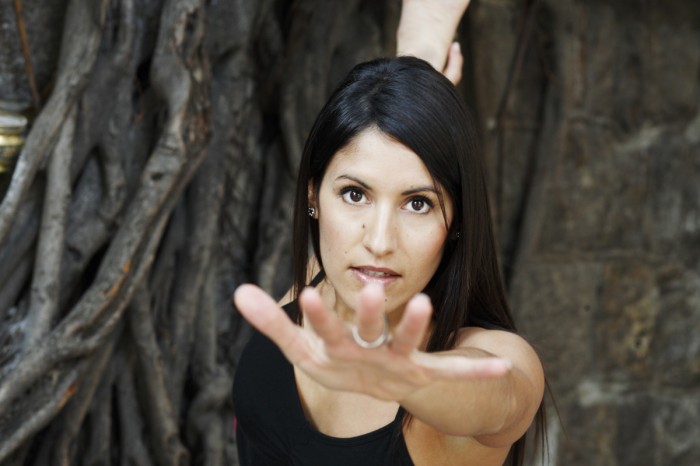 Dedicated, spiritual and radiating inner health and happiness, Flex yoga instructor Claudia Whitney has taught the ancient practice for more than a decade – in New York City, Thailand and now Hong Kong, which she calls home.
Among other ventures, she and DJ husband, Jason Nogoy, run DJ-inspired yoga flow classes called Happy Hour, with Flex's Central studio hosting its first one this Friday night. Here, we find out how Claudia – a new mother – went from hair styling to yoga and later, combining her practice with music.
How did you get started as a yoga instructor?
I was a hairstylist for many years and it was very rewarding when a client would leave my chair feeling empowered and more confident from getting a new color or cut. They felt beautiful and I loved it. It has always been my passion to inspire people to live happier lives. When I discovered yoga it was like something hit me over the head and changed my life in an instant. I knew from the very beginning that I would teach even though it took a long time to say it out loud. I knew that I wanted to inspire people to live happier lives starting from inside. I believe that yoga helps you to create change from the inside and shift your life big time on the outside.
What is your specialty?
I'm passionate about bringing our community together in new ways and raising awareness around causes I believe are important. A big thing I've been doing in the past few years is organizing charity events to raise awareness and funds to help support organizations that are close to my heart. I have taught yoga classes on rooftops, at bars, in parks, on beaches, on boats and in art galleries. Where you can lay a yoga mat you can do a yoga practice. There is a magic that happens when you bring people together with similar intentions.
What is your favorite workout and why?
I've been through different phases in my life where I've been into running or lifting weights. Then 16 years ago, I found yoga. Ever since then it has been my number one practice. In the beginning, I was drawn to the physical aspects of yoga and over time discovered that it was so much more than just a workout. I'm drawn to yoga because it's a total life package for me. It challenges me on so many levels and I am stronger and more open every day. It balances me out physically, mentally, emotionally and spiritually. Nothing else does that for me like yoga does.
Tell us about your diet – are you focused on a strict plan or do you just eat well naturally?
My diet for the last 16 years has been mostly vegan/vegetarian. Three years ago, I stopped having anything with gluten in it because I am intolerant. There are so many reasons why I don't eat animal products but basically it comes down to a 3 things – I don't need meat to feel good, I don't like killing animals and it's not great for the environment. I don't follow a strict plan but I do know what makes me feel good and what makes me feel bad and I am pretty good at sticking to the things that make me feel my best.
What's your advice to someone who has never done group classes but would like to start?
If you are new to yoga, it's good to start in a level one or beginner style class and if your studio does not offer a beginner class talk to a receptionist or a yoga teacher at the studio to find out what class they would recommend for you. Don't feel like you have to do everything in class especially if you are feeling overwhelmed. You learn a lot just by watching so if something does not make sense sit back and observe and when you're ready join the class again. Remember. You have your whole life to learn poses. No matter what's happening, feel your breath and enjoy the journey.
What made you want to offer the DJ-inspired flow concept?
I love how music and yoga make me feel. I think it's possible to combine these two things to take someone on a creatively sequenced journey that is uplifting and hopefully a way to get out of their heads and into their bodies. We call it The Happy Hour because obviously it's a play on what everyone looks forward to after a busy week at work.
Tell us your Life Philosophy!
My life philosophy is to dream big and LOVE unconditionally. To stay connected to the things that you are most passionate about. To get quiet so you can hear the truth in your heart. To do the things you love. To believe in imagination and visualization. What you think about grows, so have an attitude of gratitude. Remember that you are the other person.
Claudia's next Happy Hour, DJ-inspired yoga flow class is on Friday, September 26, at Flex Central, 6.30-8pm. Bookings essential.