19 May

Fruity French Chicken Salad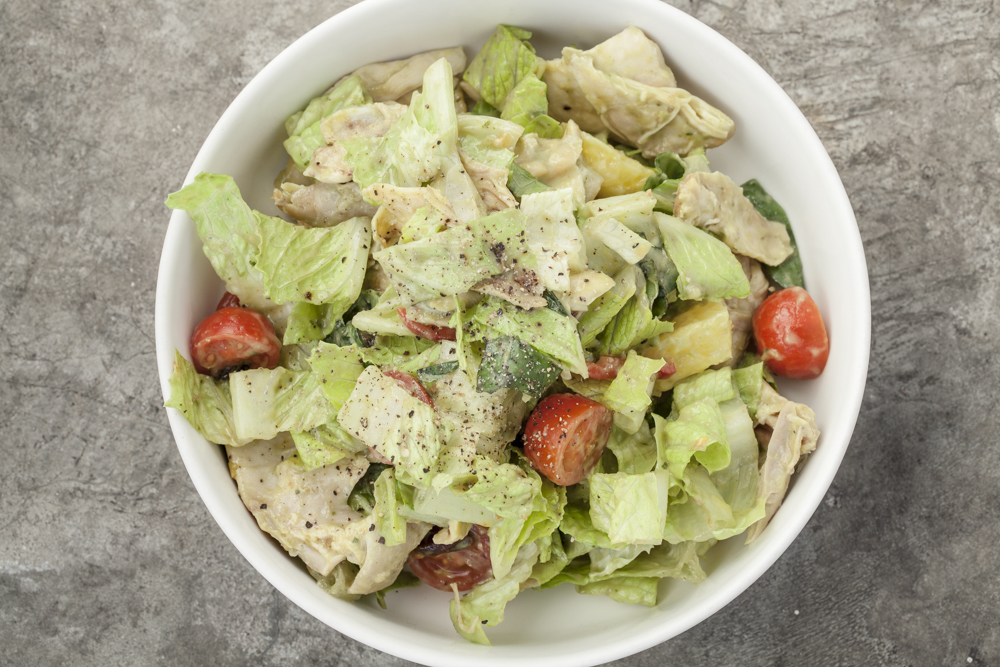 Bored of the classic Caesar salad? This fresh and fruity alternative is one of the most popular dishes on the menu at Fish & Meat. Head chef Russell Doctrove whizzes up the dressing based on avocado for a creamy texture but healthy dose of good fats. Adding the raisins and orange gives the dish a summery lightness and the chili lends a hint of spiciness.
Dressing
5 pieces of avocado
50g basil
Juice of 1 lime
Salt and olive oil to taste
Method
Combine all the ingredients in a blender until smooth. Add a touch of water if it becomes too thick.
Salad
1 whole chicken (giving at least 200g of shredded meat)
1 red chili, finely julienned
20g raisins
20g fresh orange, peeled and chopped
6-8 leaves of basil
20g croutons
500g romaine lettuce
dressing (as above)
salt, pepper and olive oil to taste
Method
Season the chicken with fresh herbs, like rosemary and thyme, and roast at around 180 degrees for 30 minutes (depending on size). Do not overcook in order retain a moist texture. Remove from the oven and allow to cool. Shred.
Toss all the other ingredients together in a large salad dish together with the dressing. Serve.
This recipe was shared by Head Chef Russell Doctrove at Fish & Meat restaurant on Wyndham Street, where he focuses on creating dishes that feature quality ingredients designed to be shared family style. www.fishandmeat.hk