24 Aug

Enjoy every moment and be willing to laugh at yourself
Here – in the fourth of our ongoing series of the lives behind Flex's professional instructors – all-rounder Evelyn Hue tells us how she went from working in a music studio to the fitness studio. And hasn't looked back.
How did you get started as a fitness instructor?
I was always active as a kid. Anything to do with my hands or feet – running, swimming, ballet lessons, biking in my neighborhood. But I also had an artistic side and took music lessons (although still fitted in my exercise, no matter what). You could say I was – and still am – an explorer. For example, I started martial arts when I was 10. That drew me closer and closer to my love for sports. I had total respect for my master and I must say that he was a real inspiration to stay strong and active. Back then (I was living in Kuala Lumpur), I could be found in the gym every day after work. One day I was asked if I a trainer!
Have you always worked in this industry?
I started my working life as a music teacher (piano) using the Yamaha music program, teaching small groups and individuals. But after being in the music studio for five years and not being outside often enough, I felt worn out. I knew that wasn't the job I wanted to do for the rest of my life. The transition to the fitness industry via Les Mills was natural. Now, I couldn't be happier with my career choice.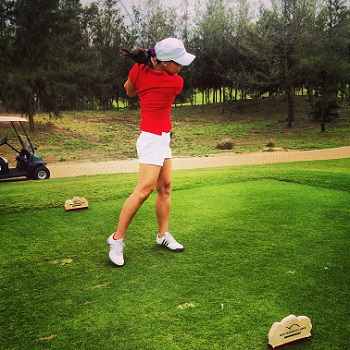 What is your specialty?
I started as a group fitness trainer in the Les Mills program and then moved into personal training as well. It was through this work that my love for Pilates grew. My specialty now is Pilates (private, group, pre and post-natal, rehabilitation and rotational sports), personal training (fat loss, pre and post-natal, fitness and strength conditioning and running programs). I'm also a Master Trainer for Freestyler (group fitness) and TRX (suspension training).
What do you love about the fitness industry?
The satisfaction of seeing my students grows from strength to strength. It's something money can't buy. In turn, they inspire me to keep improving and growing as a teacher.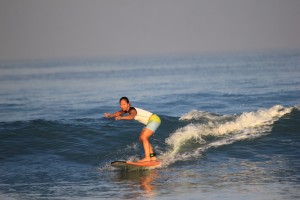 What is your favorite workout and why?
I love doing squats and lunges, be it on the reformer, chair, jump board or the weights room. I love the burn in my legs and the tone I get from it. As a middle-to-long distance and trail runner, these are essential tools for me to strengthen the joints, ligaments and muscles.
What motivates you to get going every day and to keep up your regime?
Being positive and having a specific goal is important. I feel incomplete without moving. My energy levels are high and the feeling of being healthy and happy is definitely a big plus. I feel it is a privilege to participate in sports – running, swimming, bouldering, surfing, kickboxing and golf. I find joy in every one of them.
Tell us about your diet – are you focused on a strict plan or do you just eat well naturally?
I believe in eating well. Whole food – no processed or white starch. Generally, I stick to a relaxed Paleo diet on the weekdays and definitely cheat over the weekend. That said, having quality sleep is just as important as a good diet.
What's your advice to someone who has never done group classes but would like to start?
Remember, we all started from somewhere and it doesn't matter what others think. The teachers at Flex are empathetic and are more than happy to help you along. It's a journey and not the destination. Enjoy every moment and be willing to laugh at yourself. Trust me, I was a complete clown when I first did my step class all those years ago.
Evelyn's multidiscipline approach to sport makes her an ideal Pilates trainer for those who love sports or have been injured either recently or in the past. She brings all this knowledge to her private Pilates sessions, available in our new Flex Studio in Central. She's a great motivator in her group classes as well, and will push you to reach those all-important targets.