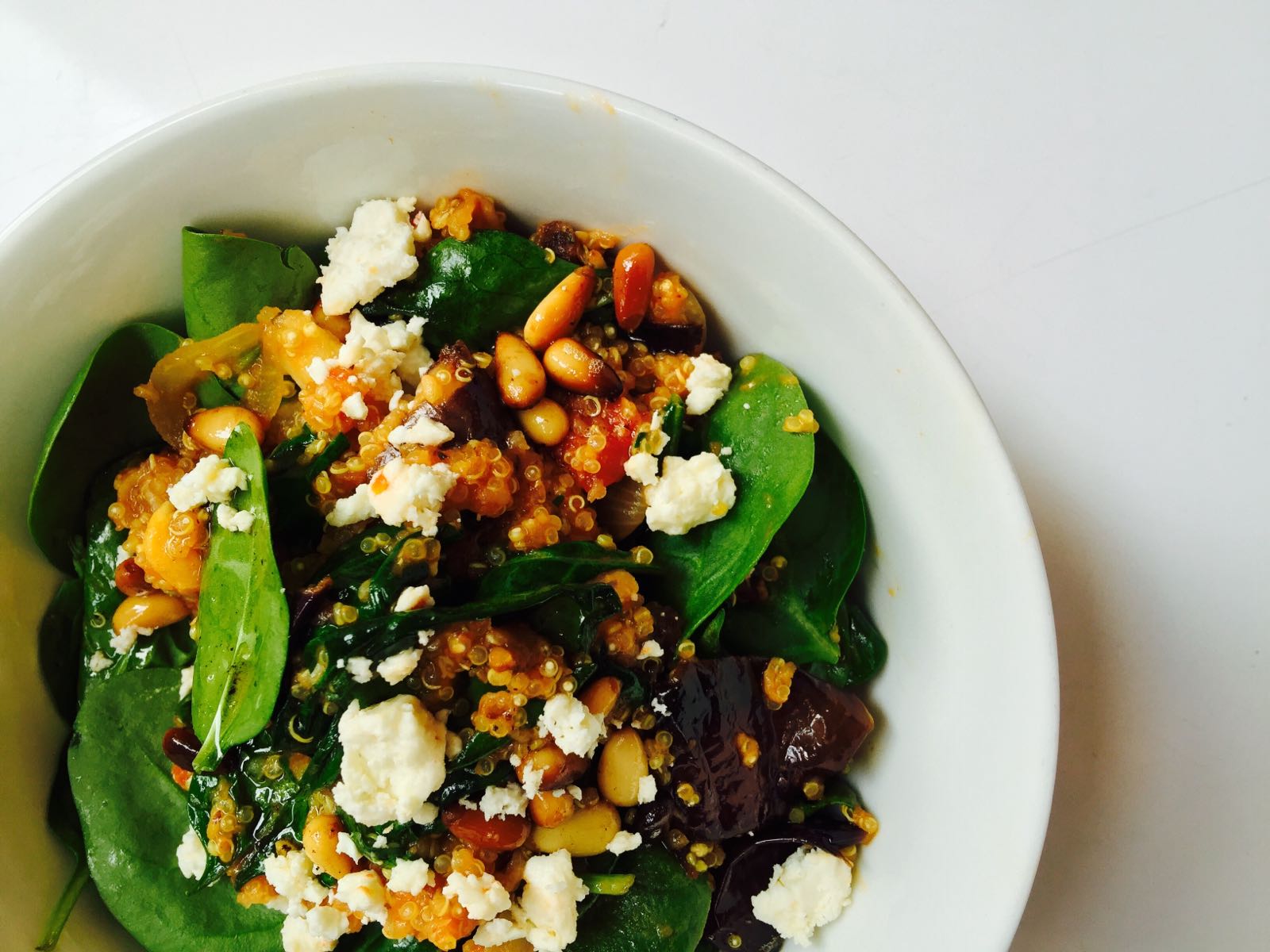 25 Nov

Chickpea and Baby Spinach Quinoa Risotto
By Maria Bizri at Pomegranate Kitchen
This is such a tasty quinoa dish, ideal as a hearty lunch when you've got lots of running around to do in the afternoon, or a comforting dinner dish. I love it for its zing and its heat, which of course you can adjust to the level you prefer. It is very satisfying being high in protein, and healthy too, being low in carbs and sugars.
Serves 4
Ingredients
2 cups quinoa
1 can chickpeas, water discarded and rinsed
1 tomato, blanched, skinned and finely chopped
1 onion, thinly sliced
4 cloves of garlic, mashed
200g baby spinach
100g feta
4 tbsp olive oil
1 tbsp butter
½ tsp cumin
¼ tsp chili powder (adjust according to desired spice level)
1 tbsp harissa paste (adjust according to desired spice level)
¼ cup toasted pine nuts
Pinch of smoked paprika
Pinch of chili flakes
1l good quality chicken or veg stock
Sea salt and freshly ground pepper
Method
In heavy bottomed pot, bring the oil and butter to a sizzle, add the onion with a little pinch of salt and cook for 8 to 10 minutes until soft and translucent.
Once the onion has softened, add the garlic, cook for 4 to 5 minutes, then add all the spices. Combine well then add the harissa paste.
Let the mixture cook for a minute or so, then add the chopped tomato, chickpeas and stock. Bring to a gentle simmer for 10 to 12 minutes.
Once the tomatoes have disintegrated, add the quinoa and one more cup of stock. Cook down for another few minutes and then add the remaining stock and continue cooking until the quinoa is translucent and soft, but has not lost consistency. A little bite/crunch is good. Think al dente!
Take it off the fire and add the baby spinach.
Season to taste and serve hot in a bowl topped with the feta and pine nuts.
Pomegranate Kitchen
POMEGRANATE Kitchen is a full service catering and event company that specializes in Mediterranean and Middle Eastern dishes. AT POMEGRANATE Kitchen, we take pride in creating innovative and heartfelt events filled with unique and delicious dishes. Every client and event is different and we cater for anything from an intimate dinner for 6 to a cocktail party for 200. From private dinners to corporate lunches, we can create your perfect event. The dishes are Mediterranean in taste with rustic but elegant presentation.