25 Nov

Chicken soup for the soul – and immunity!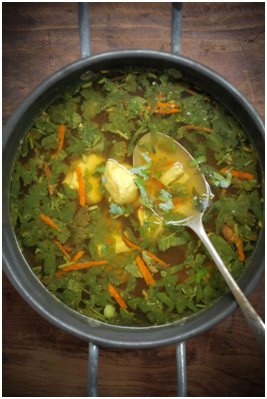 This healthy recipe from Teresa at www.thehealthychef.com is based on the Polish recipe for Rosół.  It has been tweaked to include healing herbs and ingredients to help fend off the winter cold and flu.
Don't be scared off by the amount of garlic – after a few minutes the flavour will infuse into the stock and give it richness and density.  It's the key to it's flavour and staying cold and flu free all winter.
This healthy soup only takes 10 minutes to make and is totally delicious.  Sip it slowly, and enjoy.
What's good about it:
Garlic, turmeric and ginger are potent detoxifying and antiviral herbs to help the body get rid of toxins, stimulate circulation, reduce inflammation, aid digestion and boost your immune system.
Coriander also has antibacterial and anti-inflammatory properties that can help fight disease. Adding a little protein such as chicken will supply your body with essential amino acids your body needs to heal and nourish. The perfect ingredients to help you get through the winter cold.
Serves 4
time it takes: 10 minutes
10 cloves garlic, smashed 
(approx 1 whole bulb)
2 tablespoon finely grated ginger
1 tablespoon fresh grated turmeric (see notes)
1 litre (35  1/4 fl oz)  chicken or vegetable stock
1 litre (35  1/4 fl oz)  water
500 g (17  1/2 oz) free range / organic chicken breast, cut into chunks
2 bunches coriander, chopped
¼ cup (60 ml / 2 oz) mirin or rice wine (optional but delicious)
3 tablespoons tamari soy sauce
Combine the garlic, turmeric, ginger, stock, water and chicken into a large pot
Simmer for 5 – 10 minutes over a low heat until chicken is cooked through and flavours have infused into the stock
Add mirin, tamari and coriander just before serving
Serve in large bowls and sip slowly. Enjoy.
You can find the recipe at: https://www.thehealthychef.com/2012/05/immune-boosting-chicken-soup/
The Healthy Chef is founded and run by Teresa Cutter, one of Australia's leading authorities on healthy cooking.  A qualified chef of over 25 years, and having studied nutrition at Deakin University, Teresa has combined her diverse knowledge of food, cooking, diet and exercise to develop her recipes and functional food products to help promote optimum health and wellbeing.
For more information, visit: http://www.thehealthychef.com