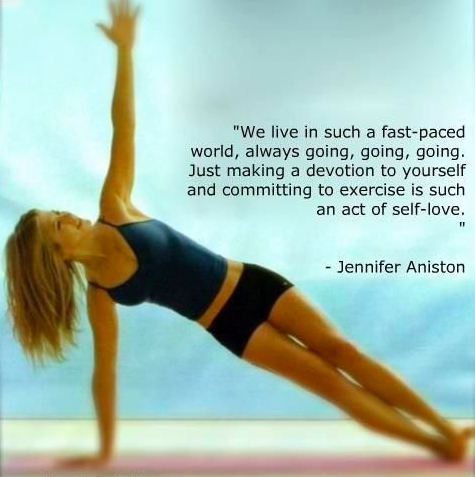 12 Jan

Why are celebs so in love with Pilates?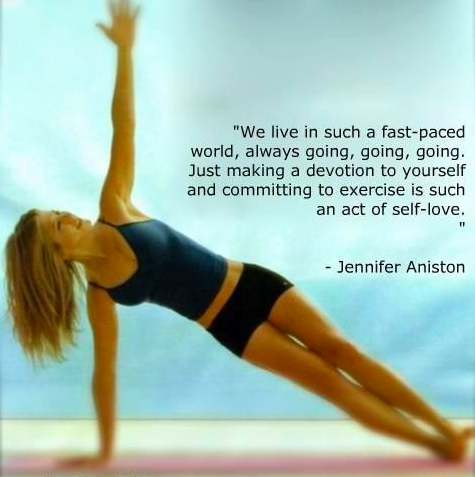 As if Pilates wasn't already one of the leading body-mind workouts, it also has numerous celeb ambassadors who just can't get enough. You don't have to look far on the Internet to read flowing praise for Josef Pilates' Contrology. Where Madonna and Gwyneth lead, others follow. Andy why do they love it? For the resulting red carpet bodies, perfect posture, for helping them wave goodbye to stress and being such an easily personalised workout. And these reasons, among others, is why it is so good for anyone – whether you're a celeb, a time-poor mum or a super-stressed business person. Here are some of the most inspiring endorsements we found…
Jennifer Anniston says, "I'm a Pilates person. It's great. I had a chronic back, a pinched nerve and a hip problem and it's completely solved all of it. I love it. It makes me feel like I'm taller."
Kate Hudson on Pilates: "I've been doing it for 15 years and I think it strengthens from the inside. When your core is strong, everything else starts to lift up."
Mandy Moore uses Pilates as much for a workout as to keep her happy. She does Pilates three to four times a week to achieve balance, good health, and happiness.
Cameron Diaz uses a mix of workouts, of which Pilates mat work and Reformer classes are ideal for adding elongation and smallness.
Paris Hilton says, "It's a great way to exercise because you use so many muscles and get a really good workout. I use the machines, not mat Pilates, and it just works for me."
"Pilates introduced me to muscles I never even knew I had," says Lucy Liu. "Soon I started to feel longer and leaner. Ten years of Pilates has really changed my body for the better."
Meghan Fox loves to use Pilates to stay fit – she makes time for what she calls "an immense amount of Pilates".
Lucy Lawless says, "I don't like to waste time. I want to spend it doing the best possible thing for me. Pilates has given me the greatest returns. It sucks your butt up, tones the legs and shoulders. Nothing else gives you definition like it."
Liv Tyler used Pilates to help her lose her baby weight after the birth of her son Milo, and just kept practicing afterwards.
Hilary Duff says it is one of her favorite workouts. "I was a gymnast when I was little, so I think Pilates is really important to helping me stay long and lean. I try to do it three times a week."
Amanda Seyfried loves Pilates for stretching and toning and being long and lean.
Olivia Wilde says, "I discovered Pilates when I got pregnant, as people kept saying it's a great way to stay in shape, and now I can't get enough – it's amazing. It helps with aches and pain and, even for non-pregnant people, it's a great way of getting those lean muscles."
Sandra Bullock relies on Pilates to get in shape for movie roles in which she needs to look strong, but also stay feminine for swimsuit scenes.
Karlie Kloss, Victoria's Secret model, says, "I'm a huge Pilates fan. Pilates relies on isolated, controlled movement and has allowed me to build up my core and strengthen my legs and arms."
Vanessa Williams started Pilates 22 years ago with famous trainer Mari Winsor. She says, "Core strength balances your entire body. It pulls your shoulders back, tucks in your pelvis, makes you walk straighter, and gives you great posture."
Chelsea Handler says Pilates keeps her motivated to work out. "I was a fitness fiasco — until I found Pilates . . . It's been the most gentle on my body . . . I'm longer and leaner and much more graceful. I can honestly say it's changed my body — and my life."
Pop icon Belinda Carlisle says she does Pilates four or five times a week. "The benefits are subtle, but it increases your flexibility and really tones you up. It also straightens your spine and improves your posture. In the past eight years, I've grown more than two and a half inches (6cm). I am 5ft 7ins (1.70m) and I am very pleased with that."
And last but not at all least…
Actress Ruby Wax told her Pilates instructor: "You have turned me into a Ferrari; my husband thanks you.'"
Image credit – www.FitnessMotivationalQuotes.com as found on Pinterest