20 Apr

Cacao Chia Seed Pudding

A Tasty Dose of Calcium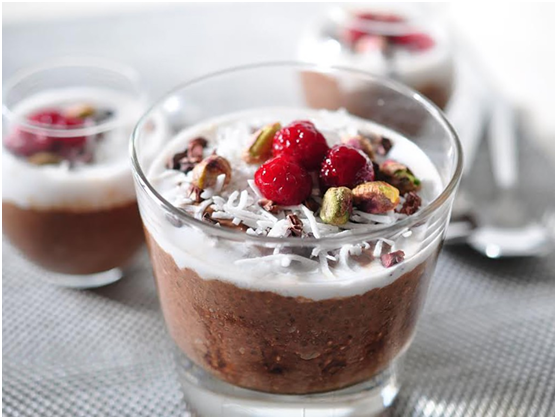 "We love chia seed puddings- raw, refined-sugar-free, decadent and filled with superfood goodness, they are such a treat!" says Green Queen.
Though tiny in size, chia seeds are supercharged when it comes to nutrients- they are full of plant protein (twice the amount found in most grains) that is easily digested by your body while ringing in very low on the calorie meter. They also offer five times more calcium than milk, are a great source of omega 3 fats and are loaded with fibre. They are also perfect as a post workout pick-me-up!
Prep Time: 5 mins | Chill Time: 6 hours | Serves 3 to 4
Ingredients
3 tbsp raw cacao powder
3 tbsp rice malt syrup or liquid sweetener of your choice
½ tsp raw vanilla bean powder or seeds from ½ fresh vanilla pod or 1 tsp of vanilla extract
1 ½ cup coconut milk
a pinch of ground sea salt or any other high mineral salt
¼ cup raw chia seeds
optional for serving: desiccated coconut, cacao nibs, raspberries, pistachios
Directions
Sieve cacao powder in a bowl. Add syrup, vanilla, salt and coconut milk.
Whisk ingredients vigorously to combine making sure cacao powder is thoroughly mixed through without any lumps.
Add chia seeds to the mixture and stir until well combined. Cover and refrigerate overnight or for at least six hours.
Serving Instructions
Fill four glass tumblers, ceramic bowls or mini mason jars (lids off) with the mixture
Add a layer of coconut milk
Top with desiccated coconut, cacao nibs, pistachios and/or raspberries
Green Queen was born and raised in Hong Kong to an Indian mother and French-Italian father.  Her ethos is to encourage, support and inspire all those souls out there who want to live a greener, cleaner, kinder life.    See more at:  www.greenqueen.com.hk
An earlier version of this recipe was published on Green Queen.