05 Jan

Black Bean, Sweet Potato, and Red Quinoa Soup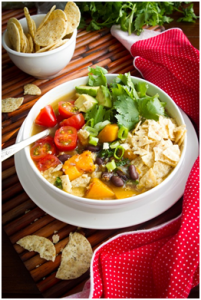 "Can winter fare be both vibrant and comforting? I think this colourful soup is proof that it can. Sometimes it feels difficult to pack in as many bright coloured vegetables and fruit into one's diet this time of the year, but it's certainly possible." Says Angela Liddon from www.ohsheglows.com
Just think of all the bright colours in season right now – winter squash galore, sweet potatoes, kale, pomegranates, citrus, radish, apples, cranberries, pears, persimmons, etc. If you feel yourself in a cold weather food rut, try busting out some of these into your shopping cart each week. The pop of colour will instantly boost your mood no matter what the weather is like outside.
While this is a good soup on its own, it really shines with toppings like avocado, cherry tomatoes or salsa, cilantro, and green onion. If sweet potatoes aren't your thing, feel free to use butternut squash in its place.
4-6 servings
Ingredients:
1 cup uncooked red quinoa, rinsed and drained
1/2 tbsp coconut oil (or other oil)
3 garlic cloves, minced
2 cup diced sweet onion (about 1/2 large)
1 jalapeno, seeded if preferred and diced
1 large sweet potato (350 g), peeled and chopped to 1/2-1 inch dice (2.5-3 cups)*
1.5 tsp ground cumin
1 tsp chili powder
1/2 tsp ground coriander
6 cups vegetable broth
1.5 cups cooked black beans (one (15-oz) can rinsed and drained)
fine grain sea salt and black pepper, to taste (I used 1/2 tsp salt or a bit more)
1/4 tsp cayenne pepper (or red pepper flakes)
2 handfuls Spinach or kale leaves, optional

toppings

: avocado, cilantro, lime juice, tomatoes or salsa, green onion
In a medium-sized pot, add quinoa along with 1.5 cups water. Bring to a boil, reduce heat to medium, and cover with tight fitting lid. Simmer covered for about 17 minutes or until the water is absorbed and quinoa is fluffy. Remove from heat, fluff with fork, and keep it covered until ready to use.
Meanwhile, heat oil in a large wok or pot. Add garlic and onion and sauté for a few minutes over medium heat. Season with salt and pepper. Now add in the jalapeno and sweet potato and sauté for 5-7 minutes more.
Stir in the cumin, chili powder, coriander, and broth. Bring to a boil and then reduce heat to medium and simmer for about 18-20 minutes uncovered, or until the potatoes are tender.
Just before serving, stir in the cooked quinoa, drained and rinsed black beans, cayenne, and optional spinach. Season with salt and pepper to taste, adding more spice if desired.
Garnish soup with cherry tomatoes, cilantro, green onion, and/or avocado.
For the full recipe: http://ohsheglows.com/2012/11/30/black-bean-sweet-potato-and-red-quinoa-soup/#ixzz3NuI95qSJ
Oh She glows is an award-winning recipe blog featuring over 500 healthy recipes! For the past 5 years Angela  Liddon's goal has been to inspire others to embrace more plant-based foods in their diet without feeling deprived. The recipes are great for meat-eaters and picky kids too. Most are gluten-free and many are allergy-friendly.
Read more: http://ohsheglows.com/about/#ixzz3NuIVZeeP
Inspired by: Sprouted Kitchen & Coconut & Quinoa