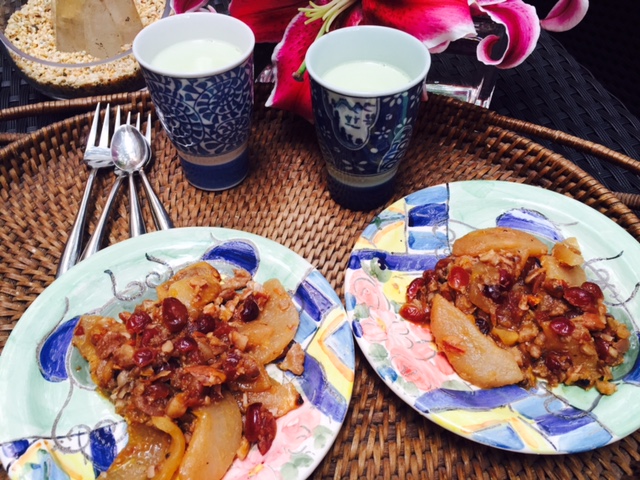 08 Dec

Apple Bake

By Cristina Rodenbeck at Manipura Wellness Practice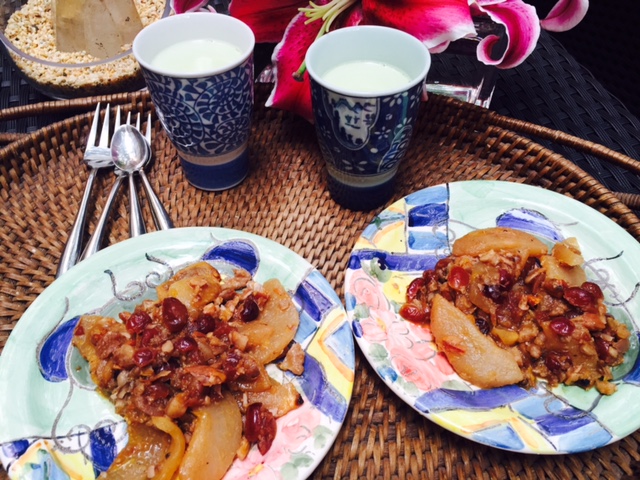 As the weather gets cooler and signals the passage of fall, it's time to get warm and baking! Apples are the quintessential fall fruit and also a versatile ingredient in many savory dishes and healthy desserts. In this special apple bake dessert dish we blend the natural sweetness of apples with some exquisite and healthy winter spices that help manage sugar levels and build our immune system to protect from winter colds.
So much wholesome goodness prepared with so much love as we welcome the Christmas spirit!
Ingredients
4 ripe apples; peeled, cored and quartered (optional to substitute or add pears)
1/2 cup dried cranberries
1 cup freshly squeezed orange juice
1/4 cup nuts, slivered or roughly chopped (almonds, walnuts, pecans etc)
1 teaspoon of cardamom seeds freshly grounded with no skin
1 teaspoon of ginger freshly grounded with no skin
1 teaspoon of cinnamon
Method
Preheat the oven to 350°F.
Mix the apples, pears, cranberries, orange juice and all spices well in an oval gratin baking dish.
Bake until the fruit is tender – this may take between 30 minutes to one hour.
Serve hot or at room temperature.
Enjoy!
About Manipura and Cristina Rodenbeck:
Manipura Wellness Practice offers coaching and wellness therapies to individuals and well-established Wellness Centres in Hong Kong. Manipura's mission is to help individuals proactively and consciously explore and address the wellness areas that are directly impacting overall wellbeing, confidence, energy levels and performance. By making new and healthier choices and leveraging on strengths one can live a healthy, meaningful and rewarding life.
 Cristina Rodenbeck is a Holistic Wellness Practitioner, Executive Coach (ACC, ICF) and Trainer. She is also a Certified Iridologist (IIPA) and Bach Remedy Practitioner (BFRP). She is passionate about wellness and supporting individuals in the area of health and wellbeing so that they can make healthier lifestyle choices and develop a better work-life balance. Cristina's true belief is that planning and prevention are always a better option than attempting to cure or remediate, no matter how challenging it may seem. Cristina has eight years of corporate training experience and prior to this, 11 years in Advertising with Ogilvy and Leo Burnett across Asia, Europe and Brazil.