05 Jul

A True Gem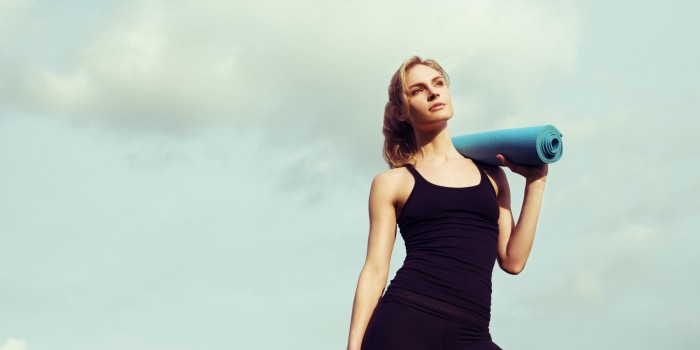 Once, I bought a cheap yoga mat that smelt more and more strangely toxic with each drop of sweat. The fumes made me feel ill. It's now rotting in the rain, alongside the mop and a broken watering can.
What a waste of money. What a cheap and nasty purchase from a no-name brand.
But then I saw the light. JadeYoga's gem-colored mats hit the shelves – as did their eco-friendly balsa wood blocks – and all was well.
Now, whenever using a brightly colored JadeYoga mat, I feel quite smug. Not only because it doesn't leach a mysterious poison, but also because its travel version motivates me to stick with my morning exercises when on holidays, AND it's made by a company which cares about the environment, its customers and the world around it.
Every time someone buys a yoga mat from JadeYoga, they are not only taking the first step towards getting fitter and healthier, they're also supporting the environment and important social initiatives.
So if you're on the road this summer and haven't been able to get to class, not only will your Jade mat help your get your daily exercise fix, you can rest assured that you've bought into something that cares. So who started Jade and why?
JadeYoga is not any old wellness group. The Pennsylvania-based company – founded in 2002 by Dean Jerrehian – not only plants a tree for every mat sold, it helps out people and organizations trying to bring yoga to those who might benefit from it, but might not otherwise have a chance to try. All its mats are non-slip, natural rubber made from tapped rubber trees (no PVC nor synthetic rubber) and made in strict compliance with all US environmental laws.
Their fund raising and awareness programs have helped such groups from an abused girls shelter in West Africa to a homeless shelter in Indianapolis to supporting educational programs for children.
Here is a JadeYoga.com extract from a Q&A with Dean:
When did JadeYoga begin?
In a way, JadeYoga began long before launching its first purple and blue Harmony yoga mats in 2002. JadeYoga grew out of Jade Industries, Inc., a company that had been making non-slip natural rubber rug pads for area rugs since the early 1970s and for many years sold rug pads to select yogis for use as yoga mats.
In fact, the birth of JadeYoga really brought yoga mats full circle as the first yoga mat was a rug pad. As the story goes, B.K.S. Iyengar was in the US doing a demonstration on an oriental rug, but he was slipping. A student took away the rug, leaving the pad and therefore, the first yoga mat. Strangely, the yoga mat that then became the norm here was made with cheap, imitation plastic – or PVC. It was also annoyingly slippery – almost useless for most practices.
JadeYoga began in earnest in 2000 after we were approached by a very savvy yogi who described the fundamental problem with most yoga mats on the market at that time – they were slippery. As we were already making natural rubber rug pads, we approached the problem from that angle and developed Harmony, the first natural rubber yoga mat.
We sent out something like 500 samples and got nearly 300 phone calls – an incredible response. People had never seen anything like this and were thrilled to be able to get a 'green' yoga mat that actually gripped (natural rubber is a renewable resource). In addition, natural rubber has better cushion and resilience, making it more comfortable.
The mats also come in such fantastic colors, from red, to teal, to yellow to Jade Key Lime, they really help perk up your day. Their travel mat versions are 1/8 inch thick and therefore roll up to a very handy size for your backpack or suitcase.
The balsa wood blocks are also a handy and attractive tool to have lying around the house. Use it to keep your thighs pressing together when you're doing a crunch…all those sunset cocktails will eventually take their toll.
Most importantly, JadeYoga continues to enjoy supporting many causes worldwide.
Here's a list of just a few of the friends it has worked with:
Buy a Yoga Mat. We Plant a Tree. 
Trees for the Future
Since 1989, Trees for the Future has been helping communities around the world plant trees. Through seed distribution, agroforestry training, and our country programs, we have empowered rural groups to restore tree cover to their lands. Planting trees protects the environment and helps to preserve traditional livelihoods and cultures for generations.
Kula for Karma
Harnessing the power of therapeutic yoga, mindfulness meditation and the selfless service of passionate volunteers to relieve suffering and promote wellness among society's most vulnerable.
Art of Yoga Program
The mission of The Art of Yoga Project is to lead teen girls in the California juvenile justice system toward accountability to self, others and community by providing practical tools to effect behavioral change.
Chardin House
Yoga instruction for drug and alcohol detox program for homeless men and women.
Carroll Center for the Blind
The Carroll Center serves the needs of blind and visually-impaired persons by providing rehabilitation, skills training, and educational opportunities to achieve independence, self-sufficiency, and self-fulfillment and by educating the public regarding the potential of persons who are blind and visually-impaired.
Yoga Ed
Yoga Ed. develops and produces health/wellness programs, trainings and products for teachers, parents, children and health professionals that improve academic achievement, physical fitness, emotional intelligence and stress management.
Korks 4 Kids
Engaging consumers and other collection sites to become proactive in their recycling efforts and realize the impact of the end result. We are not only helping our environment but, also working towards enriching the lives of our future.