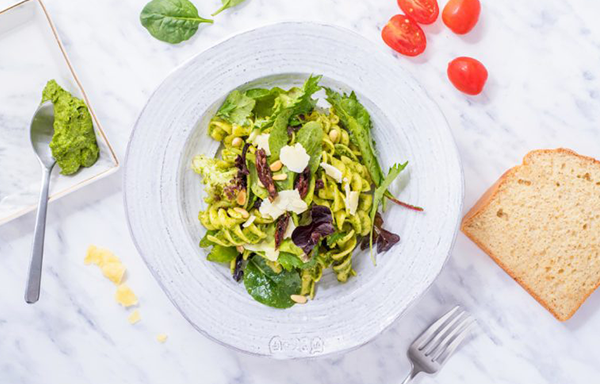 10 Jul

You Will Never Make Pasta The Same Way Again

Yes, you can have pasta! Thanks to the inventive people at The Cakery, we have been treated to a summery, fresh and delicious recipe that will keep you full and beat the bloat.

The Cakery, we hear you say? Yes, The Cakery is a venture founded by Shirley Kowk, a former spokesperson for French bank BNP Paribas, a regular on TV and radio chat shows and a familiar face in print media for her trusted advice on derivative products.

With the birth of her first daughter in 2012, she decided to switch focus from keeping bank accounts healthy to treating the body well. In 2014, Shirley launched the bespoke bakery Sweet Creations and this year, capitalises on that success with the launch of The Cakery at Landmark, offering nutrient-rich goodies that promote a lifestyle of healthy indulgence.

The Cakery (www.thecakery.com) specializes in mouth-watering sugar, dairy and gluten free cupcakes (they even cater to those eating paleo, offer reduced fat versions and egg-free delights). But they also offer gluten and dairy-free and vegetarian and non-veg savoury dishes – and they've been kind enough to offer us an insight into the way they make their favourite healthy dishes.

PESTO GLUTEN-FREE PASTA WITH SUNDRIED TOMATOES, PINE NUTS AND PARMESAN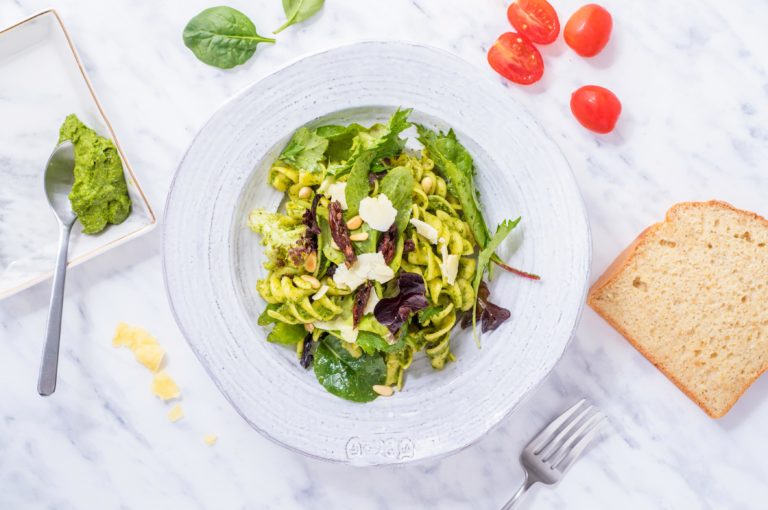 Pesto Ingredients:
100g Fresh Basil (stalks removed, washed and dried)
8tbsp Olive Oil
50g Shredded Parmesan
1pc Garlic Clove
0.5tsp Fresh Lemon Juice
0.25tsp Pink Himalayan Salt
100g Pine Nuts
Directions:
Toast the pine nuts on a dry frying pan for a few minutes until lightly toasted. Keep stirring to avoid burning the nuts.
Add garlic, basil, lemon juice, 2 tbsp of olive oil and salt to food processor. Blend for 1 minute.
Add parmesan and 3tbsp of olive oil. Blend for 1 minute.
Add the toasted pine nuts and the remaining olive oil. Blend for 1 minute.
Pasta Ingredients:
44g Dried Gluten-Free Fusilli
A splash of Olive Oil
A pinch of Sea Salt
A handful of Mixed Greens
A few Sun-Dried Tomatoes
Directions:
Fill a pot with enough water to cover pasta. Bring to boil and add olive oil and salt.
Add the pasta, set timer for 6 minutes.
Turn off stove, cover the pot with lid. Set timer to 5 minutes.
Drain immediately after 5 minutes.
Set timer for 10 minutes. Transfer the pasta to a large bowl with enough pesto to cover the pasta well. Mix until the pasta is completely covered.
When completely cool, add mixed green salad, more pesto (enough to cover salad leaves) and sundried tomatoes, and mix well.
Sprinkle toasted pine nuts and parmesan on the salad. Ready to serve.