19 Jun

How Pilates Helped Me Be A Better Opera Singer

With Joyce Wah-Sheung Wong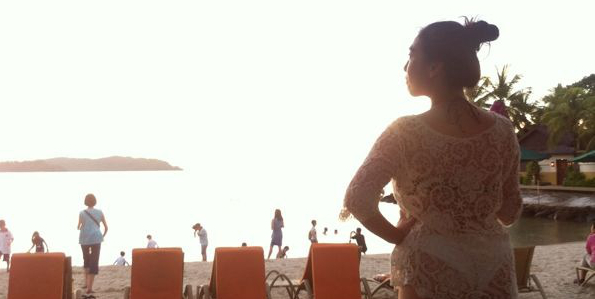 Joyce Wah-Sheung Wong has been living in Hong Kong for seven years since relocating back here from the US. A professional opera singer for over eight years, she is a regular freelance singer and often works with Opera Hong Kong. She is currently playing the part of Extra Nun in the cast of The Sound of Music, which is playing until 21st June, and will be singing the role of Despina in the upcoming performance of Mozart's Cosi Fan Tutte on August 30th at City Hall.
www.soundofmusic.com.hk, www.operahongkong.org
WHY PILATES?
I started doing Pilates about three years ago on a recommendation from a voice teacher. I wasn't feeling so challenged with my yoga at the time, which I'd been practicing for ten years. Pilates wasn't that big in Hong Kong then and although I didn't love it at the first studio I found, I then came upon Flex at the Wong Chuk Hang studio, which had a really good vibe.
What drew me was that as I'm already quite flexible, having been a gymnast and practicing yoga for so many years, Pilates gave me new ways to stretch. It has brought my flexibility up to another level.
I love the strength training in terms of engaging the core – you're building and toning muscle but barely realizing it. I love the moves that require acrobatics and a lot of flexibility, like hanging from something but legs pointing in different directions.
I also like that to get the best results you don't have to do the highest amount of reps. It's more efficient to be precise. We do a few movements eight times, for example, and you want to die afterwards.
And the 'hundreds'! I've actually learned to enjoy them and come to enjoy the physical and mental challenge. Holding your core in a V-shape and pumping your arms 100 times, for example, was really difficult and I couldn't do all 100 at first. Then I managed but it was incredibly difficult. Now I know I can do them. Pain is temporary.
YOUR BODY AWARENESS NOW?
My posture and body awareness were already quite good when I started. During my first assessment when the instructor told me to adjust how I was practicing, I got it immediately. But even so, it has been really helpful for my postural alignment and spinal awareness. When I don't practice for a while I feel twisted and as if I'm not standing tall.
BEST BENFIT FORM THE PRACTICE?
I think Pilates has helped me perform better. The added body awareness makes me more aware of how I move on stage. For example, when you're told to walk stage right to left, looking at the conductor and singing to the audience, sometimes putting one foot in front of the other isn't the easiest of tasks. But now I'm more aware of how I walk and can move into character far more easily.
Flex offers private and semi-private Pilates classes for one, two or three students, following an initial assessment. Expedite your flexibility and fitness with a personalized workout tailor-made using Pilates apparatus to reach your goals fast.
Flexappeal Blog readers will receive 30% off their next private Pilates session at One Island South or Central by quoting "Cosi Fan Tutte" when booking. This special offer is valid from 19th June to 4th July and cannot be combined with other offers.