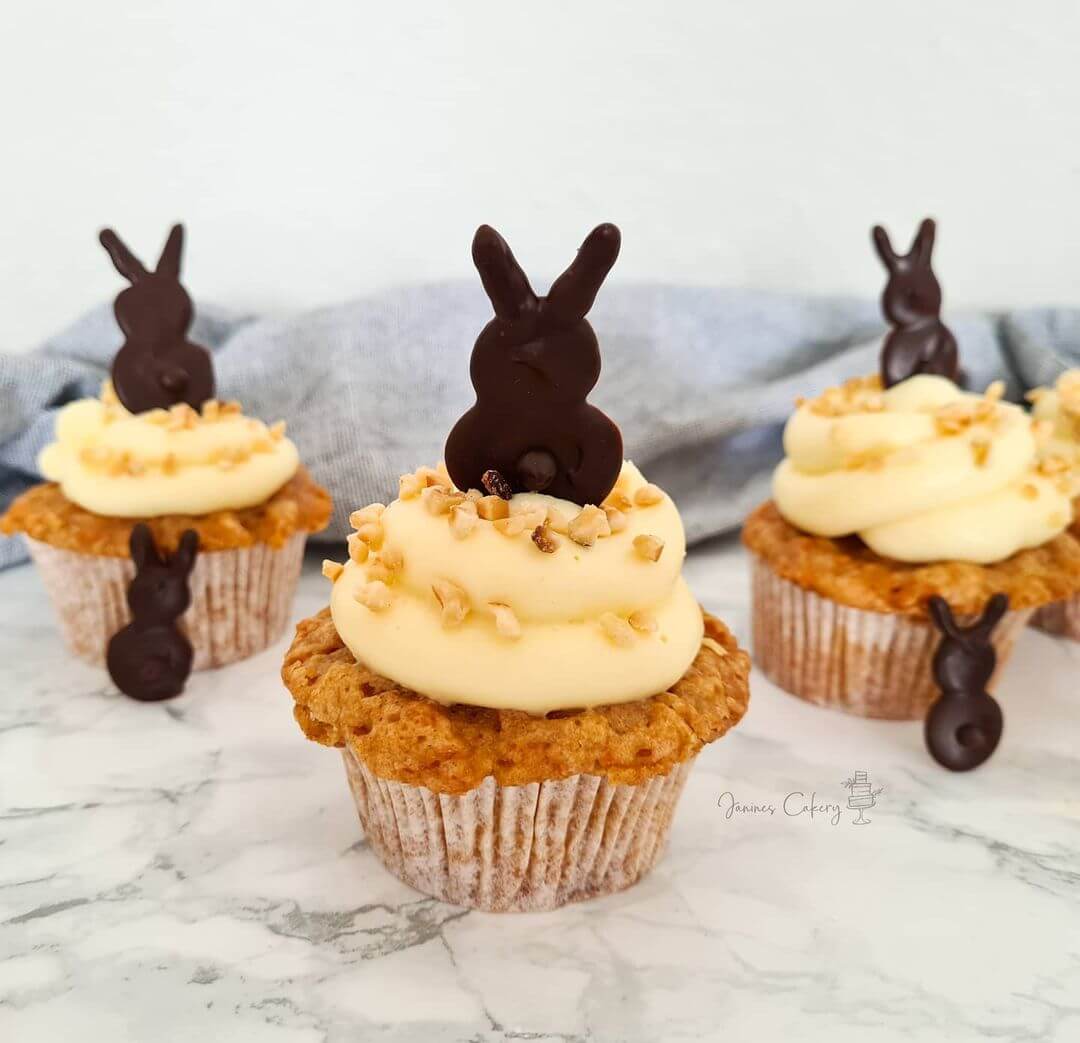 01 Apr

Recipe: Vegan Carrot Cupcakes

Carrot cupcakes are a classic Easter treat, and how nice that they're so easily veganized! These beauties are just packed with carrot goodness

Longtime vegetarian Nava Atlas says she started publishing vegetarian holiday menus out of necessity more than 20 years ago. "Neither vegans nor vegetarians want to feel like a footnote at the table; nor do they want to go back to the old way of celebrating holidays, which consisted of politely picking at side dishes and being made to feel guilty for not partaking of all the dishes for which our parents, grandparents or aunts slaved over a hot stove."

Atlas believes that even the plant-based can and should celebrate holidays in style, without apologies, and enjoy every course of the meal from appetizers to desserts! Here's a page off her book for the Easter holidays:

Classic Carrot Cupcakes

NUT-FREE

Can be made SOY-FREE without cream cheese frosting option

Makes 1 dozen cupcakes with frosting

CUPCAKE INGREDIENTS
2 cups whole wheat pastry or spelt flour
1 1/2 teaspoons baking powder
1 teaspoon baking soda
2 teaspoons cinammon
1/2 teaspoon allspice
1/2 cup maple syrup
3/4 cup applesauce
1/4 cup safflower oil
2 teaspoons vanilla extract
1/4 cup plain or vanilla nondairy milk, as needed
2 cups firmly packed grated carrot
1/2 cup dark or golden raisins, optional
CREAM CHEESE FROSTING, OPTIONAL
2/3 cup vegan cream cheese
1/3 cup powdered sugar
1/2 cup finely chopped walnuts, optional
Instructions
Preheat the oven to 350°F or 175°C.
Combine the first 5 ingredients in a large mixing bowl and stir together.
Make a well in the center of the flour mixture and add the syrup, applesauce, oil and vanilla. Stir until well combined, then add enough nondairy milk to make a smooth and slightly stiff batter.
Stir in the grated carrots and optional raisins. Divide among 12 foil-lined muffin tins. Bake for 25 minutes, or until a small knife inserted in the center of a muffin comes out clean. Set the muffins on a rack or on plates to cool.
To make the optional frosting, combine the ingredients in a food processor fitted with the metal blade. Process until creamy and smooth. Use a flexible cake spatula to remove from the container. Spread on the cupcakes once they've cooled to room temperature, then sprinkle with the optional walnuts.
VARIATION: If you want to make these extra adorable, saute 12 small, slender baby carrots in a bit of non-hydrogenated margarine and agave nectar or maple syrup until tender-crisp. Arrange one carrot atop the cream cheese frosting on each cupcake, and add a tiny sprig of dill at the top of each.
This vegan Easter recipe was taken from the book Vegan Holiday Kitchen by Nava Atlas