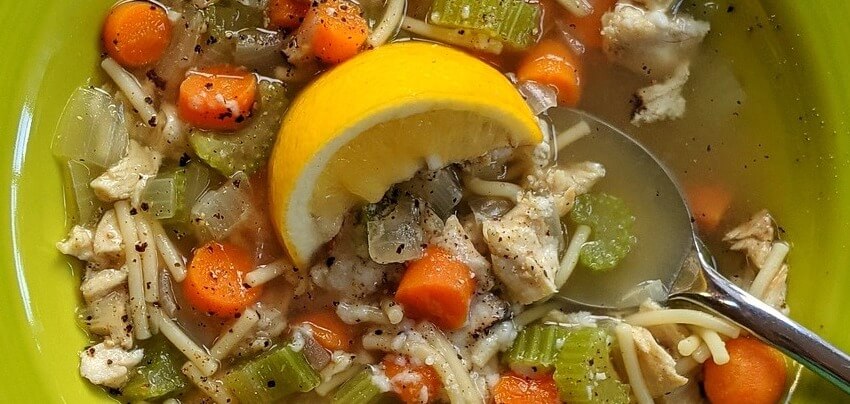 16 Feb

Recipe for Better Sleep: Herby Chicken Noodle Soup

A gluten-free, herbal remix of one of the most comforting foods on the planet – the quintessential chicken soup. 

According to our in-house nutritionist at Flex Hong Kong Jessica Williams, a balanced diet and the smart use of vitamin supplementation and herbs can really help us promote better sleep. Here's a superclean and green, gluten-free take on the classic chicken soup. This recipe is perfect for a reboot day or anytime you want something extra light and fresh. The herbs are not just for garnish; they contribute lots of flavor, so don't skip on them! 

Cooking time: 15-20 minutes

Serves: 4 
Ingredients
4 ounces pad Thai rice noodles

2 tablespoons olive oil

1 carrot, finely chopped

1 celery stalk, finely chopped

1 teaspoon kosher salt

5 cups chicken broth, homemade if possible or low-sodium if store-bought

2 cups cooked shredded chicken

1 cup chopped greens like collards, kale or mustard greens

¼ cup sliced scallions

2 red radishes, thinly sliced (optional)

1 cup (packed) mixed fresh herbs such as cilantro, Thai basil and dill
Instructions
Bring a large pot of water to boil. Add the noodles, turn off the heat, and let stand until softened but not mushy, about 5 minutes. Drain the noodles, rinse with cool water, and set asie. 

Heat a medium Dutch oven over medium-high heat. Add the olive oil, carrot, celery and salt. Cook, stirring often, for about 3 minutes, or until fragrant. Add the chicken broth and bring to a simmer. 

Using tongs, dunk the noodles, a small batch at a time, into the boiling broth just to heat through and then divide them among four bowls. Top with the shredded chicken and greens. Ladle the hot broth over the mixture, and top with scallions, radishes (if using), and plenty of mixed herbs.


Source: Eat Better, Feel Better by Giada de Laurentiis