28 Aug

Raw Sprouted Granola

By SpiceBox Organics – Organic Speciality Store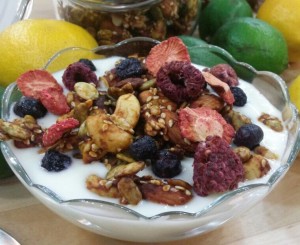 A great way to start the day right, or as a healthy, energy-laden snack when fatigue sets in, SpiceBox Organic's Raw Sprouted Granola is a wonderful combination of crunchy and sticky with just the right amount of sweetness. The recipe calls for a dehydrator, however if you don't have one at home you can use your regular oven turned to its very lowest setting. You may need to experiment a little on timings, however 6 to 8 hours is a good starting point.
Serves 4-6
Ingredients
1/2 cup raw almonds
1/2 cup raw cashews
1/2 cup pumpkin seeds
1/2 cup sunflower seeds
1/2 cup pitted dates
1/2 cup figs
1/4 cup white sesame seeds
2 tablespoons maple syrup (Grade B)
Instructions:
Soak the almonds, cashews and pumpkin seeds overnight. Drain the excess water and set aside.
Soak the sunflower seeds for 1 hour. Drain the excess water and set aside.
Wash the dates and the figs, pat them dry, and cut them into small pieces.
Wash the sesame seeds and drain the excess water.
Place all of the above ingredients in a mixing bowl and add maple syrup. Mix all the ingredients well.
Spread the mixture into a thin layer on dehydrator trays and set the timer for 13 hours.
Once done, place into a jar with a tight lid. Store in a cool dry place, away from sunlight.
Serve as a snack or breakfast as is or with yogurt or milk (dairy or non-dairy). Enjoy!
SpiceBox Organics is a socially conscious company with retail, corporate and wholesale channels – you can find the store at 72 Third Street in Sai Ying Pun. Punam Chopra launched Spice Organics to curate a collection of healthy, environmentally friendly and tasty products (currently counting 650), of which 95% are certified organic. She also creates her own collection of spices, spice blends, grains, flours, raw nuts, cold pressed coconut and other oils. She offers all-natural bath and body care and household cleaning products too, and all are available for online purchase and delivery at www.spiceboxorganics.com. Punam is also a health coach and yoga teacher who teaches pre-natal yoga at Flex Studio, Central.