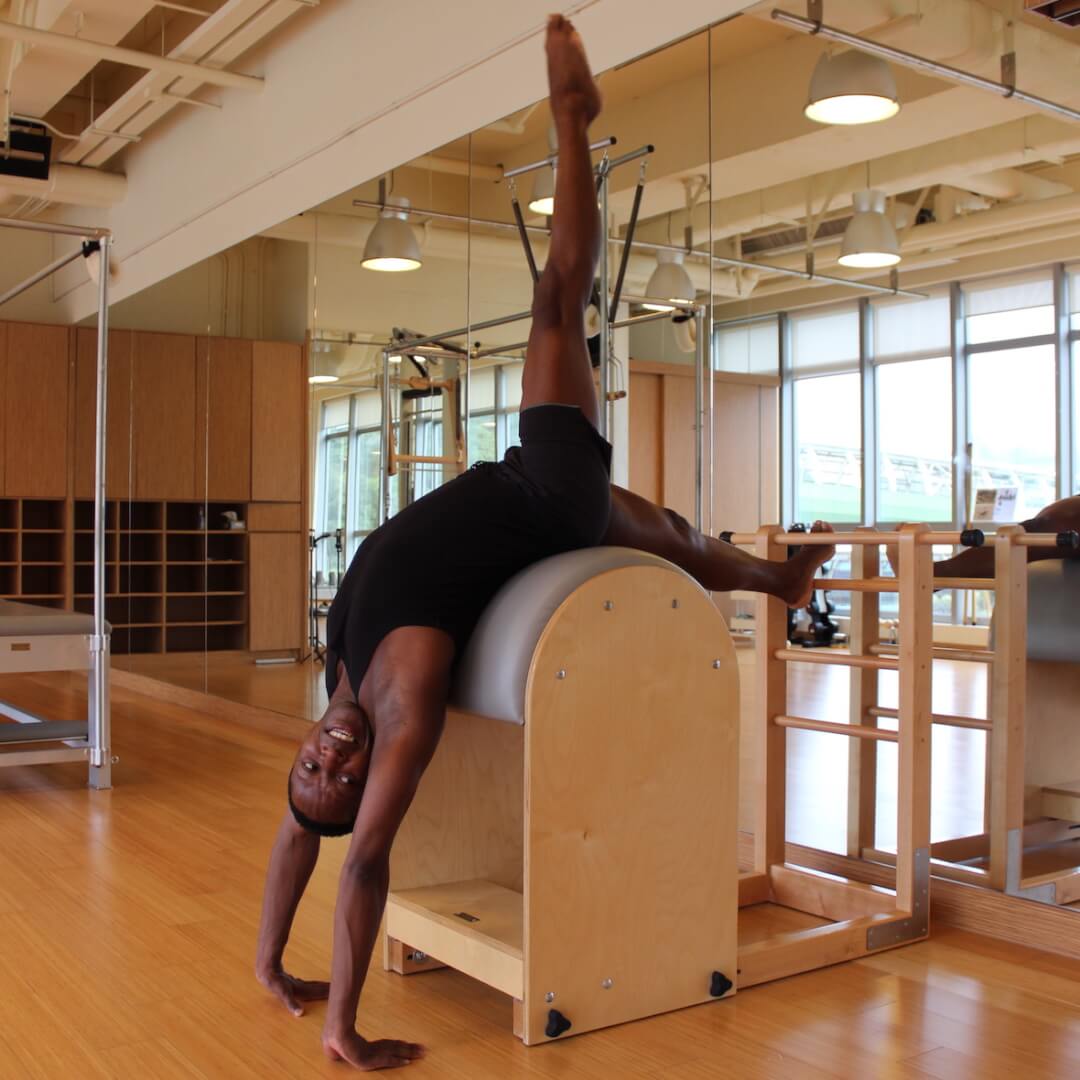 03 Mar

Q&A with Kgosi Moncho on Training in Classical Pilates From South Africa to HK

Get to know Joburg native Kgosi Moncho, Hong Kong's only Classical Pilates Guru who trained under Natasha Madel, a 2nd Generation Pilates Teacher in The New York Pilates Method

In 2017, Kgosi Moncho arrived in Hong Kong from South Africa to become a Pilates Instructor at Flex Studio. The eloquent and charismatic movement specialist spent his childhood just outside of Joburg in the province of Gauteng, or "place of gold" in the Sotho-Tswana languages. Kgosi studied Accountancy at the behest of his family, and then travelled in Europe before living and studying in the UK. The rest is history. 

We talk to Kgosi about how he discovered Pilates, why he transitioned from Contemporary to the Classical system, and moving to Hong Kong. Get to know this Classical Pilates Guru we have the honour of having in Hong Kong!

Can you tell us about your Pilates journey? When did you start practicing practicing Pilates?

I discovered the contemporary version of Pilates in South Africa, after returning from the UK. At the time I was a bookstore manager, and had lower back issues for which I was taking anti-inflammatories. A friend of mine warned me about the possible side effects of the drug, such as perforation of the stomach lining. Naturally this motivated me to search for an alternative way to address my issues!

It was during the purchasing of books for the bookstore that I recall seeing literature on Pilates being recommended for lower back issues. Luckily, it so happened that the gym I went to offered Pilates classes, both mat and Allegro. This was back in 2010. My lower back issues became a thing of the past. Needless to say, I became quite regular at attending classes.

What was your fitness regimen like then?

Pilates became part of my exercise routine. I found that it complemented my swimming and underwater hockey. I also did Bikram yoga often.

Also Read: Inside My Gym Bag with Kgosi Moncho

How was your process of getting into Classical Pilates? How does it compare to Contemporary for you? 

On my daily swim back home in South Africa, it turns out the lady who I swam next to was a Second Generation Master Trainer who worked with Romana Kryzanowska. We forged a friendship of sorts between laps. She asked me to be a "test body" for an exam. It opened up a whole new world of Pilates, as they were using different apparatus in the Classical system. 

I then started training part time. The more I did Pilates, the less I liked my job as a bookstore manager. By then the bookselling industry was taking a hit because of e-books and the economic recession of 2009. In the end it made sense to pursue a career as a Pilates Instructor. I loved the flow of Classical and transitions between exercises… also that it's a very good workout!

How did your Classical Pilates teacher training go? How long did it take you to complete it?

It took 18 months in total. Six months each on Basic, Intermediate and Advanced.

What do you think is the biggest challenge of Pilates? 

That in general Pilates is perceived as being for ladies who lunch. That's unfortunate as it does not attract a lot of male clients, unless it's recommended by a physio… or wives threatening their husbands! Men are massively missing out on something that would benefit their bodies in so many ways. 

Also Read: 5 Common Pilates Myths—Busted!

How about Pilates' biggest rewards?

Seeing people become comfortable in their own bodies, how aches and pains disappear and general mental wellbeing! The relationship of trust that gets formed between client and instructor.

What are the biggest differences between Classical and Contemporary Pilates?

In Classical Pilates, one gets the full spectrum of the exercises, with the added benefit of flow through transition. In the contemporary system, exercises are often broken down… sometimes to the point of not being recognisable.

Why did you decide to come to Hong Kong? How has it been since you arrived?

When it was time for a change I thought I'd come to Hong Kong as it's the gateway to travel in Asia. I love the city, with all its contradictions.

You've been with Flex Studio for four years. How has it changed or evolved since you've been there?

It's certainly become more Classical for sure!

Do you do any other sports or physical activities aside from Pilates? 

Since being in Hong Kong I've started hiking regularly as it's much more accessible than back home in South Africa. When pools are open, you'll find me there!

How has Pilates changed your life? 

It enables me to travel, one of my other passions, and explore different cultures. I also love working with people!

Kgosi (Khou-see) is a third generation Classical Pilates instructor trained in his hometown of Johannesburg, South Africa. Qualified with New York-based Classical Pilates, Kgosi brings an athletic element to his classes, pushing clients to their 'performance edge' with good humor and grace. A session with Kgosi re-awakens challenges and frees the body to reach its full potential. When he is not teaching Pilates, Kgosi likes to swim, hike, read and make the most of Hong Kong's vibrant social scene. He teaches Privates, Trios and Group classes at both Flex Studio Central and One Island South. Click here to view his schedule.