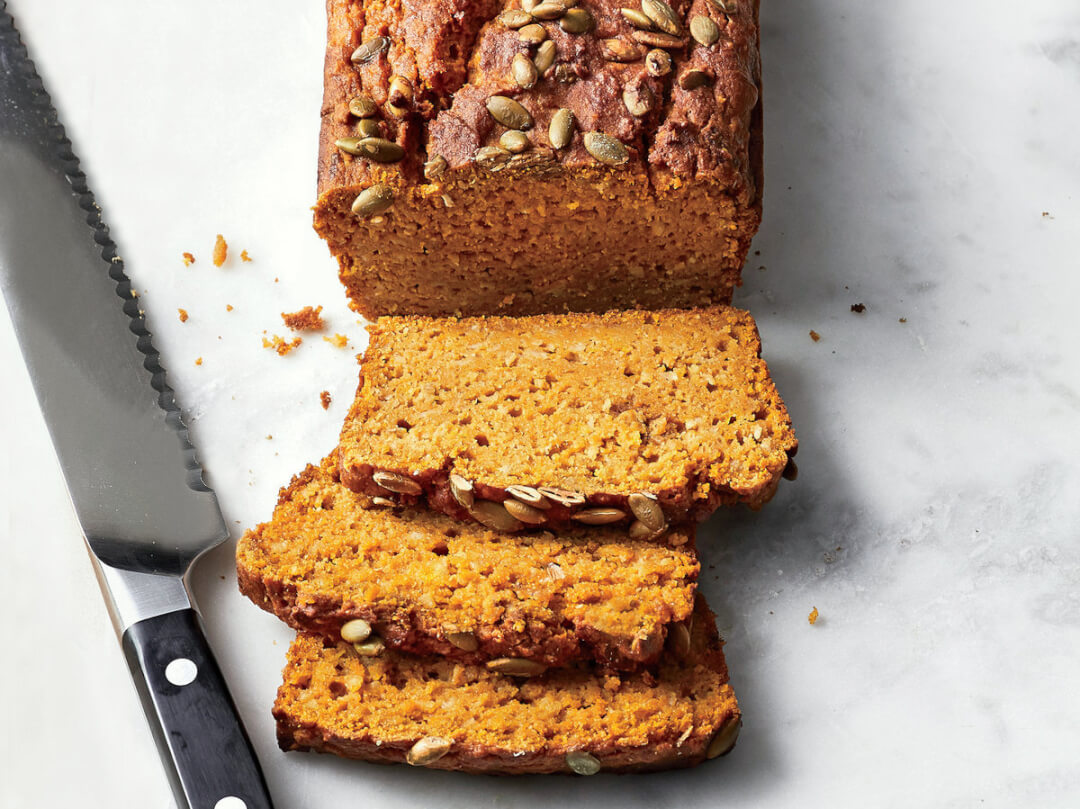 06 Oct

RECIPE: Pumpkin Maple Bread Loaf or Muffins

This classic whole-grain loaf from Cooking Light has two-thirds less sugar than your typical pumpkin bread

With autumn well on its way, we're celebrating with a seasonal dish this month. A fall favourite, the classic pumpkin loaf might look the part of a healthy breakfast, but it packs 400 calories and nearly 40g sugar into a single dense slice. In the spirit of the season, we're featuring a lighter loaf that still delivers the treasured red-leaf flavours for 200 fewer calories.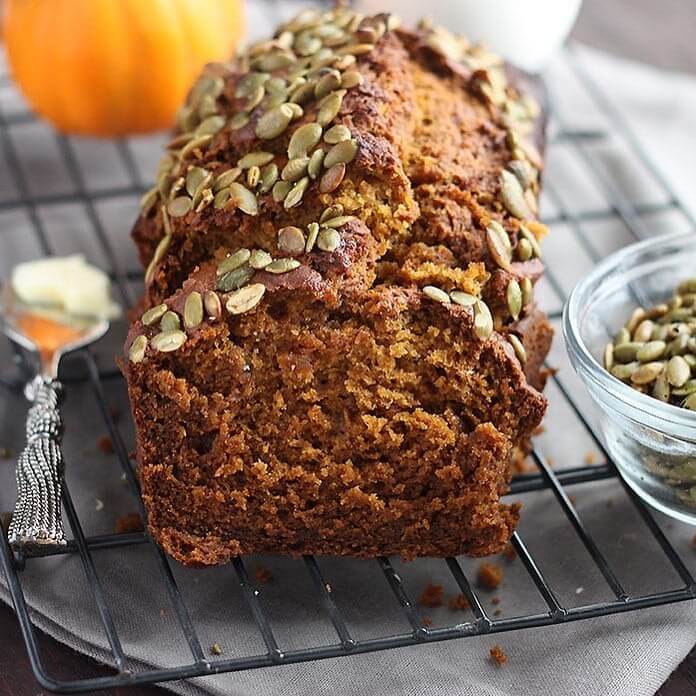 Quick oats and a white whole-wheat flour add a double dose of whole grains while still keeping the loaf light and tender. Dark-coloured or Grade B maple syrup packs a strong punch with caramel undertones complementing the autumnal spices. A sprinkle of toasted pumpkin seeds adds a crunchy finish. 
Lots of pureed pumpkin helps keep the loaf moist for days, so allow the bake-ahead bonus to liberate you and your oven during the holidays!
Recipe
This healthy pumpkin bread will make your kitchen smell like fall. 
Active Time 15 Mins
Total Time 1 Hour 35 Mins
Serves 12 (serving size: 1 slice)
For breakfast on the go, spin this recipe into individually portioned muffins by dividing the batter among 12 muffin cups coated with cooking spray and baking at 375°F for 22 minutes. To freeze muffins, let cool completely, and place in ziplock plastic bags. Reheat in the microwave for 30 seconds.
Ingredients
Cooking spray 

3/4 cup whole buttermilk 

1/2 cup quick-cooking oats 

1 cup canned pumpkin puree 

1/2 cup dark-colored maple syrup 

1/3 cup canola oil 

1/4 cup dark brown sugar 

1 teaspoon vanilla extract 

2 large eggs 

6 ounces white whole-wheat flour (about 1 1/4 cups) 

1 tablespoon pumpkin pie spice 

1 teaspoon baking powder 

1/2 teaspoon kosher salt 

1/4 teaspoon baking soda 

2 tablespoons roasted unsalted pumpkin seed kernels (pepitas)
How to Make It
Preheat oven to 350°F. Coat a 9- x 5-inch loaf pan with cooking spray.

Place buttermilk and oats in a bowl; stir to combine. Let stand 15 minutes

Whisk together pumpkin, maple syrup, oil, brown sugar, vanilla, and eggs in a large bowl. Stir in oat mixture. Set aside.

Whisk together flour, pumpkin pie spice, baking powder, salt, and baking soda in a bowl. Add flour mixture to pumpkin mixture; whisk just until combined. Pour batter into prepared pan; sprinkle with pumpkin seed kernels.

Bake at 350°F until a wooden pick inserted in center comes out clean, 55 to 65 minutes. Cool in pan on a wire rack 10 minutes. Remove bread from pan; cool completely. Cut into 12 slices.
Nutritional Information
Calories 200 Fat 9g Satfat 1g Unsat Fat 7g Protein 5g Carbohydrate 28g Fiber 2g Sugars 13g Added sugars 11g Sodium 146mg Calcium 10% DV Potassium 3% DV